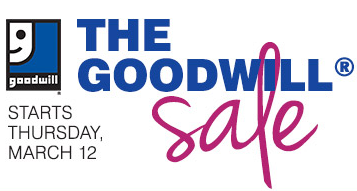 Like any writer committed to their passion, I perform my fair share of research before sitting down to compose any project. Way back in September, I can remember in vivid detail, a telephone conversation I had with my good friend Deb Carbaugh from Horizon Goodwill. I had a few questions regarding an article I was working on and I could tell by the tone of her voice she was, as my Uncle Ron used to say "up to her ears in alligators"!
"Deb, I hope you don't mind me saying, but it sounds like I caught you at a bad time."
"Not that it's a bad time, I'm just trying to work on this volunteer schedule for the big upcoming Bon-Ton event."
Now, this, Dear Readers, sounded intriguing, as I had no idea about any event with my favorite department store, let alone the fact an adjective such as "big" was involved. 
Donate To Horizon Goodwill, Save Big At The Bon-Ton!
Twice per year, Horizon Goodwill partners with the Bon-Ton to gather gently used clothing, household textiles, outerwear, shoes and other garments donated by local shoppers in return for some serious money saving coupons to be redeemed at the store. As I dug deeper, Deb explained that she was responsible for scheduling all the volunteers in order to have appropriate coverage to not only accept donations from Bon-Ton shoppers, but also to distribute and log these coupons. Apparently, there was a Thursday evening opening that she was having trouble filling. This sounded like a great opportunity for me to perform some real world research!
"You know, Deb, if you want, I can bring Missy and Kaitlyn down and the three of us can man the donation station, it sounds like fun." Just like that, my family became Horizon Goodwill volunteers!
I called my wife from work and told her to clear her schedule for a week from Thursday, as we were going to collect donations at the Bon-Ton and provide happy shoppers with their discount coupons. I must admit, I felt pretty good about donating our time, and so did Missy, as it would be nice for our seven-year daughter to experience how donating clothing helps provide valuable job training for those with barriers to employment.
Before leaving for work that Thursday I told Missy, "Don't forget about tonight! I'll meet you and Kaitlyn at the Bon-Ton at five o'clock!" She kissed me goodbye and promised they would both be there, ready to rock! Little did I know her definition of being "ready to rock" wasn't exactly what I thought…
You Can Help Others Receive Job-Training, Too!
Oh, I'll share the rest of my Horizon Goodwill/Bon-Ton story, but it will have to wait until next week's article, as I can see I'm quickly running out of space! Sorry about the cliffhanger, but I do want to mention how you can also help this spring's Bon-Ton event be a success. The sale begins this Thursday, March 12th and runs through Saturday, March 28th. You can help in any of the following ways!
For every gently used item you donate, receive a coupon good for up to 25% off your Bon-Ton purchase!
Visit the Million Acts Of Goodwill website where you can enter for the chance to win a $500 Bon-Ton shopping spree as well as a daily $25 gift card!
Volunteer your time to accept and gather donations at your local Bon-Ton store! Contact us here or call Deb directly at 301.733.7330 ext. 1613 and let her know when you'll be available to do your part!
My wife never ceases to amaze me…just wait until you read about our experience manning the Horizon Goodwill donation table at last fall's Bon-Ton event—you won't want to miss the rest of the story!