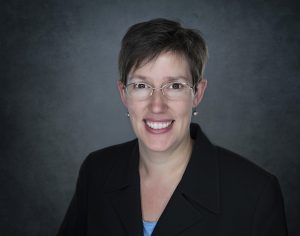 Horizon Goodwill Industries recently named Sharon Ahrens, CPA, as the organization's Chief Business Officer. Ahrens has over 16 years' experience in operations and accounting and has been with Horizon Goodwill since 2016 in her former role as the Director of Accounting and Finance.
 In her new role, Ahrens will oversee and guide multiple departments as they carry out the organization's updated strategic plan. She shared her excitement on helping to advance Horizon Goodwill forward.
"Each day I wake up energized because I have the opportunity to contribute to this organization and our community. I am inspired to work among a group of talented people who are all dedicated to the mission of Horizon Goodwill, and it's my goal to better support everyone in their efforts toward removing barriers and creating opportunities."
Horizon Goodwill's CEO, Dr. David Shuster, expressed the positive impact that Ahrens and her new role will have for the organization.
"Sharon Ahrens is an exceptional leader, and her ability to balance vision with operational effectiveness is invaluable to Horizon Goodwill as we continue to grow into the future and expand our mission," Shuster said.
Ahrens previously was a senior accountant for a non-profit association in Washington, DC and, prior to that, she served as the Orchestra Manager for the Maryland Symphony Orchestra for six years.
Volunteering in the Hagerstown community is something that Ahrens enjoys, and she currently serves on the Board of Directors for the Discovery Station as the treasurer. She and her husband, along with their two sons also recently became residents of Hagerstown after moving from Hedgesville, W. Va.