Goodwill Industries recently named Craig Foster as the new Marketing & Public Relations Manager and Audi Lebedda as the Development Manager.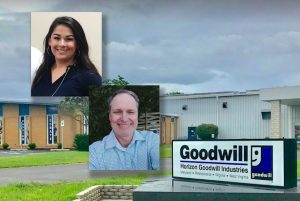 Foster has over 25 years' experience in marketing and communications. In his new role, Craig will lead the marketing, public relations, and communication efforts to heighten community awareness of Goodwill's mission and social enterprise segments. Craig graduated with an MBA from the University of Phoenix and has worked as a marketing manager in various organizations across the tri-state area.
"I'm excited to be part of an organization that provides the training and support to help individuals become self-reliant and productive members of the communities we serve". he added "My background in marketing enables me to provide leadership and guidance with new initiatives but also strengthen the core services that Horizon Goodwill offers.
As the Development Manager, Lebedda will be responsible for the organization and execution of Horizon Goodwill Industries' fundraising initiatives including annual giving, special events, and grant writing. Lebedda graduated from Frostburg State University in 2015 with a bachelor's degree in Communication Studies- concentrating in Public Relations & Rhetorical Studies. Audi previously worked for the State of Maryland as a Circuit Rider assisting and supporting small municipalities in direct efforts in rural municipal administration and related community/economic development services.
"I am truly looking forward to being a part of an organization that provides so many individuals opportunities to learn and grow each and every day!" Audi said. "Horizon Goodwill succeeds because of the opportunities they give individuals for our community, never losing sight of the people they serve," she added.
Horizon Goodwill's CEO, David Shuster, Ed.D., is enthused about the additions to the organization.
"Both Craig and Audi are talented individuals that bring a great deal of experience to Horizon Goodwill and I know their insights will aid in our continued growth and expansion of our mission," Shuster said.
By coincidence, Audi and Craig both currently live in West Virginia and will work at the Hagerstown main office in Hagerstown, MD.