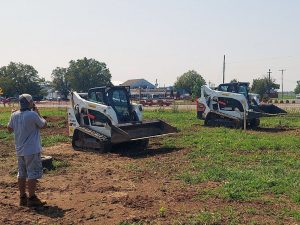 HAGERSTOWN, Md. (Sept. 2, 2021) – Sometimes, the only things people need to start a new path are a new, in-demand skill set, a supportive environment, and a little bit of hope. A recent partnership between Specialty Granules LLC, Horizon Goodwill Industries, and the Heavy Metal Playground is breaking down barriers to give Heavy Equipment Training program participants just that.
"Horizon Goodwill and Heavy Metal Playground had already been partnering for this program, and when SGI found out about it, we were compelled to become involved," said SGI President Justin P. Dunlap. "Through our collaborative efforts, we are ensuring that participants have the best possible chance for success during the program and as they graduate and seek employment in the manufacturing industry."
Led by HMP owner Mark Stevanus, the four-week training program provides participants with 120 hours of classroom education and hands-on training toward three certifications: Excavator Operation & Safety Certification, Excavation & Trench Safety Certification, and Skid Steer Operation & Safety Certification. The certifications are OSHA compliant and I-CAB recognized.
"Our certified program was designed to give students the training and skills they need to get hired," said Stevanus, noting that input from numerous regional companies about their unique hiring needs was used to fine-tune the program.
Through the recent partnership, SGI has created an Equipment Locker supplied with steel-toe boots, high-visibility shirts, and winter coats in a range of sizes, as well as winter hats for participants to use if they don't have their own or don't have the means to purchase them.
"The goal of the Equipment Locker is to remove barriers for participants so they can focus on their training," explained Dunlap.
SGI also donated two water coolers and is supplying water bottles and sports drinks for program participants while they are training. At the conclusion of the training program, SGI provides all graduates with their own pair of steel-toe boots, work pants, and polo shirts to help them prepare for job interviews and new careers. An additional component of the partnership is interview preparation. HGI has helped prepare participants by conducting mock interviews conducive to those held by companies in the construction and mining industries.
SGI will support this effort with assistance from its human resources personnel, who will conduct different styles of interviews with program participants and provide them feedback to help them prepare.
According to Horizon Goodwill Industries CEO David Shuster, the partnership highlights the good things that happen when businesses and organizations work together. "We are proud to be a partner in this innovative program that connects people with in-depth trades training and potential employers. The commitment from SGI to support individuals in the Heavy Metal Training program highlights the unique ways that organizations and businesses can work collaboratively to eliminate barriers and create brighter futures through employment."
Stevanus said the program is about much more than the students gaining a needed skillset: it's about gaining confidence and hope.
"We have seen some incredible, positive changes with our students as they learn, gain confidence, and realize that not only can they learn to operate heavy equipment safely and efficiently, they can gain employment and a renewed sense of purpose in life through our program."
 _________________ 
About Horizon Goodwill: 
Horizon Goodwill Industries, whose mission is "Removing Barriers, Creating Opportunities," is a non-profit social enterprise dedicated to ensuring that all people have access to sustaining and meaningful employment. Ninety cents of every dollar earned by Horizon Goodwill is invested in putting people to work and strengthening communities across a 17-county region throughout Maryland, Pennsylvania, Virginia, and West Virginia. For more information, please visit https://www.horizongoodwill.org.   
About SGI:
With almost 100 years of expertise, Specialty Granules LLC (SGI), a Standard Industries company, is a leading aggregates and mining company that supplies specialized products to the roofing, construction, and agricultural industries.  Headquartered in Hagerstown, Md., SGI has five production plants powered by more than 630 employees. Plants are strategically located nationwide in Blue Ridge Summit, Pa.; Waynesboro, Pa.; Annapolis, Mo.; Pembine, Wis.; and Ione, Calif. For more information, contact Senior Communications and Marketing Specialist Allison Devlin at 240-537-9059, allison.devlin@specialtygranules.com, or visit: SGIcommunity.com.
About HMPG: 
Heavy Metal Playground is a heavy equipment training facility and a heavy equipment experience provider. Mondays through Fridays, HMP provides a four-week, 120-hour, three-certification training program. On weekends, HMP becomes a fun heavy equipment playground for people 8 and older to come and play on heavy equipment. Customers learn to dig in the dirt, stack tires, play a unique basketball game, and drive our obstacle courses. For more information, contact, HMPG President Mark Stevanus at 240-415-8088, mark@heavymetalplayground.com, or visit: heavymetalplayground.com.