Welcome back!  As you may know, my goal is to educate and excite you about all that Goodwill does for our community and what it can possibly do for you and/or your business.  If this is the first blog you have read in this series, please feel free to see how it all got started from my first entry here.
This week we go to downtown Hagerstown, MD to explore our partnership with the Washington County Department of Social Services.  The DSS works with the people of our community in a variety of ways, many of which shadow our goals.  They assist individuals and families who are working towards self-reliance through a variety of programs they run out of their Hagerstown office.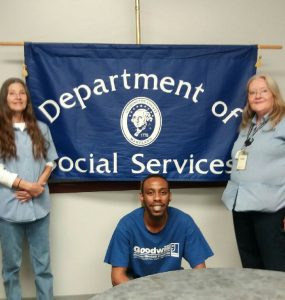 For the past several years, Horizon Goodwill has had the pleasure of partnering with this organization by way of providing janitorial services for this nearly 55,000 square foot facility.  That's a big space!  It creates employment for 4 people, all of whom take great pride in their work.  Supervisor Sherry Lescalleet said, "Teamwork is a key component in keeping WCDSS in tip top shape.  The compliments we get for a job well done boosts morale and self-esteem."   What a fantastic outlook!  This creates both an incentive and a reward for our team and we are thrilled to have them as part of the Horizon Goodwill family.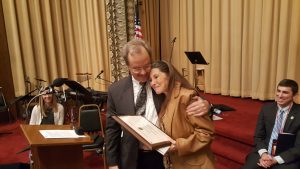 The DSS staff sincerely appreciates their efforts as well.  Earlier this year the Department of Social Services publicly recognized Sherry with their "Unsung Hero Award" *full story here* .  Being appreciated and respected makes all the difference.  It speaks directly to our vision of helping people realize and achieve their full potential through the dignity and power of work.  To quote Sherry, "We are grateful for the opportunity to work at WCDSS.  We strive to represent Horizon Goodwill with professionalism- keeping the values, visions, and mission in mind at all times."
Thanks for reading!  Please feel free to contact me with questions or comments regarding the blog or what our Business Services division can do for you!  bmarks@goodwill-hgi.org