Welcome back!  As you may know, my goal is to educate and excite you about all that Goodwill does for our community and what it can possibly do for you and/or your business!  If this is the first blog you have read in this series, please feel free to see how it all got started from my first entry here.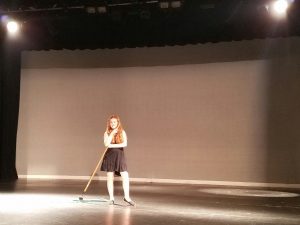 This week I will be discussing a business partner that plays a vital role in Hagerstown's cultural scene, the Maryland Theatre!
Built in 1915, this landmark has been an integral part of our area's history.  Growing up I enjoyed many plays and concerts here and was always fascinated by the detailed architecture.  The Maryland Symphony Orchestra has regular performances at this venue and I have had the pleasure of watching my girls perform ballet recitals on this stage.  Always nostalgic and always beautiful, the Maryland Theatre is a gem.
With thousands of patrons passing through the door each week, you can imagine the need for a top notch cleaning crew and that is where Horizon Goodwill comes in!  Prior to the musicians, actors, and patrons entering the Maryland Theatre our crew makes sure that it is in showcase condition.  There is a high need for attention to detail and to track an ever-changing schedule.  This provides our team with an opportunity develop professionally and adapt quickly to changing client needs.  It is a great space and our team takes great pride in keeping it beautiful!
Thanks for reading!  Please feel free to contact me with questions or comments regarding the blog or what our Business Services division can do for you!  bmarks@goodwill-hgi.org