Welcome back!  Each week, I will take you into a new area of our operation.  This week I will be discussing a business partner that Horizon Goodwill has worked with for over 15 years,Fort Detrick.  
If you are from our area, there is a very good chance that you are aware that Fort Detrick is located in nearby Frederick, MD.  This Army base has been around since 1931.  Between then and now, it has performed several evolving functions and has grown in size along the way.  Currently it occupies over 1,200 acres and is the largest employer in Frederick County, MD!
What does all that have to do with Horizon Goodwill Industries?  Well, all of those employees and the nature of the vast campus create a need for a top notch cleaning service.  And that is where our Business Services Division come in!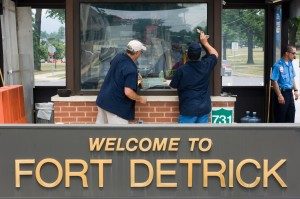 Did you know that we have a highly trained, highly competent Custodial Services Division?  HGI is currently responsible for cleaning over 100 buildings at Fort Detrick, MD including the base hospital, Child Development Center, Youth/Teen Center, and many administrative offices.
Our clients love the work opportunities that this contract provides and they take great pride in fulfilling it.  They are much more than janitors.  They are trusted ambassadors of the facility.  All Goodwill staff on site are required to undergo a special security clearance procedure to be permitted to work on site.  This gives our clients a chance to understand the rigors and requirements that can accompany certain jobs in the Public Sector and sets the tone for the importance of what they are doing.
There is a crew there of over 50 Goodwill clients that clean over 1,000,000 square feet at this facility!  That is a huge outreach that benefits a large population of people that are able to overcome barriers to employment as a direct result of this partnership.  This is hands down the largest janitorial contract Horizon Goodwill Industries holds today and we are proud to be partnered with such a great entity.  We look forward to continuing the relationship for many, many years to come!
My goal is to educate and excite you about all that Goodwill does for our community and what it can possibly do for you and/or your business!  If this is the first blog you have read in this series, please feel free to see how it all got started from my first entry here.
Thanks for reading!  Please feel free to contact me with questions or comments regarding the blog or what our Business Services division can do for you!