Are you looking for a job? Are you trying to get back into the workforce? If so, then you know getting a job is a lot of hard work and that keeping a job can be even harder.  That is why we are so excited to announce the launch of Horizon Goodwill's new Job Readiness program, GET ONBOARD!
(Train emoji, high-five emoji, choo choo whistle emoji).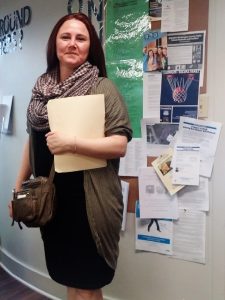 Goodwill's GET ONBOARD! program is a twenty (20) hour classroom-based training that provides job readiness and soft skills needed by you and expected by your future employer.   In just one week, Goodwill's GET ONBOARD! introduces participants to the world of work and teaches critical employability skills that will help you get AND keep your next job: Personal management, Teamwork, Conflict resolution, Financial literacy, Self-motivation, Professional attire and etiquette.
GET ONBOARD! is free to participants and will be offered at
Horizon Goodwill's four (4) Job Connection Centers located in Hagerstown and Cumberland, MD; Martinsburg, WV; and, Winchester, VA. The twenty (20) hour training is offered in 5 sessions with certificates of completion given to participants who complete without any absences.
"One important key to success is self-confidence.  An important key to self-confidence is preparation."
– Arthur Ashe
Since launching on February 1st, forty-five (45) job seekers have participated in and graduated from GET ONBOARD!  Goodwill's Workforce Development Team would like to recognize all the GET ONBOARD! participants — thank you for your willingness to take your job readiness journey with us.  Participants and graduates not only embraced a new and innovative learning opportunity, but boldly began their journey of returning to the workforce and moving closer to self-sufficiency.
A special Goodwill thank you to our Washington County partners – Steve Hummel and team from Columbia Bank and Lori Wriston and the staff of Valor Ministries – for collaborating with us on this new venture.
For more information, go to horizongoodwill.org or call 301-733-7330.  Make sure to follow us on Facebook and Twitter!