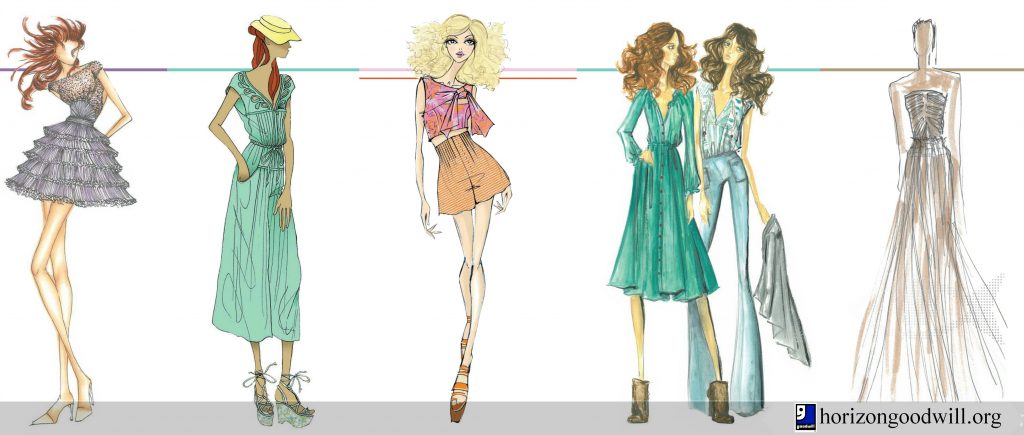 When someone thinks of Goodwill they usually don't think glamor, glitz, and high fashion. What they think of is a second hand clothing store full of stuff that people have no need for anymore. So why would you?
Well when I started at Horizon Goodwill Industries I came through the doors with the same mindset as you. I shopped there but not for designer goods and name brands but for retro t-shirts and corky knick-knacks. When I entered a Goodwill store I was always there looking for something specific; to find retro gear and comical apparel, I looked over countless racks of merchandise that held closet staples, and famous brand names.  I was unaware of the Goodwill mission and how Horizon Goodwill actually puts people to work, how 90 cents of every dollar I spent on my throw back Saved By The Bell and MC HAMMER T-shirts or my Surf Style Windbreaker from the 90's goes to fund job training programs in my very own community for people in disadvantaging conditions who are lacking the skills needed to gain employment.
Did you also know that Goodwill is a haven for designer goods and top name brands? The treasure hunt of finding these diamonds throughout the shelves and racks of Goodwill make your discovery of them even more exhilarating. Horizon Goodwill Industries has 16 stores throughout Maryland, Pennsylvania, Virginia, and West Virginia and the stuff within these stores is nothing short of a fashionista's dream.
Yes, there are consignment shops out there offering the latest trends and slightly discounted designer duds but these stores are missing that sense of accomplishment you get once you find that ever so unique vintage item for your home or that barely used Kate Spade handbag for only $8!
Every time I go to a Goodwill I can honestly say I come across an abundance of high-end merchandise. Let me name drop for a second… Michael Kors, Steve Madden, Kate Spade, Coach, Anne Taylor, BCBG, Banana Republic, Bebe, J Crew, are only a few of the tags I have come across in my Goodwill thrifting endeavors. Some other chic items consist of Italian leather boots, vintage purses and clutches, fur coats, leather jackets and gloves. Every time you enter a Goodwill it is a continuous treasure hunt and the possibilities of what you could find are endless! So next time you go thrifting for a silly t-shirt you can DIY or a new corky conversation piece keep your eyes peeled and get glamorous with Goodwill!
Remember when you shop Goodwill the money you spend on your fabulous finds fund job training programs for people in your own community. Donate. Shop. Make the world a better place. Talk about a WOW factor 😉
Check out this blog for some tips on how to live a Glamorous Life on a Goodwill Budget at http://www.goodwillglam.com/
Here are a few of our fabulous finds we have stumbled upon at Horizon Goodwill Industries:  http://on.fb.me/1iwgqtq