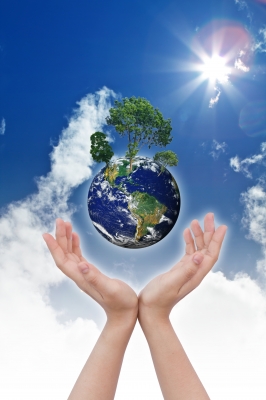 On April 22, people around the world will celebrate Earth Day by volunteering with organizations and initiatives that help create positive impacts on the Earth. At Horizon Goodwill Industries, we make every day Earth Day by creating positive environmental impacts with our services. That's because Goodwill® is good for the community, good for individuals and good for the planet.
Over the last three years, Horizon Goodwill Industries has diverted 11,931,496 lbs. of unsold donations from landfills through our many active recycling efforts. This doesn't even include the tens of millions of items given a new life by our customers when they purchase items in our retail stores. We estimate that we exceed 10 million pounds of items annually that are either sold or recycled.
Horizon Goodwill even accepts old computers through our recycling partnership with Dell Reconnect. We collect equipment at any of our locations, consolidate it into one location and sort it. Dell picks up all items and transfers them to a Dell authorized recycling partner. Since our partnership with Dell started in 2004, Goodwills across the country have kept more than 200 million pounds of electronic equipment out of landfills.
Want to help recycle your unwanted items and save them from landfills? Consider organizing a donation drive in your community. Click here to learn more about setting up a donation station.