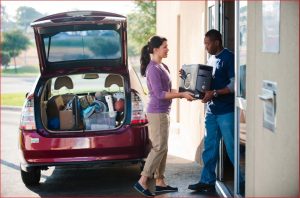 Ever wonder what to do with that old computer that kicked the bucket months ago but is still collecting dust in your garage? While computers are safe to use, they do contain some environmentally sensitive materials. These materials can be safely removed or recycled, but only if they're kept out of landfills. That's where Dell RECONNECT comes in. 
A joint partnership between Dell and Goodwill, RECONNECT is a no-charge, computer-recycling program for consumers to reuse and responsibly recycle unwanted electronics. We collect the equipment at any of our 15 convenient locations, consolidate it into one location and sort it. Dell picks up the items and transfers them to a Dell authorized recycling partner.
It's a free, environmentally responsible solution for clearing your clutter, generating donations and supporting new jobs for people with employment barriers. All proceeds go to Horizon Goodwill to support job training and employment services programs. The following items are acceptable:
Computers
Hard Drives
Keyboards
Printers
Monitors
Plus, you can deduct the value of the computer for tax purposes. We provide donors with a donation receipt at the time of donation. Since the partnership with Dell started in 2004, more than 200 million pounds of electronic equipment have been recycled and saved from landfills. It's good for the community, good for the environment and good for you!
To learn more about free computer recycling through Horizon Goodwill, click here.
*Any brand of computer equipment in any condition may be donated. It is recommended that donors remove all data from hard drives and other storage media prior to donating to Goodwill.