Blessed because Goodwill gives you Chances
by Christopher Six, Media Marketing Assistant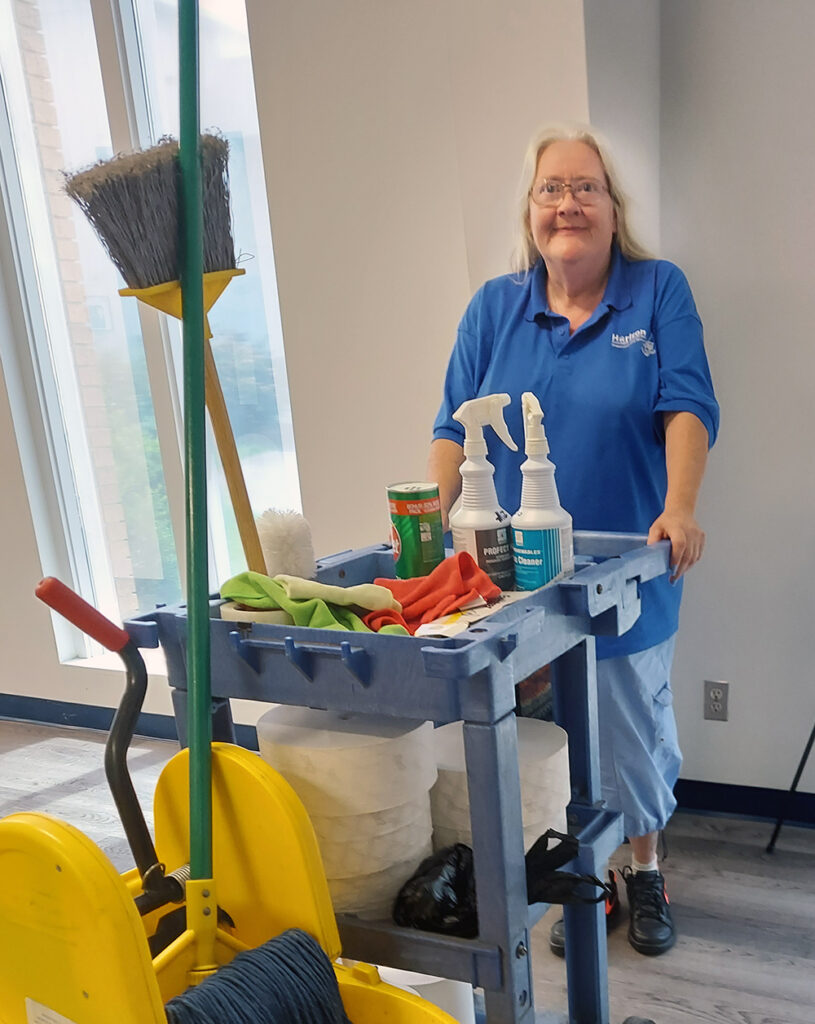 "They give people chances, opportunities that other people don't. Second chances, first chances. They gave me that first chance, and I'm still here."
Struggling to get by and unable to afford a place for herself and her family in Montgomery County, a friend's invite brought Tammy Rothgeb-Dawson to Hagerstown and, ultimately, Horizon Goodwill.
Now 60 years old, Tammy grew up in Takoma Park, Maryland. She met her ex-husband at 21, and they had two children – Chris and Billy. But after 27 years of marriage, they decided to separate.
Tammy moved to New Jersey with her youngest, Billy, for eight years. However, things in New Jersey didn't work out, so they moved back to Montgomery County. By then, her ex-husband had moved out and remarried, so it was just her and her two sons in one of the most expensive counties in the state.
So, grateful for the lifeline from her friend in Hagerstown, she stashed the family's belongings in storage. She knew she couldn't stay at her friend's house indefinitely, but no one was hiring everywhere she looked for work.
"I went everywhere, and nobody was hiring, or I couldn't get hired on," she explained. That's when her friend suggested Goodwill.
After some false starts, the paperwork was finally completed, and she started working in the warehouse. She found a place for her family and, with her brother's help, moved into the place where she lives to this day.
"I loved it. It made me feel very good because I was helping the less fortunate. Every piece of clothing I would hang was like, I'm helping somebody else," she said of her work at the warehouse.
The program she was on was temporary but designed to get people on their feet. But after leaving the program, she had difficulty finding something else.
Once again, Goodwill was there. After six months, she came back to work as a core employee. For nearly a decade, she has been working in janitorial services for Goodwill.
"I've been with this company for many years now," she says. "Probably about 8, 10 years. So it's like my second home."
It's a job Tammy enjoys and intends to keep doing until she retires, despite having several health issues.
"Well, I'm getting up in age, and I still feel comfortable with what I do. I enjoy what I do," she explains.
Another reason she continues working is it distracts her from personal tragedies. She lost her younger son, Billy, nine months ago. Shortly after, she lost the person she intended to marry.
"We just never know when our time is up. I came home from work, and I found him," she said of her son. "It's a vision I don't wish on no parent — to find their loved one. If it wasn't for my job, from working for Goodwill, I would have been in a psych ward."
Her job gives her purpose and joy.
"I wake up, and I know I must sound crazy, but I feel excited. I've got a job. I'm blessed. I'm blessed when I can wake up and get out of that bed and go to work and know I do my job to the best of my ability," she said.
At one time, she said she would crochet or read. Now, she throws herself into her work.
"My son had a life insurance policy. I don't want the money. I just want him," she said. "But that's not possible. That's not reality. So I choose to work. That's my enjoyment."
She focuses her time away from the job, enjoying time with her remaining son, Chris, who also has health issues.
"My goal is to save up and get a house, maybe later down the road," she said. "When I can retire at 65, maybe my son and I can get a house."
Tammy said without Goodwill, there was no doubt she and her family would have been on the street. And her work is her way of helping others.
"I don't have to work, but I choose to. I guess that's my hobby. Call me crazy or something, but I need to stay busy. And that's my way of working, helping others, and doing," she explained. "I am blessed to have a job, that Goodwill gave me a chance … Goodwill gives you chances. They don't judge you."