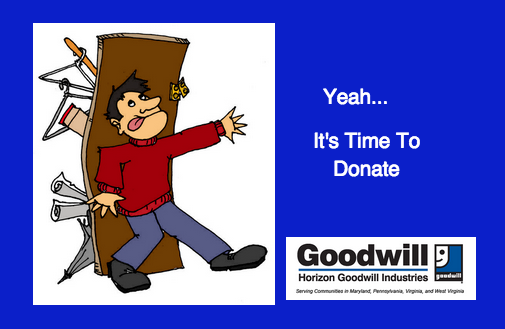 Hey Readers! Summer's not officially over yet, but it might as well be at my house. School's back in session and the Mrs. and I are attempting to get Kaitlyn back on schedule—no easy task for a third grade girl who's been playing from sunup to sundown for three months! Add to this the fact that one of our adult children, Connor, has decided to come and visit from Pittsburgh "indefinitely" and suddenly our three person household is now four…plus his dog Marshall.  We're running out of space, but, as always, my wife had a plan.
Running Out Of Space? Time To Donate To Horizon Goodwill!
When we moved from Pittsburgh well over a year ago, Missy and I decided it was the perfect time to downsize. The boys were all out on their own which left just Kaitlyn and the two of us. We chose a three bedroom townhouse, mainly because I've never been thrilled about doing lawn maintenance and Missy deserved a break from having to clean, maintain and operate a large house. Yes, a townhouse was the perfect fit for us…or so we thought.
It turns out the unused third bedroom quickly became the storage area. Boxes of holiday decorations, an old end table, a really cool ottoman I've had since college along with a battered futon—and tons of other stuff we no longer use— found their way into the equivalent of the "pay no mind" room.  Now with our son falling in love with the area we couldn't just let him continue to sleep on the downstairs sofa. Missy argued and I agreed, we simply had to clean out that third bedroom.
In my mind, I could fit all of the holiday storage containers through the incredibly tiny opening in our bedroom closet crawlspace. "Missy, we've got all that space just sitting there between the roof and our ceiling. We can fit everything we're not using, including my beloved ottoman, up there. No worries." Did I ever mention I'm mathematically challenged? I passed high school Geometry, barely, and I never looked back—until I found myself on the step ladder in that tiny closet, fighting with boxes that were never going to fit through that microscopic opening.
I looked down from my perch to see Missy grinning from ear to ear. "Hand me that smaller box", I instructed. She shook her head, that smile never leaving her face. "John, it's never going to fit." Now it was on! There was no way I was coming down from that ladder until every single unused item was securely stored in that crawlspace.  I would still be wrestling with those boxes if Missy didn't convince me she had a better idea.
"We're Donating To Horizon Goodwill!"
We spent the entire day Sunday sifting through those plastic containers, creating a "let's keep" pile and a "let's donate" pile. You know, it's amazing to realize how much unnecessary stuff you can accumulate over the course of a marriage!  "Missy, what's up with all these shoes, and these paperbacks? And why is Fabio on all the covers? And what in the world is this?" I held up a photo of a teen girl decked out in purple leotards, complete with a sparkling tiara and bedazzled gloves, jazz hands and all. "Give me that!", she barked as she snatched it from my hands. "That was from my dance recital…when I was twelve."
Does anyone want me to post that picture to the Horizon Goodwill Facebook page? If so, just let me know…please…let me know!
Come Sunday evening the third bedroom was totally cleaned out. I loaded old Thanksgiving decorations, boxes of teen romance books, about twenty pairs of shoes….women…size 8…and my old Bon Jovi concert shirt from 1984 into the car.  They were all going to Horizon Goodwill in the morning.
Later that night I knocked on Connor's door. There he was, Gatorade resting on the old end table, video game controller in hand, kicking back on the dated futon with his feet up on my prized ottoman. Captain Casual in the flesh. Without looking up from his game he acknowledged my presence with one sentence: "Yeah, I'm really going to like it here."
Do you think he will still be here when Kaitlyn enters high school?