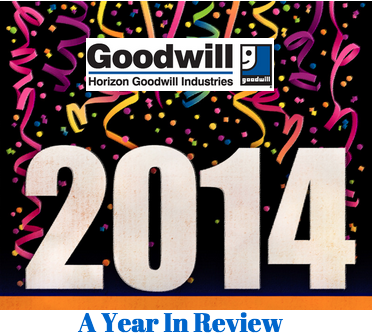 Out with the old and in with the new….but not so fast! As we look forward to 2015 we thought it would be fun to take a look back at some of our most popular blog articles from the past year. We've covered everything from helping others through clothing donations to the amazing wealth of business solutions Horizon Goodwill offers to local employers. It was also a very fascinating experience watching how one man learned first hand everything Goodwill Industries does on a daily basis to help local communities. We must admit, however, we were totally shocked by what article came in at Number One! Curious?
The Top Ten Horizon Goodwill Blog Articles From 2014
#10 "Back To School Treasures Include College Needs Too!"
One of our blog articles from John Spare starts the countdown. As a new resident who moved his family from Pittsburgh to Washington County, this post was actually written by his wife as the last of a trilogy detailing the treasures a family can find when shopping at our Horizon Goodwill Stores!
#9 "Get Glamorous With Goodwill"
Here's one from March detailing the high quality, much sought after brand names available at our retail locations. You never know what you can find when browsing the aisles at your local Horizon Goodwill store!
#8 "My Wife Surprises Me Sometimes"
This was the first entry in Missy's, (John's wife!) trilogy. She explains how cleaning out her daughter's closet revealed a few secrets about her husband hoarding some clothing that he was saving for a thinner day. Fortunately, for our readers, this plucky author had a better idea!
#7 "It's Amazing What You Don't Know"
A very informative piece written from the perspective of one of our new writers. This article reveals how an Average Joe learned first hand the benefits Horizon Goodwill offers residents of our local communities.
#6 "I Wish I Wouldn't Have Traded In My Car"
Thanks to this post more readers understand it just may be a wiser choice to donate your vehicle to Horizon Goodwill opposed to trading it in a dealership.
#5 "Five GOOD Looks To Mimic This Season!"
Our readers loved this article detailing the amazingly stylish fashions of the summer season! You, too, can find trendy clothing just like the outfits spotlighted in this post when browsing the aisles at your local Horizon Goodwill location!
#4 "I Will Never, Ever, Donate This Item To Horizon Goodwill"
Ahh, another opportunity to check in with John and Missy as, once again, she wants to clean out the marital closet but is met with resistance! Find out what one item our author refused to donate, and, more interestingly, why he simply will not part with it.
#3 "10 Things You May Not Know About Horizon Goodwill Industries"
A Top Ten List making our year end Top Ten List, imagine that! Here you can find some little known facts about Horizon Goodwill and, more importantly, how you can help individuals with barriers to employment in your neighborhood.
#2 "Social Media Contest: Goodwill Is Here, Time To #SpringClear!
Who doesn't feel refreshed after a thorough Spring Cleaning? Last March we decided to run a little contest through our social media channels to help you get into cleaning mode! What do you think? Should we do again this spring?
#1 "You're Invited! Grand Opening In Shepherdstown, WV"
Can you believe the topic of our most popular blog post of 2014 was our newest retail store in Shepherdstown, West Virginia? We can't believe the grand opening was over six months ago! We're very proud to say the store has been hugely successful thanks in part to your generous donations and continued patronage!
Wow, what a year! Thank you to all for making 2014 so special! We look forward to seeing you next week with our first blog post of the New Year!