Did you know that 1 in 4 people over the age of 18 have a criminal record? That's an astounding statistic – that's nearly 65 million people.  Having a criminal record is one of the top 5 barriers faced by chronically unemployed job seekers in our 4-state region.  There is good news though!
Goodwill's Legal Expungement Assistance Program, or LEAP, is here to help.  Funded by United Way of Washington County, our LEAP Program offers assistance with the expungement process whose charges happened in Maryland. With the goal of increasing employability and building confidence, Goodwill staff work to permanently remove eligible charges from an individual's record.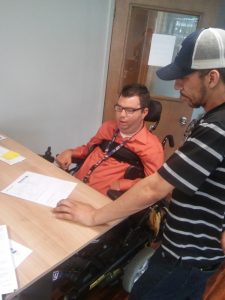 If you have a criminal record, employers often can't discern whether the charges against a job seeker resulted in conviction, were withdrawn, or were dismissed.  Over the last 12 months, Goodwill's LEAP program has approved 49 cases for expungement.  By using specific Maryland expungement laws, eligible charges are removed from the record and can no longer be viewed by potential employers or the public.
LEAP at WORK – RJ's Story:
"RJ" graduated from Kaplan in early 2015 with an AA degree in IT, but is currently employed at a local grocery store.  He is looking to progress in his career and use his degree, but believes the biggest barrier that is keeping him from achieving his goal is his background.  His concern is that he would not be selected for advanced employment in his field of study.
"RJ" came to Horizon Goodwill Industries in February 2016 after being referred by Kaplan University. Together, RJ and Andrew, Goodwill's LEAP Coordinator, were able to expunge 4 cases on RJ's record – over 11 charges total!  RJ has severe physical disabilities in addition to a criminal background.  Expunging his record minimizes the barriers RJ has to face as he strives to enhance his life personally, economically, socially, and professionally.  The LEAP Program helped RJ focus on achieving his career goals, on becoming more successful and continuing to provide for his family.
A clean slate (or at minimum a shorter one!) can be an effective pathway to employment and access to opportunity.  If you or someone you know could benefit from Goodwill's Maryland LEAP Program, our LEAP Coordinator Andrew is at open enrollment every Tuesday between 9:00 am and 12:00 pm.  Come visit our downtown Goodwill office located on 200 N. Prospect Street – no appointment necessary.