Welcome to the Horizon Goodwill Industries company newsletter.
Our Mission is Removing Barriers, Creating Opportunities.
September 2023                                                                                                             Vol. 2, Edition 3
---

Changes in Latitude, Changes in Attitude – Jimmy Buffett
Hello HGI friends! I had my September newsletter piece all written and ready to turn in, and it was fantastic. In it, I brilliantly connected the Labor Day holiday with our purpose at Goodwill, no doubt leaving everyone inspired as we slowly close the door on summer and turn our attention to the busy fall season. Ok, true confession: As of Friday, I hadn't written anything at all. 😊
And then, over the Labor Day weekend, Jimmy Buffett passed away. Some of you probably already know this, and others are probably asking why does this matter and why is Dave writing about it???
Well for one, yours truly is a Parrothead, which means I have followed his career and music for almost thirty years. Jimmy Buffett was not only a successful musician and songwriter but also a lifestyle brand in his own right, known for his "Margaritaville" persona and laid-back, tropical attitude.
Here are several lessons I have learned from his music, adventures, and business:
Embrace the "Island State of Mind": Buffett's music often promotes a relaxed and carefree attitude associated with beach and island life. While not everyone can live on a tropical island, adopting a more relaxed and positive mindset can improve your overall well-being and mental health.
Find and Follow Your Passion: Jimmy Buffett's success is largely attributed to his passion for music and storytelling. He followed his passion and turned it into a successful career. Pursuing what you love can lead to both personal fulfillment and professional success.
Resilience: Like many successful artists, Buffett faced many setbacks and challenges in his career. He persevered through difficult times, demonstrating the importance of resilience and determination in achieving your goals.
Surround Yourself with Good People: Buffett often collaborated with other more talented musicians and surrounded himself with a supportive team. Building a strong team and support network can help you succeed in your endeavors.
Live in the Moment: Many of Buffett's songs emphasize the idea of living in the present and savoring life's experiences. Practicing mindfulness and being present can lead to greater contentment and joy.
Seek Adventure: Buffett's songs and life contain stories of adventure and exploration. Embracing a growth mindset and stepping out of your comfort zone can lead to personal growth and memorable moments.
Be Kind and Give Back: Jimmy Buffett is known for his generosity and philanthropic efforts, particularly in environmental conservation. Being kind to others and giving back to your community or a cause you're passionate about can provide a sense of purpose and fulfillment and make the world a better place.
We may never get to live the "Margaritaville" lifestyle that he sang about. But if we put our hearts and heads to it, I think we can all find joy and satisfaction in the work we do, the opportunities we have, and what we give back. As he wrote in a song, "with a little love and luck, we will get by."
With hope and fins up,
Dave
---

Horizon Goodwill Industries Honored With Award As One Of America's Best Health Plans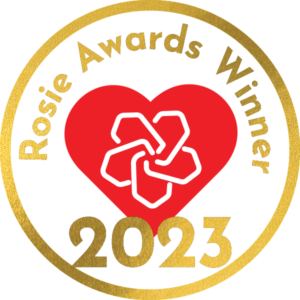 Did you know Horizon Goodwill Industries was recently honored at the inaugural "Rosie Awards" presentation in Chicago with a national health plan excellence and stewardship award? Fifty employers or unions with memberships ranging from 27 to 300,000 were honored by over 700 healthcare and benefits professionals, industry experts, and thought leaders gathered at the Chicago Navy Pier on August 7-9 to discuss strategies for delivering better care at a lower cost while improving patient outcomes. The Rosie Awards are presented by Health Rosetta, a collective of people who have seen health's future in action and are passionately working to make it a reality.
Dave Chase, Health Rosetta Co-founder, offered additional insight on the 2023 Rosie Award selection criteria behind America's Best Health Plans: "With health plan costs being one of an organization's top three expenses, it's imperative that leadership have a comprehensive third-party assessment to help them understand how their plan is operating, how it compares to high-performance plans, and provides detailed best practices and strategies to improve their plan…"
Horizon Goodwill Industries' selection as one of the 2023 Rosie Award winners also spotlights the award-winning plan design and advisement led by Health Rosetta Advisor Ben Bohonowicz of Employee Benefit Services of Maryland.
"It's been an exciting and rewarding experience to guide Horizon Goodwill down the path of a high-performing health plan. The Horizon Goodwill Leadership Team was quick to understand there's a better way of providing comprehensive health coverage. They've been particularly thoughtful about their health plan, really focusing on access, quality of care, cost, and the overall member experience. Benefitting the community is ingrained in HGI's DNA.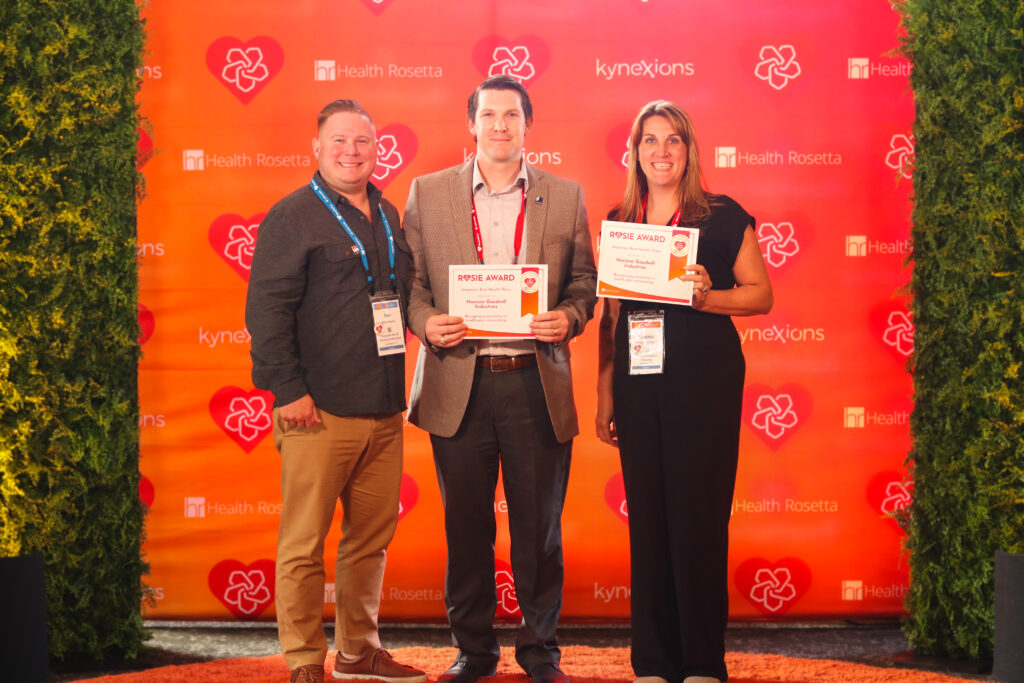 You can see it reflected in their health plan, where HGI employees can receive FREE care on a variety of services:
Primary Care
Diagnostics, including Labs, X-rays, and Imaging
Outpatient/Inpatient Care
Maintenance Generic, Brand, and Specialty Rx
$250 deductible on other medical services
100% employer-paid Direct Primary Care (DPC) membership
Employee Only Contributions at $40/pay since 2018
Free dental and vision coverage for employees enrolled in the health plan
Up to $500 cash incentive for joining the concierge pharmacy, HaloScrips
Horizon Goodwill Industries can be very proud to be recognized as an industry leader with one of the best health plans in America."
If you're enrolled in the HGI Insurance plans, please take advantage of these great benefits!
---
YOU are making a difference in the lives of many people. It's the beginning of a new year, but here is your impact through July 2023: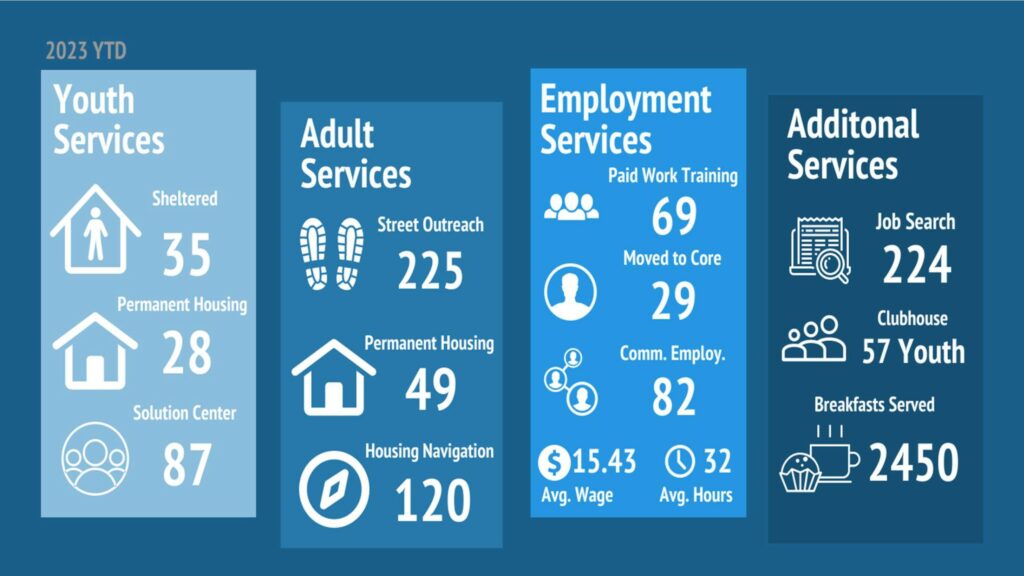 ---

Blessed because Goodwill gives you Chances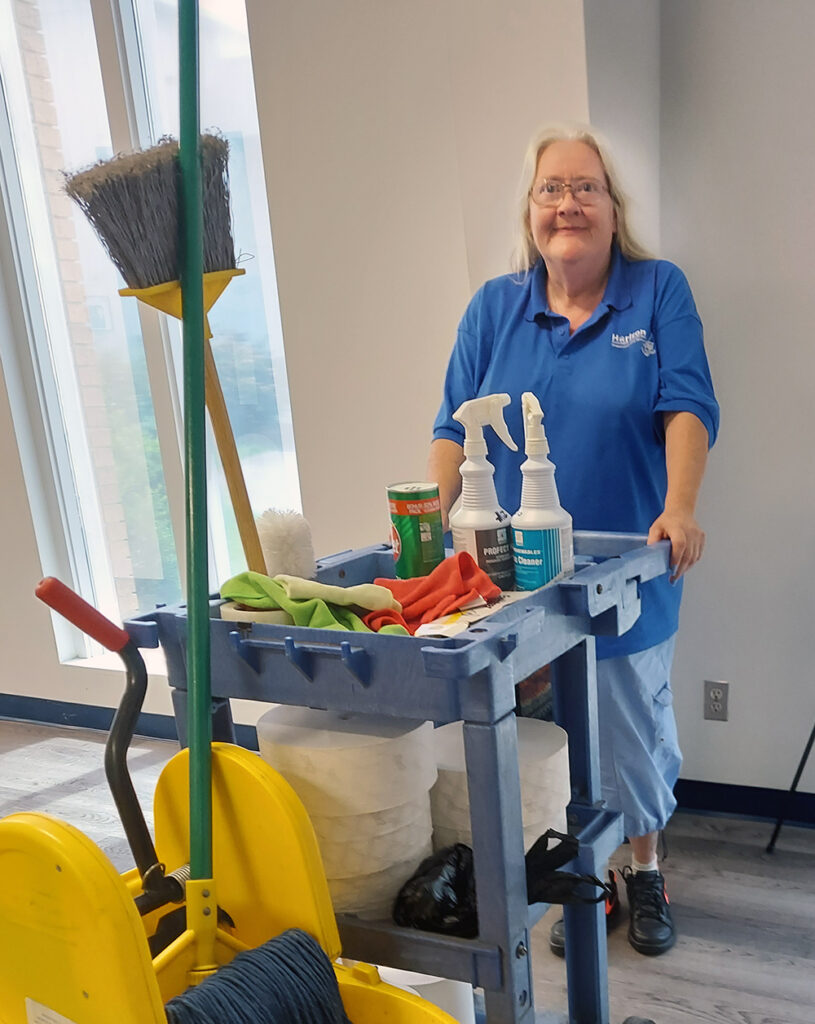 Struggling to get by and unable to afford a place for herself and her family in Montgomery County, a friend's invite brought Tammy Rothgeb-Dawson to Hagerstown and, ultimately, Horizon Goodwill.
Now 60 years old, Tammy grew up in Takoma Park, Maryland. She met her ex-husband at 21, and they had two children – Chris and Billy. But after 27 years of marriage, they decided to separate.
Tammy moved to New Jersey with her youngest, Billy, for eight years. However, things in New Jersey didn't work out, so they moved back to Montgomery County. By then, her ex-husband had moved out and remarried, so it was just her and her two sons in one of the most expensive counties in the state.
So, grateful for the lifeline from her friend in Hagerstown, she stashed the family's belongings in storage. She knew she couldn't stay at her friend's house indefinitely, but no one was hiring everywhere she looked for work.
"I went everywhere, and nobody was hiring, or I couldn't get hired on," she explained. That's when her friend suggested Goodwill.
After some false starts, the paperwork was finally completed, and she started working in the warehouse. She found a place for her family and, with her brother's help, moved into the place where she lives to this day.
"I loved it. It made me feel very good because I was helping the less fortunate. Every piece of clothing I would hang was like, I'm helping somebody else," she said of her work at the warehouse.
The program she was on was temporary but designed to get people on their feet. But after leaving the program, she had difficulty finding something else.
Once again, Goodwill was there. After six months, she came back to work as a core employee. For nearly a decade, she has been working in janitorial services for Goodwill.
"I've been with this company for many years now," she says. "Probably about 8, 10 years. So it's like my second home."
It's a job Tammy enjoys and intends to keep doing until she retires, despite having several health issues.  Read her full story here.
---

Free Book Friday!
For the end of summer, the retail team began a Free Book Friday program at all of the Horizon Goodwill retail stores (excluding / re•find /).
Each Friday, children ages 0-18 can pick out an age-appropriate book at their favorite Horizon Goodwill Store and bring it to the register (no additional purchases are necessary). This promotion is open to all employees and will run from August 18th until Friday, September 8th. There's still time to take advantage of this great opportunity to help your child enjoy the gift or reading.
Children must be present to receive a free book and are limited to one book per child, one store on Friday only.
This is a Horizon Goodwill Industries-only store promotion. We have stores throughout Allegany, Garrett, and Washington Counties in Maryland, Fulton and Franklin Counties in Pennsylvania, Frederick, Clarke, Warren, Shenandoah, and Page Counties in Virginia, and Hardy, Grant, Hampshire, Mineral, Morgan, Berkeley, and Jefferson Counties in West Virginia.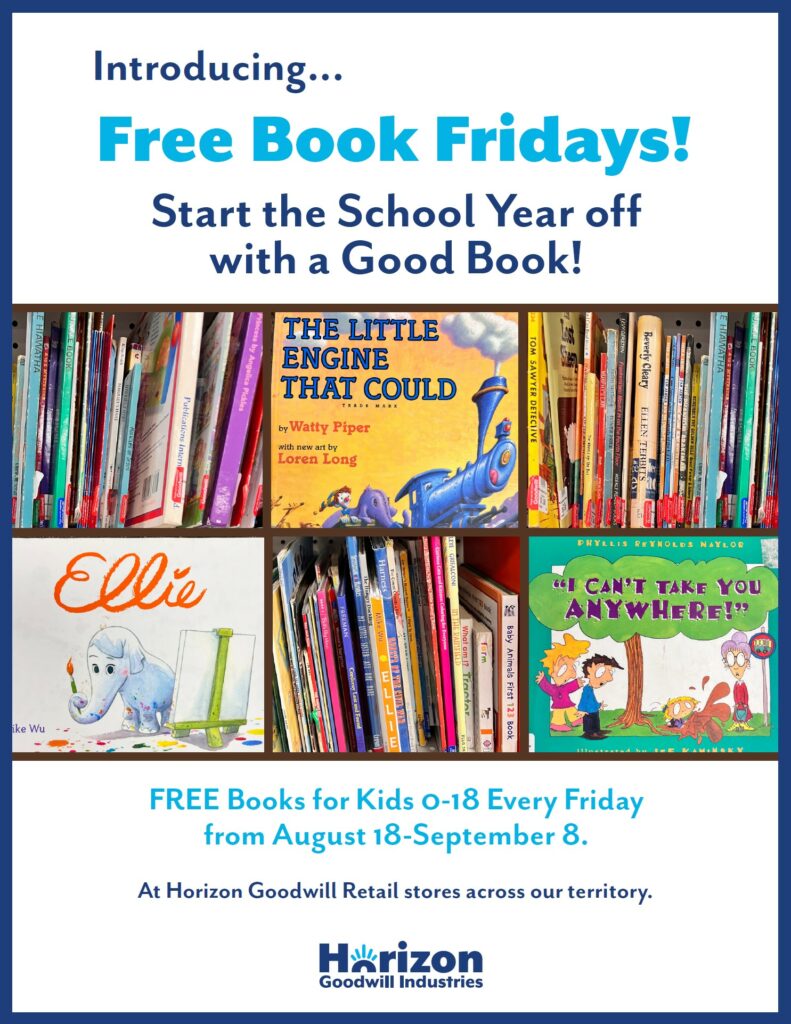 ---

Tammy Elrick completes her certification as a Goodwill® Career Coach and Navigator Professional!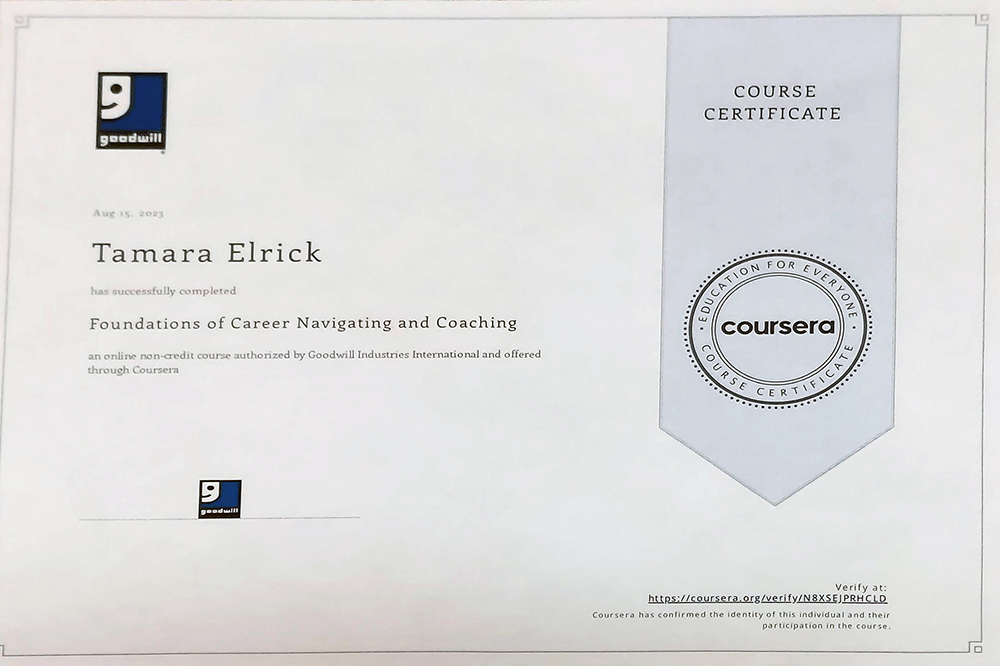 Tammy recently completed her certification as a Goodwill® Career Coach and Navigator Professional on August 15th.
This International Coaching Federation (ICF) accredited Professional Certificate includes four beginner-level courses to help you build skills that prepare you for an entry-level Career Coach or Navigator job. She learned from other Career Coaches and Navigator professionals to gain insights from the job seekers and career advancers they serve. Now that she's completed all the courses, she can use those credits toward the International Coaching Federation (ICF) credential renewal requirements. She now has skills that include human-centered communication, conducting assessments, career planning, preparing clients for a new career, and other items.
She learned about the following items:
Explain the foundational concepts of Career Coaching and Navigating.
Familiarize clients with the Career Coaching and Navigation experience.
Discover career possibilities for Career Navigators and Career Coaches.
Describe common Career Development theories, models, and tools.
Summarize Coaching Agreements and Career Service Plans.
Identify professional and ethical standards.
Describe human-centered approaches to Career Coaching and Navigating.
This program included more than 40 hours of instruction, including scenario-based activities that enabled her to be in the mindset of a career navigator and to prepare her for real-life situations she may encounter on the job.
Congratulations Tammy!
---
As a reminder, utilize "Ask Here" in Paycom ESS (Employee Self-Service) to connect you to a Resource Coordinator. Access our EAP (Employee Assistance Program) on the BHS Portal online or via the app at portal.BHSonline.com Username: Horizon Goodwill or call 800-327-2251.
---
Milestones & New Hires
Congratulations to the following people for reaching a great milestone, and a big 'Welcome' to our newest team members as they begin their journey to their milestones!

Anniversaries
New Hires
Name
Location
Years
Name 
Location
Start Date
Daniel Boespflug
Stephens City
1 Yr.
Faquir Williamson
Martinsburg
Aug 1
Emens Rho
Corporate Center
1 Yr.
Andrea Brock
Shepherdstown
Aug 2
Angela Gaither
Corporate Center
1 Yr.
Rachelle Proulx
Corporate Center
Aug 2
Rodney Feller
Cumberland UPIP
1 Yr.
Arnise Journey
Charles Town
Aug 3
Kathryn Klym
Stanley
1 Yr.
Deborah Miller
Corporate Center
Aug 4
Dimitri Bradshaw
Charles Town
1 Yr.
Jennifer Reece
Berkeley Springs
Aug 5
Timothy Waggy
Fort Detrick
1 Yr.
David Daughton
LaVale
Aug 7
Andrew Burns
Waynesboro
1 Yr.
Noah Stribling
Front Royal
Aug 7
Kevin Brooks
Charles Town
1 Yr.
Edward Thomas
Romney
Aug 8
Courtney Baker
Cumberland UPIP
1 Yr.
Norman Calhoun
Oakland
Aug 9
Brenda Creamer
Martinsburg GSA
1 Yr.
Raekwon Momen
HGI-2
Aug 9
Lizzie Shoemaker
Corporate Center
1 Yr.
Nevelle Pierre
Corporate Center
Aug 9
Wende Cordone
Shepherdstown
1 Yr.
Leah Walker
Shepherdstown
Aug 11
Yazmin Trammel
Martinsburg GSA
1 Yr.
Sarah Biedler
Shepherdstown
Aug 15
Lenna Burke
Stanley
2 Yrs.
Dj Jackson
Martinsburg
Aug 15
Christopher Six
Unassigned
2 Yrs.
Kristi Leitma
Martinsburg
Aug 15
Jamie Wethington
HGI-2
2 Yrs.
Philip Adams
HGI-2
Aug 16
Kristina Hood
Romney
2 Yrs.
Brianna Chapman
Martinsburg GSA
Aug 16
Kristen Smialek
Charles Town
2 Yrs.
Barbara Frasch
Martinsburg
Aug 18
Tyrone Glover
Corporate Center
2 Yrs.
Deanna Elliott
Front Royal
Aug 19
Jody Harley
Stephens City
2 Yrs.
Karla Mckenzie
Youghiogheny
Aug 20
April Jenkins
Front Royal
2 Yrs.
Ronald Armstead
Corporate Center
Aug 21
Emily Hebert
Waynesboro
2 Yrs.
Trine Knepper
Greencastle
Aug 21
Brenda Douglas
Sideling Hill
3 Yrs.
John Mcfarland
Shepherdstown
Aug 21
Tonya Knettel
Keyser
3 Yrs.
Daniel Bevagna
Cumberland UPIP
Aug 22
Eddiego Boykin
Cumberland UPIP
3 Yrs.
Raegan Botzan
Greencastle
Aug 22
Samantha Meeker
Corporate Center
3 Yrs.
Makayla Russell
Martinsburg
Aug 22
Mary Ensinger
Corporate Center
3 Yrs.
Corey Tiller
Martinsburg
Aug 22
Dylan Norris
Cumberland UPIP
5 Yrs.
Robert Bernard
Corporate Center
Aug 23
Ronnie Miller
Cumberland UPIP
5 Yrs.
Cristy Corle
South End
Aug 24
Gary Hargett
Fort Detrick
7 Yrs.
Fernandez Evans
HGI-2
Aug 24
Cindy Weaver
Cumberland UPIP
9 Yrs.
Cindy Quaglio
Martinsburg
Aug 24
Sherry Lescalleet
HGI-2
10 Yrs.
Fern Elden
Corporate Center
Aug 28
Anthony Pittman
Sideling Hill
10 Yrs.
Carrie Hinton
Corporate Center
Aug 28
Jordan Smith
Martinsburg GSA
12 Yrs.
Declyn Siix
Cumberland UPIP
Aug 28
Linda Vailati
Romney
13 Yrs.
Emily Youngblood
Oakland
Aug 28
Shawn Sites
Fort Detrick
14 Yrs.
Linda Ganoe
Winchester
Aug 29
Teddy Wentzell
Corporate Center
15 Yrs.
Annette Rawlings
Charles Town
Aug 29
Jennifer Bauserman
Winchester
22 Yrs.
Trina Hanna
Fort Detrick
23 Yrs.
---
Upcoming Events
9/9: Maryland Wellness Presents: Breaking through Barriers, Fort Ave, Cumberland (12 PM – 6 PM)
9/12: Meritus Health/Horizon Goodwill Job Fair, 151 N. Burhans Blvd., Hagerstown (10 AM – 2 PM)
9/13: Cut|Cloth|Work! event, Hagerstown MD, 151 N. Burhans Blvd., Hagerstown (10 AM – 2 PM)
9/15: Allegany County Community Resources Day, Allegany College, Cumberland (10 AM – 2 PM)
Thank you for reading the Horizon Goodwill Industries newsletter. If you have any exciting news or story suggestions, please get in touch with us at marketing@goodwill-hgi.org.