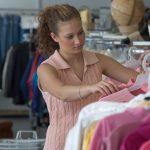 If you've ever shopped at one of our Horizon Goodwill Industries locations, then you know there are tons of treasures and trinkets just waiting to be discovered. Shopping at our stores is all about the thrill of the hunt. From clothing to furniture, toys to household items, each store sells a wide variety of items. To help you get the most out of your Goodwill hunting, consider these tips for finding great deals at our retail stores.
Give yourself at least 30 minutes of time to browse. Fashionable finds sometimes aren't in plain view; they require some digging. Don't get discouraged if you don't find something in the first five minutes at one of our stores. There are plenty of racks to go through, so relax and take your time.
Buy pieces that will work with your existing wardrobe or furniture. Instead of wasting money on boots that won't match a single thing in your closet or a painting that doesn't fit with your home décor, opt for pieces that will blend seamlessly with your current style.
Anticipate surprises. It's good to go in to Goodwill with a plan of what you're looking for, but sometimes the best deals at our stores are the ones that catch you by surprise. Keep an open mind when browsing.
Check for signs of wear. Remember that most of what you find at Goodwill is pre-owned, so inspect all items (especially clothing) to make sure it's just the right amount of "broken in" for you before purchasing.
Do you have a Goodwill purchase you're proud of? Share a photo or description of the item below or on our Facebook page.