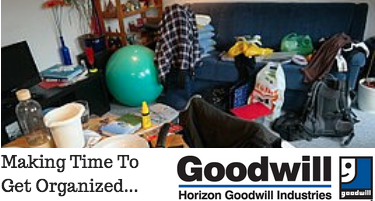 I've been feeling really good all week! Apparently a lot of readers really enjoyed last week's article detailing my second-grade daughter's desire to get her room organized while helping others in our community. The article has received several shares on social media and resulted in multiple emails showing up in my in-box, even a phone call…from my mother, but hey, she was impressed with her grand baby! Yeah, feeling pretty, pretty good…until I came home from work last night.
"You're going on a diet!"
Before I had my shoes off, that's how I was greeted. No "Honey, how was your day?". Nope, an all out assault letting me know in no uncertain terms my eating habits and lack of exercise was about to change. I don't need to go into details about my wife's personality, do I? Let's just say she's very…direct…with how things in her universe are going to be.
"Missy, come on! We've been over this like a million times! I'm not that overweight…am I?"
I really don't think I'm that heavy…for my height…and my age…I mean, everyone knows your metabolism slows the older you get, right? And I still have most of my hair, although it's now more salt than pepper…but I just turned 45 a few weeks ago, what does she expect?
"You're going on a Clutter Diet—starting today, and I don't want to hear any excuses!"
I must admit, I breathed a sigh of relief. Even though I had no idea what a "Clutter Diet" actually was, it didn't sound like it involved juicing and swearing off red meat.
"Ok…a Clutter Diet…" I know enough not to start a dialogue with Missy until I can properly ascertain the facts. "And what does that involve, exactly?"
Gently, she took my hand and lead me to the Man Cave, or, as she calls it, the basement. "What do you see?", she asked.
"Well," I stammered, "there's my recliner…and my television…."
"Uh huh, go on."
I looked around the room. "My bookcase…my desk…"
"And what about your bookcase and desk?"
"Yeah, there both pretty jammed packed…I've been meaning to clean up my work area, but there's just so much going on. You know how it is, not enough hours in the day and—". No kidding, readers, she held her hand up over my lips to shush me!
"You saw everything your daughter did in her room. Do you mean to tell me you aren't capable of getting yourself organized as well? I don't know if you've noticed, but ever since I drove Kaitlyn to the Horizon Goodwill Store to donate all those toys she doesn't play with anymore, things have been different."
"Different?", I asked.
"Come with me."
I followed my wife upstairs and we both watched quietly as our cute little girl sat at the kitchen table doing her homework. Like most parents, getting a child to sit down after school to perform even more reading, writing and arithmetic can be as frustrating as eating soup with a fork, but there she was, smiling and solving equations.
My wife whispered, "I have to show you this." She pulled a note from her back pocket and handed it to me. I unfolded the paper and read the following:
"Just a quick not to let you know Kaitlyn has had a tremendous impact on the class over the past few days. She has taken it upon herself to keep the classroom organized after our lesson on January being National Get Organized Month. She has been helping other students keep their homework agendas in order as well as keeping the play corner straightened and the reading books kept tidy. You have quite the responsible little girl and should be very proud!"
Ms. Lindsey's words brought a smile to my face. Missy leaned in, whispering in my ear. "You just have to make time to stay organized, which will make you more productive. I ordered Lorie Marrero's book which is going to help you do just that."
"Lorie Marrero? A friend from Horizon Goodwill talks about her all the time. Yeah, I think you're right. I can do this. It's got to be easier than like an actual 'lose weight' diet, don't you think?"
"First things first. Let's get your Fortress of Solitude organized, then your closet, then the garage….and then we can discuss that spare tire, Mr. Spare."