Welcome to the Horizon Goodwill Industries company newsletter.
Our Mission is: Removing Barriers, Creating Opportunities.
June 2023                                                                                                             Vol. 1, Edition 12
---

Ask Yourself "Why Not"? 
Last month we celebrated the successes of our Annual Awards recipients against the backdrop of the work we know has yet to be accomplished. As uncomfortable as it may be, we acknowledge the systems of perpetual poverty that exist across our territory. And yet, the stories we shared demonstrate the power of persistence, partnership, innovation, and the relentless pursuit of a better tomorrow. They are the embodiment of hope and our commitment to be future-focused in all we do.
So, how do we alleviate the economic conditions that perpetuate poverty? How do we ensure equitable access to critical resources? How do we help people believe that there is a pathway to a better tomorrow? Too often we spend our time seeking to explain or justify why these things are the way they are. Instead, I want to challenge you to be different; to do as we do at Horizon Goodwill – imagine what is possible and ask why not?
Why not open a free medical clinic in an area that has no local access to these services?
Why not provide a safe place for a young adult to live until they can afford one on their own?
Why not open a grocery store so that food doesn't cost 200% more for those who lack transportation?
Why not reimagine pathways to employment through partnerships with inclusive employers and organizations?
WHY NOT?
Take the stories we shared last month of creativity and commitment and use them to propel you forward to action. Have the courage to challenge legacy beliefs and systems that perpetuate the cycle of crisis and do not lift people out of poverty. Challenge yourself to meet people where they are, listen to understand their experiences, and believe as we do in the simple truth that most people really do not want just a handout – they want a hand up. Each of you has an opportunity to demonstrate what is possible when given opportunity.
Work with us towards creating a more equitable society that ensures everyone has access to the resources and support they need to thrive. Be relentlessly future-focused, spread hope, and dream of things that don't exist, and ask, why (the heck) not.
Thanks for being on our team, Dave
---

YOU are making a difference in the lives of many people. It's the beginning of a new year, but here is your impact through April 2023: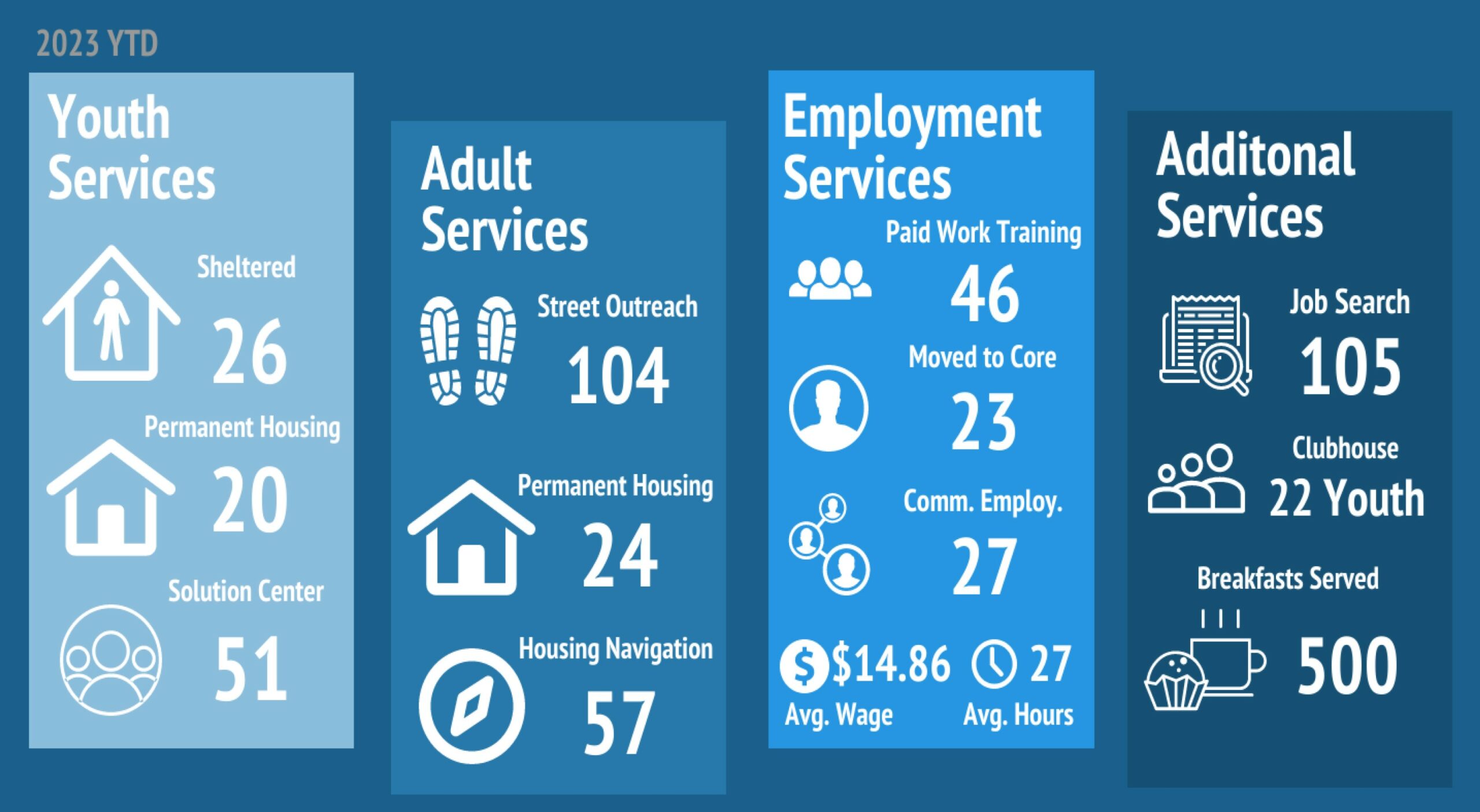 ---

Team Spotlight: Sideling Hill Visitors Center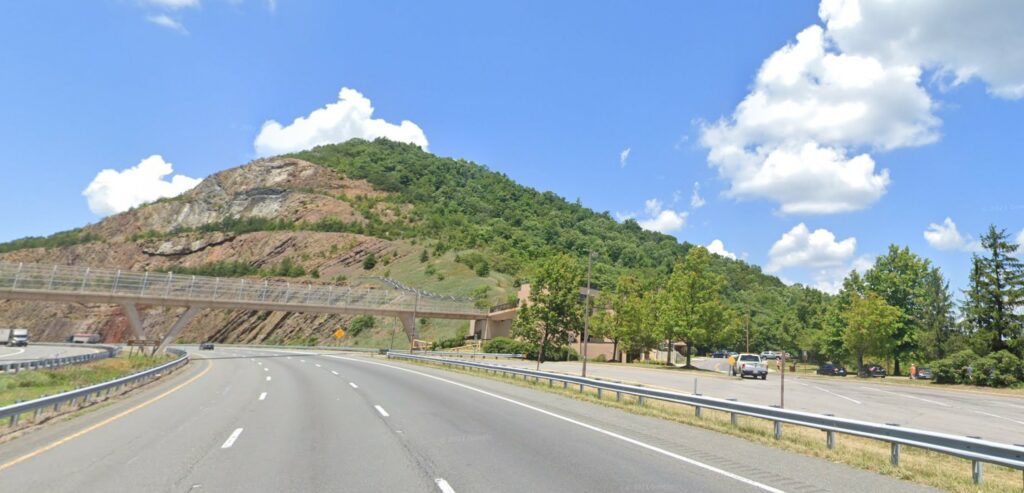 If you're traveling out to Western Maryland on Rt. 68, you've probably passed by the Sideling Hill Visitors Center. You may not know this, but HGI Business Services has a contract to maintain that location.
Our custodial staff at Sideling Hill work as a team to keep restrooms clean on the west and eastbound sides. We are always staffed 24 hours a day and seven days a week including holidays and bad weather. Our team is responsible for maintaining buildings including carpet cleaning, restroom maintenance, and window cleaning. Our team removes ice and snow in winter to keep travelers safe on the walkways.
The staff stays very busy during the fall, spring, and summer. All grassy areas are kept mowed and trimmed. Flowers are planted and thinned out, and weed removal is an everyday job during the summer. All fence lines and banks are kept weed-free as well. The picnic tables, railings, and trash cans are scraped and painted each season. Mulch is put down every season, and all trees and shrubbery are kept neatly trimmed. The parking lots and curbs are swept on every shift. All trash cans inside and outside are collected several times every shift. During the spring and fall, leaves are raked and cleaned. Some plumbing and carpentry work is sometimes required, which the staff handles.
We have four staff members on shift 6 am-2 pm and three staff members on 2 pm- 10 pm and two on shift 10 pm-6 am. Most of the outside work is done from 6 am-8 pm. Anything that Maryland State Highway Administration (MSHA) requests to be done on-site, our team works together to get done.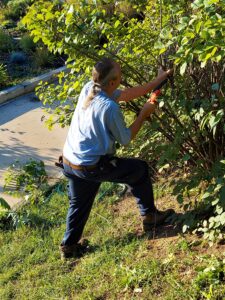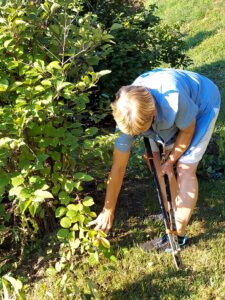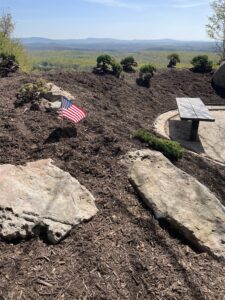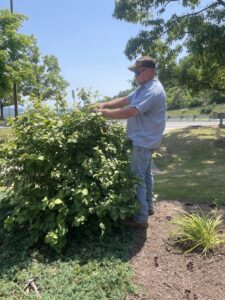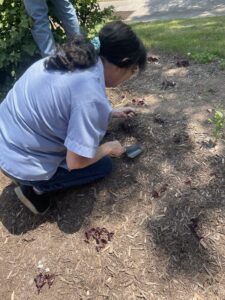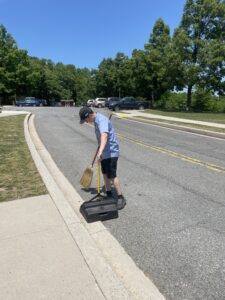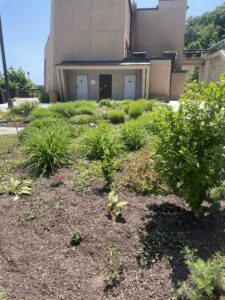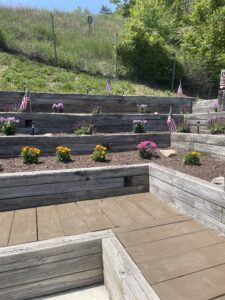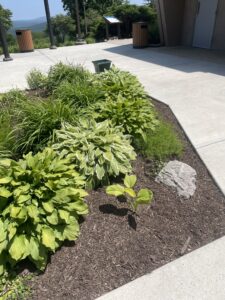 ---

New Store Managers
Oakland, MD:

My name is Ashley Virts, and I started as the Oakland Store Manager in mid-May!

I'm very excited about the opportunity to learn and grow with the company! I'm originally from Keyser, WV.

I have been in Retail Sales and Management for the past eight years! I love having a great team and getting to know everyone!

I'm a huge book nerd, so I spend a lot of time reading. I also love to spend time outdoors camping, hiking, and fishing!

Mt. Jackson:

My name is Brittany Bourland, and I started as the Mount Jackson store manager at the beginning of April!

Before this, I used to work in the food industry for four years. Then coming to Goodwill to experience the retail industry. I can say that the positions I've experienced here at Goodwill have been nothing less than wonderful. I don't know why I didn't do it sooner!

I love doing activities with my two dogs, watching the newest TV shows, or just soaking up the sun in my spare time.

Greencastle, PA:

My name is Tonya Zimmerman, and I am the new Greencastle store manager. I started mid-May!

I began as a cashier with the Burhans store six years ago and then moved to the ECommerce department at the corporate office. I am so excited about this opportunity.

I love meeting new people. I have a great staff, and I enjoy working with them.

I enjoy relaxing at home and spending time with my family in my spare time.
Tractor Supply Donated Equipment to Horizon Goodwill Industries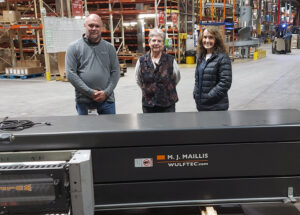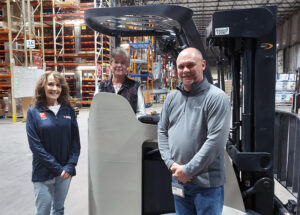 Tractor Supply Company (TSC) recently provided a forklift and shrink-wrap machine to HGI. Adding these pieces to our warehouse on Pennsylvania Ave will enable HGI to be more efficient with the storage and processing of donated materials and to package our loads more securely as they are sent to our retail stores and other warehouse facilities.
While HGI has used forklifts in the past, the shrink wrap machine is something new to HGI, and its use can be applied across the warehouse. Shrink-wrapping these loads will be much safer for all warehouse employees rather than just strapping down a load or placing a bin for rack storage.
Angie Engle, Horizon Goodwill Director of Donation Acquisitions, said "We are so grateful for the generosity of this donation. Although we do receive much of our donations from the community, it's next level to see companies like Tractor Supply being so supportive."
The entire their entire management team at TSC was excited and very helpful throughout the entire process of donating. Partnering within the community can make each organization stronger. Potentially Horizon Goodwill program participants could become TSC employees or part-time associates while TSC has provided the equipment to make Horizon Goodwill more efficient.
---

Welcome to Bobby Maguire, Vice President of People and Culture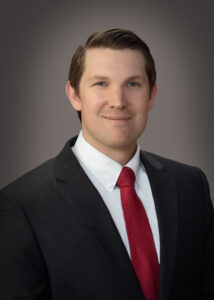 Horizon Goodwill Industries (HGI) recently named Bobby Maguire the new People and Culture Vice President.
Bobby brings ten years of professional experience from multiple industries to the organization. In his new role, Bobby will provide strategic leadership for HGI's newly formed People and Culture division, consisting of the current Human Resources and Training and Development divisions.
"As a service member in the United States Army, I served to protect America's freedoms. Now as a member of the Leadership team at HGI, I'm excited to be part of a team dedicated to helping people enjoy those freedoms I served to protect."
Before Horizon Goodwill, Bobby worked for NVR Inc as a Workforce Development Special Projects Manager, where he focused on NVR's talent strategy, optimizing the Candidate and Employee Experience, emerging leader development, retention management initiatives, employee engagement, onboarding, and training.
"People are the lifeblood of any organization. Creating an environment where people enjoy coming to work and have a good experience doing so shouldn't be the exception to the rule. I'm excited to bring my experience in continually improving the employee experience to an organization that positively impacts the people in our communities."
Bobby Maguire is currently a member at large at Morris Frock American Legion Post 42, is the proud father of two boys, and resides with his wife Crystal in Hagerstown.
---
As a reminder, utilize "Ask Here" in Paycom ESS (Employee Self-Service) to connect you to a Resource Coordinator. Access our EAP (Employee Assistance Program) on the BHS Portal online or via the app at portal.BHSonline.com Username: Horizon Goodwill or call 800-327-2251.
---
Milestones & New Hires
Congratulations to the following people for reaching a great milestone, and a big 'Welcome' to our newest team members as they begin their journey to their milestones!

Anniversaries
New Hires
Name 
Work Location
Years
Name
Start Date
Craig Humfelt
Stephens City
1 Yr
Jamie Winebrenner
5/8
Donnell O'Donnell
Greencastle
1 Yr
William Walters
5/8
Carol Abrecht
Waynesboro
1 Yr
Danielle Cosenza
5/8
Drew Johnson
Charles Town
1 Yr
Tanika Medina
5/9
Emily Flora
Keyser
1 Yr
Kole Forrest
5/9
Rodney Feller
Cumberland UPIP
1 Yr
Abraham Hernandez
5/9
Nicole Matherly
Corporate Center
1 Yr
Ariana Jackson
5/9
Stephen Runion
Woodstock
1 Yr
Alyssa Miller
5/9
Troy Stickler
Greencastle
1 Yr
James Odans
5/9
Erin Brennan
Smithsburg
1 Yr
Teresa Anderson
5/9
Melvin Barnett
Corporate Center
1 Yr
Haley Bolyard
5/9
Stacy Ritchie
Cumberland UPIP
1 Yr
Patricia Runion
5/9
Larry Hancock
Winchester
1 Yr
Mark Ryman
5/9
Kimberly Snyder
Keyser
1 Yr
Mindy Snyder
5/9
Blanca Cordon
Fort Detrick
1 Yr
Dale Mccomb
5/9
Shinel Mullings
HGI-2
1 Yr
Steven Shaffer
5/10
Emma Byers
LaVale
2 Yrs
Leslie Metz
5/11
Rhonda Coleman
Mt. Jackson
2 Yrs
Damien Michael
5/11
David Stephens
Corporate Center
2 Yrs
Tiffney Reed
5/12
Pamela Crowe
LaVale
2 Yrs
Kendall Jones
5/12
Ashley Poole
HGI-2
2 Yrs
Jason Staley
5/12
Juleeann Sullivan
LaVale
2 Yrs
Tyrae Adkins
5/12
Carsten Ahrens
HGI-2
2 Yrs
Shantell Brown
5/12
Kenneth Trigger
Cumberland UPIP
2 Yrs
Nicholas Shockey
5/12
Edward Crushong
SHA Keyers Ridge
2 Yrs
Henry Herrick
5/12
Hannah Moyer
Stanley
2 Yrs
Dominique Jackson
5/12
James Craig
Waynesboro
2 Yrs
Audra Folkes
5/12
Charles Davis
Corporate Center
3 yrs
Madison Bowins
5/12
Marlene Billups
Fort Detrick
3 yrs
Keana Alexander
5/12
Ricky Stickler
Corporate Center
4 Yrs
William Cowley
5/12
Cathy Timbrook
Romney
4 Yrs
Thomas Claypool Jr
5/12
Mariah Sewell
South End
5 Yrs
Melissa Ming
5/12
Shanon Robinson
Winchester
5 Yrs
James Clem
5/12
Hank Giles
Martinsburg
6 Yrs
Diana Villanueva
5/12
Courtney Trumpower
HGI-2
6 Yrs
Jeremy Way
5/15
Johnny Crosten
Cumberland UPIP
7 Yrs
Elena Delawder
5/15
Donna Sunderland
Corporate Center
8 Yrs
Bethany House
5/15
Gerald Healey
5/15
New Hires
Tyrel Portner
5/15
Name
Start Date
Aaron Carnes
5/15
Tyran Washington
5/1
Ada Fiddler
5/15
Donie Monge
5/1
Lahvon Tinker
5/15
Ernest Perdue
5/1
Ashley Virts
5/15
Timothy Allen
5/2
Beau Stokes
5/15
Ashley Hardesty
5/3
Octavia Garner
5/16
Lori Sheppard
5/3
Victoria Powell
5/16
Douglas Ferris
5/3
Shadell Briscoe
5/16
Lambert Kent
5/3
Chaunsey Warner
5/16
Jeffrey Black
5/3
Angela Heady
5/16
Timothy Scott
5/3
Romar Smothers
5/16
Christopher Silcott
5/3
Laura Mcintosh
5/16
Breanna Welch
5/3
Rebekah Cadwallader
5/17
Talita Helms-Rodriguez
5/3
Kate Guthrie
5/17
Michael Guinn
5/3
Casey Stotler
5/18
Dawn Ferris
5/4
Kasondra Rauer
5/18
Zachary King
5/5
Trevor Kurpil
5/19
Earl Pearson
5/5
Craig Ruble
5/20
Robert Stancell
5/5
Cristian Gonzales
5/20
Jakeenan Jennings
5/5
James Speicher
5/22
Alexandra Duckett
5/5
David Baker
5/22
Elizabeth Hockenberry
5/5
Bridget Day
5/22
Itavia Mcknight
5/5
Kristen Farrell
5/22
Angela Corbin
5/5
Joshua Davis
5/23
Robert Maguire
5/8
Devin Stotser
5/23
Damon Thompson
5/8
Leander Green
5/24
Kai Ford
5/8
Iman Scott
5/24
Sheikh Touray
5/8
Tirah Ellis
5/24
Walter Edwards
5/8
Sandra Morris
5/24
Avalon Godwin
5/8
Reniza Branche
5/25
Harley Etter
5/8
Latoya Caldwell
5/25
Dylan Hallmark
5/8
William Hoy
5/30
Ronald Ritz
5/8
---
Upcoming Events
6/2: Project Connect – Woodstock (Mission)
6/7: Project Connect – Cumberland, MD (Mission)
6/7: Cut Cloth Work – Martinsburg, WV (Mission)
6/8: Congregational Community Action Project (CCAP) Winchester, VA (Mission)
6/10: Town of Smithsburg Clean Up (Donations)
6/11: Mt Jackson Outreach (Mission)
6/15: Wellness Center, Winchester, VA (Mission)
6/20: Farmers Market, Winchester, VA (Mission)
June 2023 Promotion: SportClips Discount for Donation/Purchase (North Pointe/South End stores) (Retail/Donations)
Thank you for reading the Horizon Goodwill Industries newsletter. If you have any exciting news or story suggestions, please get in touch with us at marketing@goodwill-hgi.org.