Welcome to the Horizon Goodwill Industries company newsletter.
Our Mission is: Removing Barriers, Creating Opportunities.
August 2023                                                                                                             Vol. 2, Edition 2
---

Special Guest Message – CMO Brooke Grossman
While CEO David Shuster is out of the office on travel, Chief Mission Officer Brooke Grossman has stepped in to provide the Monthly Message.
As the CMO, I am excited to share a few highlights from our Mission teams! In Human Resources, Kenneth Winebrenner and Jessica Martz recently received their SHRM (Society for HR Management) certifications after months of coursework. Over in Training and Development, Tammy Elrick and Troy Brant, from TnT Tuesday fame, continue to spread the word about Mental Health First Aid, training more than 50 staff from a neighboring Goodwills.
AND drum roll please….our Workforce and Human Services teams have served more individuals at the mid-point of 2023 than they did in all of 2022.
While my focus is mostly on the Mission, these accomplishments would not be possible without YOU; thank you for doing your part to help us remove barriers and create opportunities across our territory.
---

Community Health Hub is Open! 
The Community Health Hub (CHH) is a joint venture of Meritus Health, Brook Lane, AHEC West, and Horizon Goodwill to bring physical and mental health services to downtown Hagerstown. A primary care office at Horizon Goodwill Industries' downtown Hagerstown location at 200 N. Prospect Street, Hagerstown, MD 21742. The CHH offers many services and will not turn away anyone, regardless of their insurance status, and the CHH is available to ALL EMPLOYEES!
At the Community Health Hub, we believe no one should go without care! 
Available Services
Primary Health Care
Meritus Health provides a nurse practitioner to be on-site Monday to perform primary care, blood pressure screenings, health navigation, and referrals. Meritus Health is Western Maryland's largest healthcare provider. (Mon, Wed, & Thur 8 AM – 3 PM)
Mental Health Support
Brook Lane will provide assessments, counseling, and referrals to appropriate intervention services. Brook Lane is western Maryland's largest non-profit mental health system, providing inpatient and outpatient therapy. (Tue & Fri 10 AM – 2 PM)
Health Insurance Navigation
AHEC West assists people with insurance so that no one will be turned away based on insurance status; they will be seen and then connected to a healthcare navigator from AHEC West to assist them in becoming insured. AHEC West is a part of the Maryland Health Connection. (Wednesdays 8 AM – 4 PM)
Housing Navigation, Employment Services, and Administration
Horizon Goodwill Industries houses and staffs the Community Health Hub office but also is available for housing navigation and employment services. HGI also provides the space where the CHH is located as well as managing the office and facilities. (Mon – Fri 8 AM – 4 PM)
In the future, there will also be Dental Services available!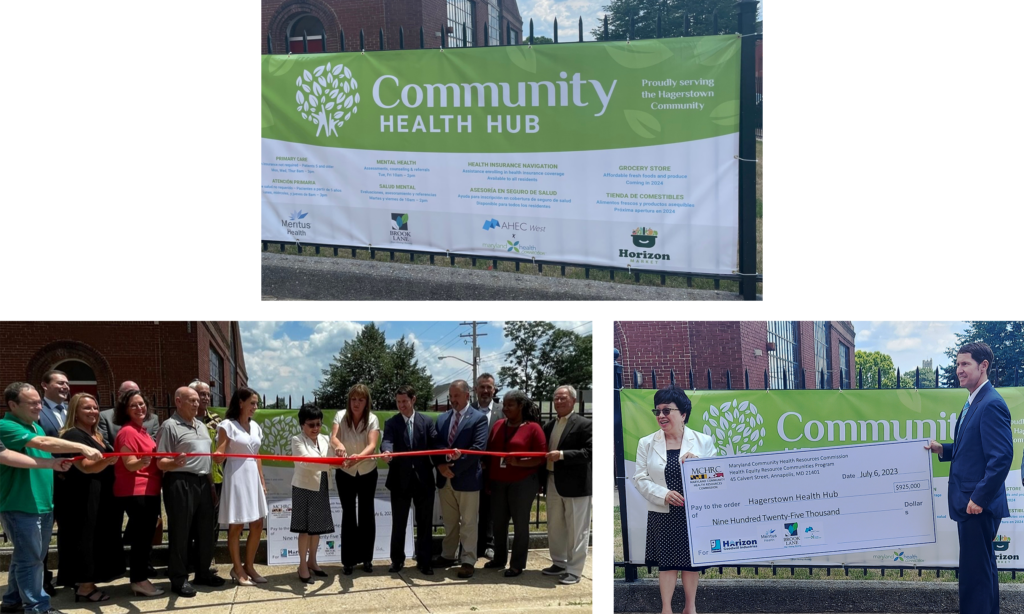 YOU are making a difference in the lives of many people! It's the beginning of a new year, but here is your impact through June 2023: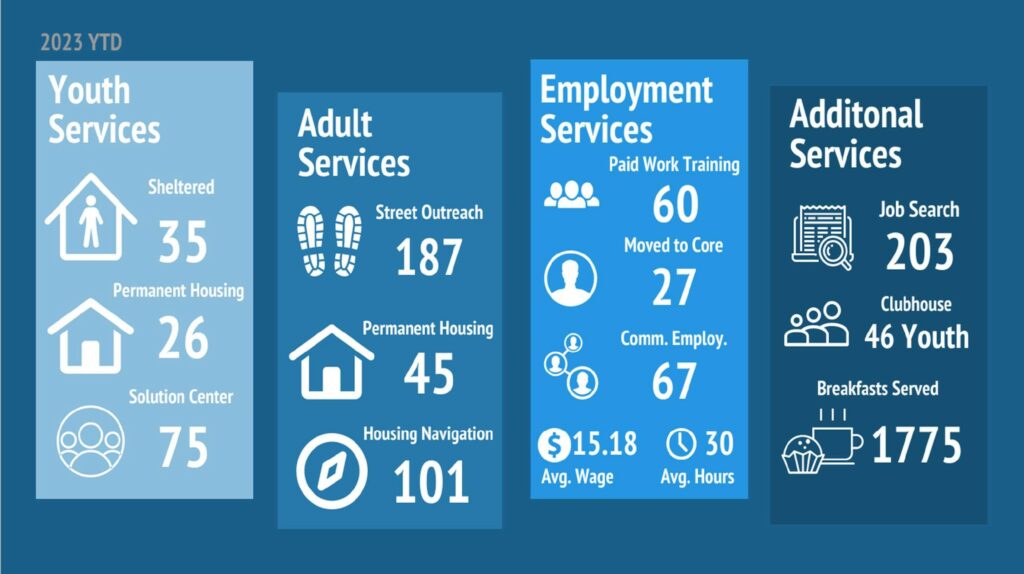 ---

Learn About a Hot HGI Contract
Did you know Horizon Goodwill has held a cleaning contract with Maryland Fire and Rescue (MFRI) since 1998? Three employees, Katie Acton, Leslie Jedlowski, and Jammie Fields, clean the facility. They are responsible for removing the trash, vacuuming, cleaning the bathrooms and windows, and dusting twice weekly. The facility underwent a major remodel and reopened on 7/24/23, with the contract returning to Goodwill.
The Maryland Fire and Rescue Institute's (MFRI) Western Maryland Regional Training Center provides state-of-the-art training areas for first responders. More than 1,200 first responders train annually at the center that was constructed in 1992. The training site, located near two state prisons along U.S. Route 220, is one of seven regional training centers. Other facilities in the state of Maryland include Centerville, Edgewood, La Plata, Mount Airy, and Princess Anne, in addition to the University of Maryland's College Park campus.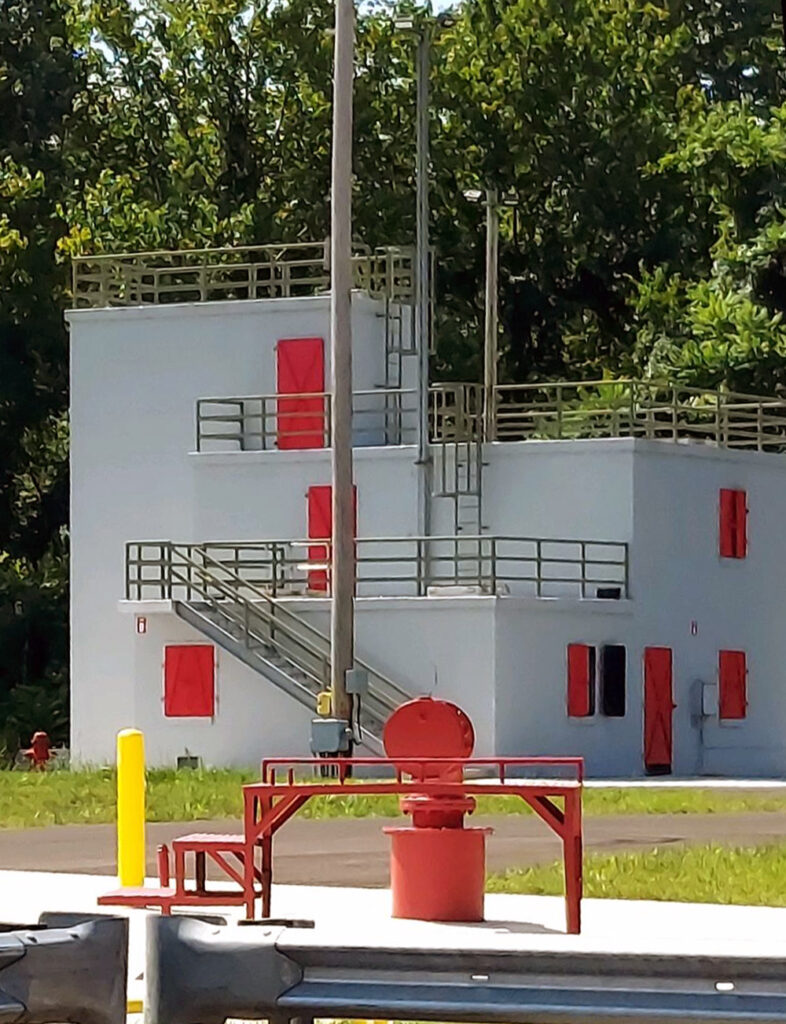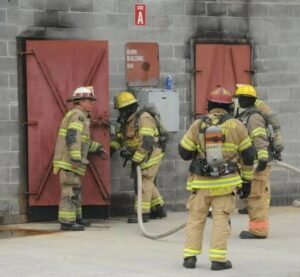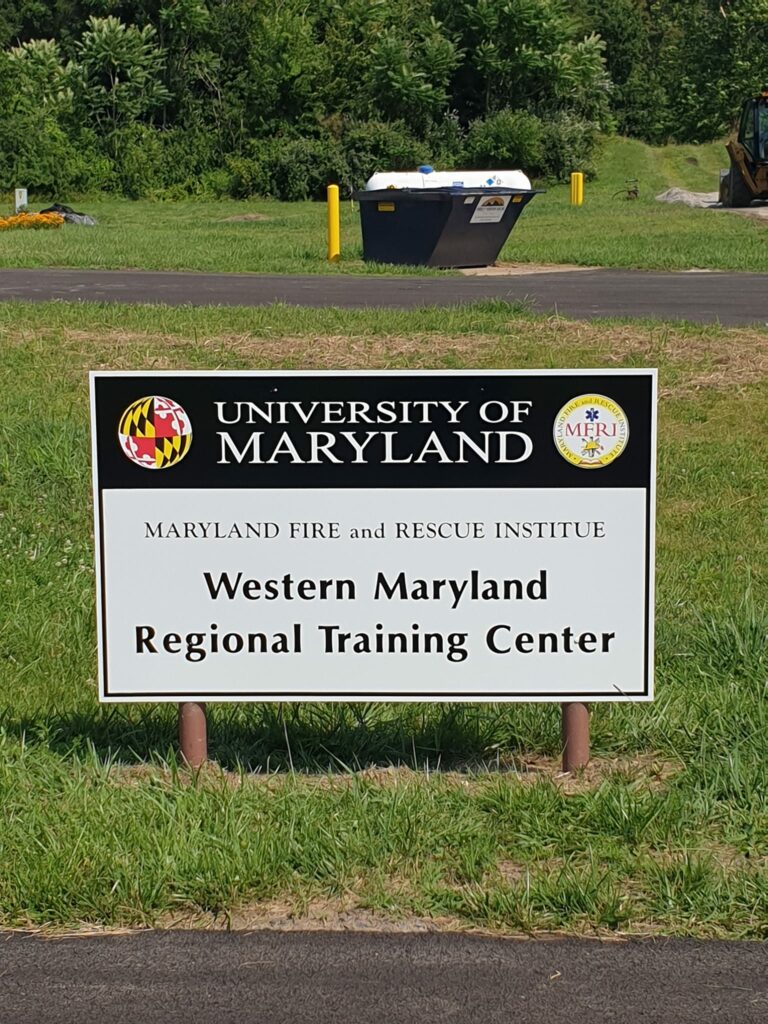 ---

Top Sales from Mid-June to Mid-July!
Top Five Total Sales:

June 16th to June 30th

Kelly Watson, Martinsburg, WV $13,166

Aereona Wolak, Winchester, VA $13,019

Cheryl Fletcher, Martinsburg, WV $12,644

Marshall Safford, LaVale, MD $11,608

Ornela Shehi, Charles Town, WV $11,779

July 1st to July 14th

Cheryl Fletcher, Martinsburg, WV $13,800

Nicole Shroyer, LaVale, MD $12,397

Aereona Wolak, Winchester, VA $12,314

Marshall Safford, LaVale, MD $11,920

Alex Fingrutd, Charles Town, MD $11,423

Top E-commerce Sales:

June 16th to June 30th

Kelly Watson, Martinsburg, WV $508

Sarah Moore, Charles Town, WV $340

Beverly Fincham, Romney, WV $318

July 1st to July 14th

Sarah Moore, Charles Town, WV $838

Patricia Johnson, Mt. Jackson, VA $530

Carol Abrecht, Waynesboro, PA $470
Great job to everyone at the stores!
---

"We Are All People First!"
On August 3, 2023, Bobby Maguire and Tammy Elrick, members of the People and Culture team, joined the Business Services team and traveled to Ft. Detrick to meet with Horizon Goodwill employees at the government contract site. The goal was to facilitate a training surrounding the topics of communication and Diversity, Equity, and Inclusion (DEI). Approximately forty HGI staff attended the training, and Spanish translation was provided by Sila Alegret-Bartel from International Corporate Training and Marketing (ICTM) in Hagerstown. Activities included charades (demonstrating the ability to communicate without speaking), a few moments of identifying how certain words or phrases can make us feel, and a "Diversity Circle" where team members learned that we cannot truly know who people are just by looking at each other. Feedback from the training was positive, with one employee stating, "We need more things like this." The People and Culture team (formerly known as Human Resources and Training and Development) look forward to many more opportunities to support and grow our Horizon Goodwill family in the near future.

As a reminder, utilize "Ask Here" in Paycom ESS (Employee Self-Service) to connect you to a Resource Coordinator. Access our EAP (Employee Assistance Program) on the BHS Portal online or via the app at portal.BHSonline.com Username: Horizon Goodwill or call 800-327-2251.
---
Milestones & New Hires
Congratulations to the following people for reaching a great milestone, and a big 'Welcome' to our newest team members as they begin their journey to their milestones!

Work Anniversaries
New Hires
Name
Work Location
Division
Yrs
Name
Work Location
Division
Sheila Coffy
Martinsburg
Mission
1 Yr
Kyra Cooper
Winchester
DGR
Sade Hill
South End
DGR
1 Yr
Michael Smith
Martinsburg
DGR
Willi Hoopengardner
Greencastle
DGR
1 Yr
Claire Williams
Shepherdstown
DGR
Elizabeth Phebus
Frostburg
DGR
1 Yr
Ethan Bowers
HGI-2
Mission
Annabeth Tucker
Shepherdstown
DGR
1 Yr
Paula Phillips
North Pointe
DGR
Katelynn Haynes
Martinsburg
DGR
1 Yr
Charlotte Pruess
Fort Detrick
Biz Srv.
Rodney Feller
UPIP
Mission
1 Yr
Sylena Rivera
HGI-2
Mission
Jocelyn Parker
Waynesboro
DGR
1 Yr
Kiersten Calvert
Greencastle
DGR
Patricia Johnson
Mt. Jackson
DGR
1 Yr
Christopher Ray
Corporate
DGR
Joseph Wolfe
Shepherdstown
DGR
1 Yr
Gary Ashby
Oakland
DGR
Grady Cain
HGI-2
Mission
1 Yr
Brittany Phillips
Berkeley Springs
DGR
Ashley Snyder
Waynesboro
DGR
1 Yr
Floyd Trent
HGI-2
Biz Srv.
Trent Fleece
Berkeley Springs
DGR
1 Yr
Nellie Mason
Winchester
Mission
Devin Ross
Mt. Jackson
DGR
1 Yr
Majesta Good
Mt. Jackson
DGR
Ervene Shuck
Front Royal
DGR
1 Yr
Paula Jackson
HGI-2
Mission
Savanah Zimmerman
North Pointe
DGR
1 Yr
Harley Johnson
Stanley
DGR
Twanna Hafer
Sideling Hill
Biz Srv.
1 Yr
Rachel Murphy
Corporate
DGR
Ashley Snidemiller
Berkeley Springs
DGR
1 Yr
Tyler Patterson
UPIP
DGR
Kimberly Nichols
Greencastle
DGR
1 Yr
Ernest Perdue
Martinsburg
DGR
Clarissa Proctor
Fort Detrick
Biz Srv.
1 Yr
Pierre Rennie
Martinsburg
DGR
Luisa Vargas
Fort Detrick
Biz Srv.
1 Yr
Raven Ardinger
Greencastle
DGR
Sierra Kline
Martinsburg
Mission
2 Yrs.
Craig Baker
Strasburg ADC
DGR
Rebecca Perkins
South End
DGR
2 Yrs.
Shaiya Booker
Corporate Center
DGR
Angie Engle
Corporate
DGR
2 Yrs.
Hunter Jenkins
Woodstock
DGR
William Lynch
UPIP
Biz Srv.
2 Yrs.
Kate Kibler
Woodstock
DGR
Kara Armstrong
HGI-2
Biz Srv.
2 Yrs.
Dylan Snowden
Greencastle
DGR
Tawan Puryear
Martinsburg
DGR
2 Yrs.
Lily Thiel
Strasburg ADC
DGR
Chelsea Combs
Keyser
DGR
2 Yrs.
Courtney Shoemake
LaVale
DGR
Terry Porter
South End
DGR
2 Yrs.
Matthew Sites
UPIP
Mission
Jenise Powell
South End
DGR
2 Yrs.
Sheryl Mcginnis
Oakland
DGR
Mary Meyers
LaVale
DGR
2 Yrs.
Kelly Tabler
HGI-2
Mission
Ray Johnson
Youghiogheny
Biz Srv.
3 Yrs.
Timothy Vinson
Corporate
DGR
Vicky Steiner
Corporate
DGR
4 Yrs.
Katherine Brady
Shepherdstown
DGR
Nihal Mizah
Corporate
DGR
5 Yrs.
Eli Palmer
Stephens City
DGR
Daniel Burker
Corporate
DGR
5 Yrs.
John Williams
SHA Hagerstown
Biz Srv.
Katie Acton
UPIP
Biz Srv.
6 Yrs.
Charlotte Beachley
Shepherdstown
DGR
Antonio Lambert
Boonsboro
DGR
6 Yrs.
Noah Hess
Shepherdstown
DGR
Karen Smith
Charles Town
DGR
10 Yrs.
Timmy Patterson
UPIP
Mission
Christa Cash
Woodstock
DGR
11 Yrs.
Nicholas Hawkins
Oakland
Biz Srv.
Jessica Simmons
UPIP
Mission
14 Yrs.
Nevelle Pierre
HGI-2
Mission
Wanya Sanders
HGI-2
Mission
Gabriel Saville
UPIP
Mission
Brenda Shields
LaVale
DGR
Bonnie Crouse
Berkeley Springs
DGR
Garett Weaver
UPIP
DGR
CJ Burrow
South End
DGR
Shane Caporaletti
Charles Town
DGR
---
8/1: National Night Out, 701 E 1st St, Cumberland, MD (5 PM – 8 PM)
8/1: National Night Out, War Memorial Park, Martinsburg, WV (6 PM – 8 PM)
8/2: Cut|Cloth|Work! Market Street United Methodist Church, 131 South Cameron Street Winchester, VA (9 AM – 1 PM)
8/9: Project Connect, 138 Baltimore St, Cumberland, MD, (9 AM – 12 PM)
8/12: Rt. 11 Yard Crawl, Shenandoah County, VA, (7 AM – Until Done)
8/18: Stuff the Bus, Cumberland, MD
8/26: PurpleFest, Constitution Park, Cumberland, MD (2 PM –  8 PM)
Thank you for reading the Across the Horizon Newsletter! If you have any exciting news or story suggestions, please get in touch with us at marketing@goodwill-hgi.org.