The Horizon Goodwill/Meritus Medical Center Health Hub
In partnership with Meritus Medical Center, Horizon Goodwill Industries was among nine grantees selected to receive funds from the Maryland Community Health Resources Commission's "Pathways to Health Equity" program. We are very pleased to announce that the Health Hub is now OPEN! (as of February 6, 2023)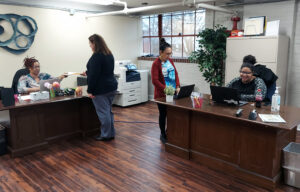 This grant allows for the opening of a primary care office at Horizon Goodwill Industries' downtown Hagerstown location at 200 N. Prospect Street. Meritus Medical Center will provide a full-time nurse practitioner to staff the site, and Horizon Goodwill will provide mental health care and management staff. Patients will not be turned away based on insurance status; they will be seen and then connected to a healthcare navigator from AHEC West to assist them in becoming insured. This project will be known as the Hagerstown Health HUB.
This facility will be able to help address many of the existing healthcare issues facing residents of the Hagerstown core. Recent surveys show that 10.4% of city residents in the 21740 zip code do not have health insurance and are turned away from traditional healthcare facilities. Existing data also highlights that there were about 1100 visitors to the Emergency Department at Meritus, and users of that facility responded that it was "extremely difficult" for them to meet their needs.
On-site Primary Care is now available at the new Hagerstown Health Hub. This office is now open at the HGI2 facility at 200 North Prospect St., Hagerstown, MD. The new offices are finished, and Meritus staff are on hand to help with many services, including:
COVID and Flu Shots
Blood Pressure or Diabetes screenings
Monthly educational classes
Care Coordination
Health Navigation
Any Washington County resident who would establish a primary care relationship is eligible for these services. Insured and uninsured residents will be connected with a Health Insurance Navigator to help with establishing some coverage. Horizon Goodwill Industries employees are welcome to use these services as well. The Hagerstown Health Hub is open Monday, Wednesday, and Thursday, 8 AM – 3 PM.
This project is a further investment from Horizon Goodwill to provide equitable access to vital resources to the Core of Hagerstown residents. Rapid assess to primary care coupled with health care navigation, nutritional education, care coordination, and case management creates a one-stop environment to empower City residents to take control of their health.
The Hagerstown Health Hub is adjacent to the previously announced Grocery store at the Horizon Goodwill Industries building in downtown Hagerstown (200 North Prospect St., Hagerstown, MD.). It will be in a separate location within the same building as the future grocery store.