Horizon Goodwill's Young Adult Solution Center &
Online Resource Hub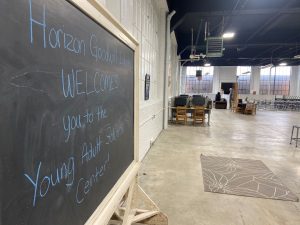 Welcome! This page is dedicated to providing you with information about our Young Adult Solution Center and the programs we provide through this center. We're here to help young people ages 18 – 24 with everything from job training and employment assistance to education and housing information.
Young Adult Solution Center*
Our Young Adult Solution Center is located at 200 N. Prospect Street, Hagerstown, Md. 21740. The center is currently open by appointment only 9:30 – 11:30 AM and 1:30 – 3:30 PM, Monday through Friday.To schedule an appointment, please contact Ben Sutton, bsutton@goodwill-hgi.org or 240.469.1205.
What can I do at the Solution Center?
Get Creative: Relax in our Art Corner where we have all the tools you'll need for sketching, painting, vision boarding and much more.
Get Connected: We have multiple desktop computers and space where you can get online with FREE internet.
Meet with our staff: Our Solution Center staff are dedicated to helping you succeed with your hopes and goals whether that involves finding a job, getting certified for a certain skill or finding housing assistance opportunities.
Find Comfort in a Safe Space: our center is a safe space where you can relax, play a game, and make friends.
ONLINE RESOURCES
The following are some helpful links to resources and activities. If you have questions on any of this, please reach out to Brooke Grossman, Chief Mission Officer, at bgrossman@goodwill-hgi.org or 301.733.7330 x1717. Thank you!
FREE Mindfulness Classes for youth: "

Mindfulness

means maintaining a moment-by-moment awareness of our thoughts, emotions, bodily sensations, and surrounding environment with openness and curiosity. It has a variety of research-backed impacts, including reduction in stress, and improvements in job satisfaction, emotional regulation, and focus."