I've been thinking a lot about what it means for something to be "new." The most frequent way we hear about it in terms of clothing is something that's 'new with tags.' What I've learned from my years of thrifting, is that you can find things still new with tags at secondhand stores like Goodwill. That's how I stumbled upon a full seasonal collection of Rachel Zoe's ready-to-wear collection and a new with tags Prada blouse. Even if these items didn't have the original tags on them, you can easily tell how new, or worn, pieces of clothing are by taking a close look at them in the store. In today's Instagram culture where you likely wouldn't want to be photographed in the same outfit twice, it's not surprising that the majority of the items I've brought home from Goodwill look pretty much brand new. For items that are great quality but might need a little bit of repair, it's still worth it to take them home and break out my sewing kit than buying them from a department store – they may have been worn before, but they're still new to me and my closet!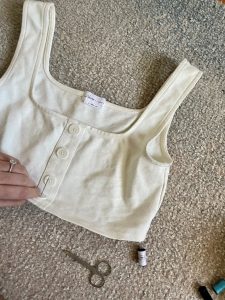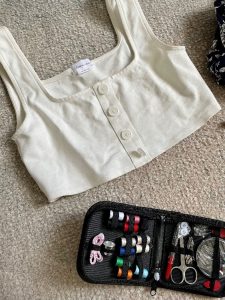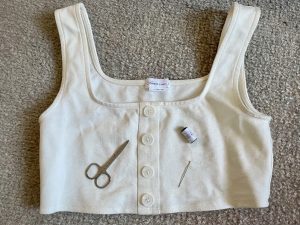 'New' in the sense of fast fashion, is a luxury of days past. It's almost impossible for someone to say they care about the environment today while touting plastic shopping bags from fast fashion stores, full of clothing made cheaply that won't last more than a few wears whose wasteful production processes do so much damage to the Earth. The fast fashion industry sends more than 13 million tons of waste sent to landfills each year, increasing carbon emissions and pollution on a global scale.
That's why I'm willing to take some extra steps to shop smarter and more consciously. That might mean buying a pair of Joe's Jeans from Goodwill with a small hole by the hem that I know I can patch up, instead of buying the same pair, same size off the rack at Bloomingdale's full price. It also meant taking home this adorable Lovers & Friends square neck top which I know I'll use for bachelorette activities, even though the bottom button was a little bit loose. With my handy little sewing kit, I was able to repair that and tighten up the other buttons in under ten minutes.
When I shop at Goodwill, I'm supporting my community at the local scale, knowing the full amount of my purchase is used for jobs and training. I also know I'm supporting our larger community; with each secondhand purchase, I make being a choice in solidarity with the hope for a healthier planet. This Earth Week, think about small changes you can make to live a more sustainable life. With Goodwill, I've found my own changes turn into fun shopping days that support brighter days and a brighter closet.
by Felicia Czochanski