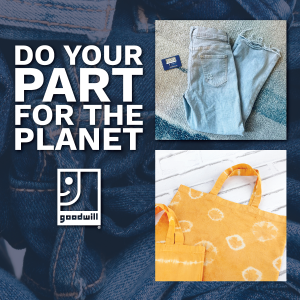 Municipal solid waste landfills, aka landfills that accept household trash, are the third-largest source of human-related methane emissions in the United States. In 2019, the United States alone accounted for more than 15% of these emissions – which have been proven to have a detrimental impact on warming temperatures across the globe. This Earth Week, it's important to understand the truth in these statements, which can sometimes start to feel blanketed instead of something that directly influences our everyday lives. It's also important to re-learn, or for many, learn for the first time how you can incorporate the '5 Rs' reducing, reusing, recycling, repurposing, and reinvesting, into your life in a way that benefits both you and the environment.
Goodwill's connection to a more equal, sustainable world has always been concrete. Goodwill is an environmental pioneer and social innovator when it comes to the '5 Rs'. When you think about it, that's exactly what Goodwill's stores are encouraging – a more sustainable, not to mention affordable, method of shopping that extends the life of usable items while diverting them from landfills. Not only does Goodwill make a direct impact on the community – where the stores provide jobs and job training to those in need, but it also makes a positive impact on the planet.
Shopping at Goodwill is always a win-win for me for these reasons. I know I'll be able to walk away with some awesome pieces for a fraction of retail prices, and that by buying them second hand, I'm signaling to big fast fashion companies (who I haven't shopped at now in years) that I'm one less person here for that demand. The importance of shopping smarter and more sustainably was something that really hit home for me this spring, as the truth of our environmental crisis really started to sink in.
For me – it was knowing it was time to revamp my springtime wardrobe, which would need to include at least one more pair of wide-leg jeans. We all know they're the new style now, and totally different than the skinny jean and even jegging era which we've been in for so long. I knew it might be easier for me to go onto a department store website and filter for exactly what I was looking for. I also knew that not only would it cost more, but the carbon footprint I would be creating via emissions from shipping (and likely returning whatever didn't fit) wouldn't be worth it. Especially not when I knew I had a good chance of finding what I needed at my local Goodwill.
So, I picked a warm spring-like day to walk about a mile away to my closest Goodwill store and started searching through the racks for what would become one of the most important staples in my closet. It wasn't long before I made the ultimate score – a pair of high-waisted Mother denim wide-leg jeans in my size! What are the chances?! Not only were the jeans exactly what I was looking for, but they were a steal for $14.99. At retail price, they're listed as $248… plus tax, plus shipping.
There's always another way to do something. Becoming a more conscious citizen of this beautiful planet we live on is one step that will help you start to see these opportunities as they appear in your life. Whether you choose to eat less meat, shop more sustainably, or take something on that might be a little bit of extra work, but with a big payoff in the long run, know that your decisions make a difference. Shopping second-hand is something that's not only fun but also very rewarding. Whether I'm thrifting my new favorite pair of jeans (yay!) or making the decision to thrift a cloud-soft cashmere sweater with a tiny hold on the neck because I'm willing to take the five minutes to get out a needle and thread and repair it, I know that these choices are not only giving me a wardrobe upgrade, but they're getting me involved in the bigger picture – delaying these items from landfills where we know they'll contribute to pollution.
If shopping-second hand can help our beautiful Earth get back to health, count me in!
by: Felicia Czochanski