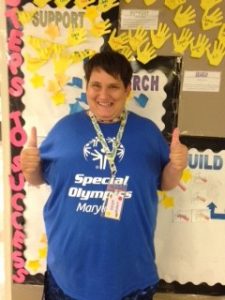 Just as the U.S. Olympic Team prepares to compete in Brazil, Horizon Goodwill clients turned athletes took time to share their experience as Special Olympians.  Representing Allegany and Washington County delegations, these 8 athletes competed in 20 different events and brought home an impressive number of medals: 6 Gold, 5 Silver and 2 Bronze!
To compete in the games takes dedication.  Each athlete must develop skills and practice regularly, then compete several times a year at the state and local level.  And, in the case of these 8 clients, they were learning about the world of work with Goodwill during the day and training to compete as Special Olympians with friends during their nights and weekends.
Over 1,200 Athletes competed in this year's Special Olympic Maryland Summer Games held at Towson University just north of Baltimore.  The annual games lasted 3 glorious days, from June 10-12.  Athletes compete in 5 major categories: Aquatics, Athletics, Bocce, Softball and Cheerleading.  The Special Olympics in Maryland is a massive event with over 400 Coaches, 225 Unified Partners, and 500 Volunteers.  Put it on your calendar for next year – it is amazing.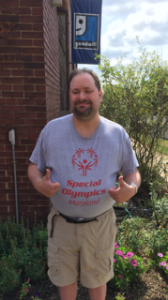 Special Olympians compete individually and in teams, usually grouped by skill level.  Drew Nesbitt represented Allegany County in Athletics (Track & Field) competing in 3 events, winning Gold for his speed in the 50M Run.  Jason Whitmore represented Washington County in Aquatics.  He competed in 4 swimming events, including 1 relay, taking home an impressive 3 Gold medals and 1 Silver!
Six Goodwill clients competed in Singles and Doubles Bocce.  If you are wondering, Bocce (bäCHē) is an Italian game similar to lawn bowling but played on a shorter, narrower green.
No stranger to awards, our 2015 Graduate of the Year, Katie Acton placed 3rd and 4th in both Bocce Singles and Doubles respectively.   Goodwill trainees Sonya Carter and Stephanie Pyles teamed up on Bocce Doubles bringing home a 4th place prize; while Sonya scored a silver medal in her Bocce Womens Singles.
Bryan Huff and Dustin Liller teamed up as well, bringing home a Silver medal for Bocce Mens Doubles.  In the Bocce Singles, Bryan earned a Silver medal and Dustin scored Gold!
And, then there is Bocce-Wonder, Wanda Webb!  Bringing home Gold in her Bocce Womens Singles.  When I asked Wanda what it takes to win, she said, "Hard work!  It's not just a game, it takes a lot, a lot, A LOT of practice.  I trained all year with my friends to get good."
Like Goodwill, the Special Olympics is giving people with cognitive and developmental challenges the opportunity to succeed and grow.  The inscription on Wanda Webb's gold medal says, "With skill, courage, sharing, and joy".  These are the core principles of the Special Olympics shared by all of us at Horizon Goodwill.
So as you cheer the U.S. athletes in Rio, remember the skill, courage, sharing and joy of our very Special Olympians right here at home.