(Hagerstown, Maryland, May 2021) Horizon Goodwill Industries has recently opened two new stores in Page and Shenandoah Counties in Virginia. The addition of these two stores increases the organization's footprint to 18 retail locations in Maryland, Pennsylvania, Virginia, and West Virginia.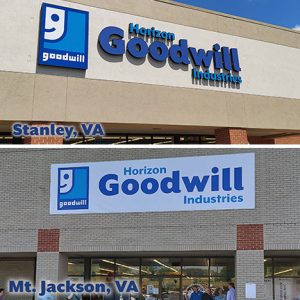 The nonprofit agency hopes to offer the residents of both towns not only a place to find quality donated goods at great prices but also an additional destination to donate apparel and household goods that have outgrown their homes. Every investment in Goodwill helps fund free job training, education, and support services to people facing barriers to employment.
"Horizon Goodwill Industries is proud to be adding both of these retail stores and donation centers in Virginia," said Chris Kackley, Director of Retail Operations. "We hope to have a positive effect on the local economy with our new store locations and the jobs they provide taking the place of stores that had previously closed, leaving a hole in the fabric of the community," he added.
Horizon Goodwill's CEO, Dr. David Shuster, echoes Chris' comments. "The Goodwill store model is one of our primary means of creating job opportunities and revenue for our other mission and outreach programs. Our focus is all about getting people to work and helping them overcome whatever barriers they might be experiencing to obtaining employment. Some of those barriers are critical needs like transportation, housing, food access, even child care, as well as more traditional things like  education, certifications, resume writing, and interview skills." He also added "The stores are the gateway to accomplishing our mission of removing barriers and creating opportunities. I believe that the Mt. Jackson and Stanley areas can help us help the community as a whole. We look forward to being a collaborative economic and workforce development partner within these communities."
The Mount Jackson store is located at 5312 Main Street while the Stanley store can be found at 558 West Main Street. Each location accepts donations of gently used items during store hours.