Welcome to the Horizon Goodwill Industries company newsletter.
Our Mission is: Removing Barriers, Creating Opportunities.
May 2023                                                                                                             Vol. 1, Edition 10
---
The 68th Annual Power of Work Awards Edition
To everyone at Horizon Goodwill Industries, thank you for the work you do!
May 3rd, the 68th Annual Power of Work Awards were held at the old Burhans Store, now the Business Services Commercial Cleaning offices.
Our Power of Work Awards Event recognizes our clients' and community partners' hard work, dedication, and mission support each year. These individuals and businesses embody our mission of Removing Barriers and Creating Opportunities for employment throughout our four-state territory. The first week of May is recognized as National Goodwill Week, and we use this opportunity to hold our annual event.
Nearly 150 people were in attendance, including a representative from Senator Chris Van Hollen's office, County Commissioners John Barr, Jeff Cline, and Randy Wagner, newly appointed Hagerstown Mayor, Tekesha Martinez, and Waynesboro, PA Mayor Don Starlipper. Current and former Horizon Goodwill Board members were on hand as well.
Below are the awards, award winners, and videos highlighting why they were selected:
Mission Partner of the Year – Employee Benefits Services (EBS)
This award recognizes a business or organization that provides aid or has otherwise supported Horizon Goodwill in its efforts to assist individuals with overcoming barriers to employment, thereby helping Goodwill fulfill its mission.
Horizon Goodwill's leadership team is committed to integrating our mission of removing barriers and creating opportunities into our daily business practices. We recognize that our employees should be supported with the same compassion and creativity that we use to support program participants. Like many of the individuals served by HGI's mission team, access to affordable healthcare presents a challenge to its employees. Employee Benefits Solutions (EBS) was an early adopter of the mission integration philosophy and went right to work to find affordable healthcare solutions for our employees that meet their needs. EBS has been on the front lines of advocating for HGI, removing barriers to access to quality care, and creating opportunities for our employees to manage their health while keeping overall program costs lower than more traditional solutions.
Employer of the Year – Meritus Health
This award recognizes an employer who has demonstrated outstanding support for assisting individuals by hiring program graduates or otherwise contributing to greater outplacement of program participants through their partnering with Horizon Goodwill Industries.
Meritus Health is part of a group of organizations working together to connect people with sustainable employment opportunities. A team consisting of members representing Meritus Health, Horizon Goodwill Industries (HGI), and Maryland Physicians Care (MPC) have developed an innovative pilot program, "Pathways to Healthcare Careers," which places low/moderate income candidates directly into living wage positions in one of five identified divisions at Meritus with support from HGI and MPC.
In addition to partnering on this innovative employment program, Meritus Health has also worked with Horizon Goodwill on several other health and business initiatives. The two organizations successfully obtained funding from the Maryland Department of Housing and Community Development (DHCD) SEED fund. The SEED Community Development Anchor Institution Fund will aid in creating a full-service grocery store operated by Horizon Goodwill Industries in the Hagerstown downtown core on Prospect St. This project aims to improve community economic and health outcomes by offering affordable healthy food options in the City.
Further collaborative efforts to improve access to healthcare resulted in the award of funds from the Maryland Community Health Resources Commission's "Pathways to Health Equity" program. This project will be known as the Hagerstown Health HUB. The two-year grant allows for the opening of a primary care office at Horizon Goodwill Industries' downtown Hagerstown location. Meritus Health will provide a full-time nurse practitioner to staff the site. Patients will not be turned away based on insurance status; they will be seen and then connected to a healthcare navigator to assist them in obtaining health insurance.

Business Partner of the Year – Schroeder Industries
This award recognizes a business or organization that has partnered with Horizon Goodwill Industries through a contract relationship, which significantly benefits our clients by providing work opportunities for the individuals we served.
Schroeder Industries has partnered with Horizon Goodwill Industries to provide paid work training opportunities for program participants to develop job skills and habits in a real work environment. These experiences are designed to help prepare individuals for competitive employment while also strengthening their work history. Maintaining close communication with HGI's workforce development team, Schroeder staff share frequent performance feedback and assist program participants in achieving their paid work training goals.
So far, Schroeder has provided five program participants the opportunity to complete 90 days of paid work training and has offered additional temporary labor position opportunities to four program participants that successfully completed the paid training program. Schroeder has also provided gas stipend bonuses — added to each paycheck — for program participants that reached weekly attendance goals.
Chuck S. Robinette Spirit of Goodwill Award – Michael Twigg
This award was established in memory of a former client at the Cumberland Development Center's Adult Day Habilitation Program; this award honors an individual with disabilities who has shown great progress and accomplishment in independent functioning & participation in the community. Their exceptional hard work and perseverance display a true Goodwill "spirit" in overcoming barriers.
Michael Twigg began interacting with the Cumberland, MD, office of Horizon Goodwill in 1991 and successfully found employment at a local Cumberland restaurant, where he worked for 30 years. Last year, he decided to look for work due to changes in how his former employer treated him. He returned to Horizon Goodwill after attending a Cut Cloth Work event hosted by the Mission Team in 2022. At the event, Mike interviewed with Holiday Inn and Suites and was offered a position as a Dining Room Attendant. He started work on August 29, 2022, working three days a week for a total of 12-15 hours a week.
Mike takes immense pride in being a valued employee within his community. He continues to receive Supported Employment services in the DDA program. He has shown determination and perseverance in his new position over the last six months, overcoming emotional challenges and pursuing what he values and what is important to him. Mike embodies this award to the fullest, relying on his integrity to help him through difficult situations and maintaining his spirit despite obstacles.
Young Adult Achiever of the Year – Elizabeth Shoemaker
This award honors an outstanding young adult aged 18-24 who has made significant progress in overcoming barriers to employment, education, or basic needs while accessing services at Horizon Goodwill's Young Adult Solution Center.
Elizabeth came to Horizon Goodwill in Hagerstown, MD, facing homelessness and unemployment. Her family was approved for public housing, which did not include her, and she was left seeking solutions to her own housing situation. Elizabeth entered the Youth Shelter program and began working with Housing Navigation, who referred her to Jane Hawkins to begin the process of job searching. She landed a paid job training position at the HGI Hagerstown Warehouse and, with grit and determination, has now become an HGI employee. In just a few short months, Elizabeth became housed, is now living independently in her own place, and still working full-time with Horizon Goodwill. She says she loves her job and home. In a matter of months, she successfully obtained employment and overcame the reality of finding a safe, affordable place to live despite her age and lack of rental history.
Achiever of the Year – Rhonda Eastman
This award honors an individual who has made significant progress in overcoming barriers to employment, education, and/or basic needs while accessing Horizon Goodwill services.
Rhonda came to the Hagerstown Cut Cloth Work job fair in March of 2022, searching for work and housing. At age 65, Rhonda was new to Maryland, without family or friends to lean on and without a home or job. She also lacked her own transportation, frequently requiring her to walk to address her needs. She had exceeded her allowed time at The Salvation Army's Women's Shelter, leaving her sleeping in a booth at a local Pilot/McDonald's. After participating in the job fair, Rhonda's life improved. She landed a paid work training opportunity with Horizon Goodwill, discussed housing navigation that same day, and was placed in the Adult Shelter Program. From there, she completed her 90-day paid work training and was offered a permanent employment opportunity.
She's still working with HGI today, and a few short months after entering the shelter program, she was approved for public housing and moved into her new place. She has achieved her initial goals by participating in Workforce Development, Adult Shelter, and Housing Navigation services. She is an inspiration, reminding her colleagues that you are never too old to
reinvent yourself.
Graduate of the Year – Rashad Peggues
This award honors an individual who has made significant progress in overcoming barriers to employment, education, and/or basic needs while accessing Horizon Goodwill services.
Rashad and his daughter were homeless, sleeping where they could with friends and family until he entered the Young Adult Program. The program placed Rashad and his daughter in a hotel until a permanent housing opportunity became available. Rashad applied for a custodial position at a Horizon Goodwill job fair and was hired as a custodian in July 2021. Since finding the help he needed to get started, Rashad has provided a home for himself and his daughter. Despite being challenged by several medical issues, Rashad has overcome them to return to work, putting his best effort forward on every shift. No matter how busy he may be, his positive and helpful attitude always shines through, making time to hold a door open or offer a kind greeting to others.
Congratulations to all this year's award winners!
To view some of the previous years winner videos, visit our YouTube page or click these links 2022 Winners and 2021 Winners
---
Scenes from the Event: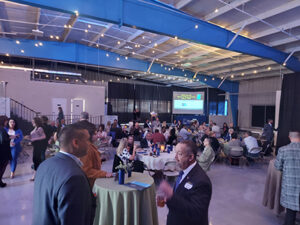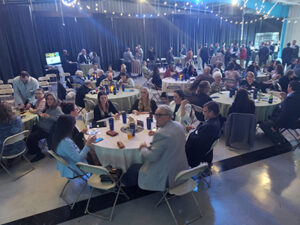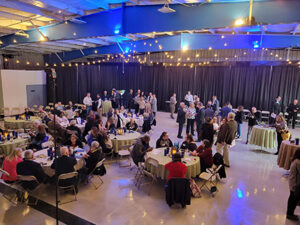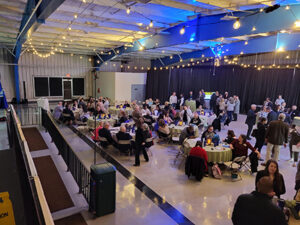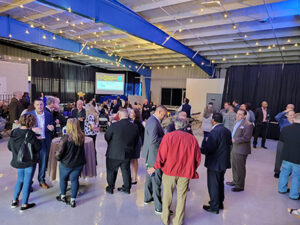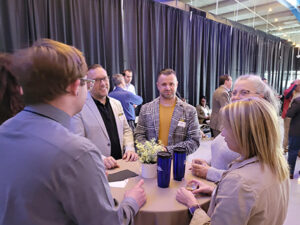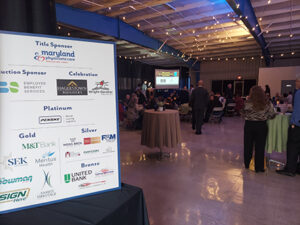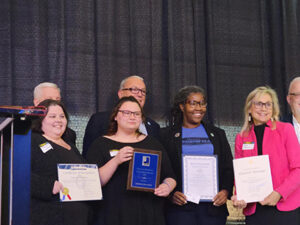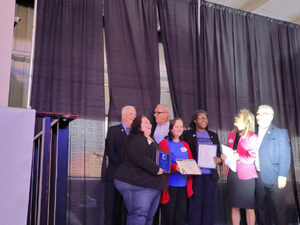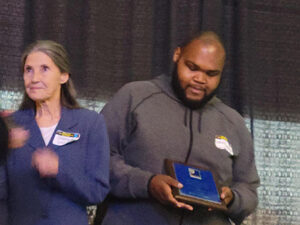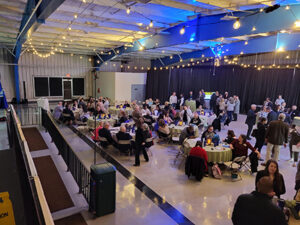 ---
Milestones & New Hires
Congratulations to the following people for reaching a great milestone, and a big 'Welcome' to our newest team members as they begin their journey to their milestones!

| | | | | | |
| --- | --- | --- | --- | --- | --- |
| April New Hires | April New Hires | | Name | Location | Years |
| Jennifer Koontz | Harlee Russell | | Becky Hess | Mt. Jackson | 2 yrs |
| Aaron Vaughn | Kainon Doyle | | Hannah Moyer | Stanley | 2 yrs |
| Derrick Jones | Maha Mohamed | | Karron Newman | Corporate Center | 2 yrs |
| Timmy Patterson | Sandra Ragsdale | | Jane Hawkins | HGI-2 | 2 yrs |
| Harvey Smith | Aaron Vaughn | | Dustin Liller | Cumberland UPIP | 2 yrs |
| Sheena Alston | Paula Yeakley | | Margaret Skaggs | IRS Mailroom | 2 yrs |
| Lakenya Austin | Derrick Jones | | Roy Swim | HGI-2 | 2 yrs |
| Tonya Eversole | Timmy Patterson | | Ivan Morales | Corporate Center | 2 yrs |
| David Crilly | Harvey Smith | | Cynthia Lang | Stephens City | 2 yrs |
| Sara Eyler | Sheena Alston | | Christopher Douglas | Berkeley Springs | 2 yrs |
| Tina Hill | Danielle Fleegle | | Fern Bernsteinmiller | Shepherdstown | 2 yrs |
| Godmeen Gibson | Jennifer Crowe | | James Craig | Waynesboro | 2 yrs |
| Norma Jean Wilson | Mary Yost-Rushton | | Emma Byers | LaVale | 2 yrs |
| Morsell Mackall | Colin Halvorsen | | Rhonda Coleman | Mt. Jackson | 2 yrs |
| David Troutman | James Sanderson | | David Stephens | Corporate Center | 2 yrs |
| Jeremy Smitley | Alyssa Kmetz | | Pamela Crowe | LaVale | 2 yrs |
| Michael Maupin | Ashley Willis | | Ashley Poole | HGI-2 | 2 yrs |
| Ronald Armstead | Mitchell Thornhill | | Juleeann Sullivan | LaVale | 2 yrs |
| Cody Beal | Tina Hill | | Carsten Ahrens | HGI-2 | 2 yrs |
| Les Bishop | Charles Blamble | | Kenneth Trigger | Cumberland UPIP | 2 yrs |
| Michael Bean | Taylor Perry | | Edward Crushong | SHA Keyers Ridge | 2 yrs |
| Crystal Edwards | Duron Long | | Satchella East | Winchester | 2 yrs |
| Annette Needham | Terri Mcneill | | Marlene Billups | Fort Detrick | 3 yrs |
| Alexander Johnson | Bertha Lawrence | | Charles Davis Jr. | Corporate Center | 3 yrs |
| Damian Gibson | Ashley Sholes | | Cathy Timbrook | Romney | 3 yrs |
| Horacio Adame | Sean Weedon | | Courtney Glotfelty | Oakland | 3 yrs |
| Dashawn Williams | Logan Campbell | | Joyce Smelser | Front Royal | 4 yrs |
| Rayquan Martin | Rasheed Blowe | | Shanon Robinson | Winchester | 4 yrs |
| Cole Kepple | Riley Baggett | | Mariah Sewell | South End | 4 yrs |
| Karl Mcnutt | Liliana Bradley | | Ricky Stickler | Corporate Center | 4 yrs |
| George Quail | Loretta Martinez | | Hank Giles | Martinsburg | 5 yrs |
| Princeton Vargas | Samuel Weber | | Courtney Trumpower | HGI-2 | 5 yrs |
| Christopher Anderson | Donavin Brown | | Bonnie Barrick | South End | 5 yrs |
| Lesly Lafleur | Kathy Ritz | | Donna Sunderland | Corporate Center | 7 yrs |
| Luke Hill | Robert Miller | | Lori Livingston | HGI-2 | 8 yrs |
| Karisa Hall | Renee Jenkins | | Eduardo Brito Clausell | Burhans Store | 8 yrs |
| April Foltz | Dylan Mcintyre | | Beverly Robertson | LaVale | 8 yrs |
| Jacqueline Armstrong | Trina Funkhouser | | Melissa Harris | Cumberland UPIP | 11 yrs |
| Heaven Mccoy | Morgan Norris | | Julia Shelton | NPS Harpers Ferry | 12 yrs |
| Logan Baker | Julie Barncord | | Lori Joy | Cumberland UPIP | 19 yrs |
| Kayla Clark | Zachary Bittorie | | Shirley Flohr | Fort Detrick | 20 yrs |
| Kameron Carlisle | Rhonda Fridley | | | | |
| Savannah Barber | | | | | |
Use "Ask Here" to reach a Resouce Coordinator.
As a reminder, utilize "Ask Here" in Paycom ESS (Employee Self-Service) to connect you to a Resource Coordinator. Access our EAP (Employee Assistance Program) on the BHS Portal online or via the app at portal.BHSonline.com Username: Horizon Goodwill or call 800-327-2251.
---
Upcoming Events
May 3: Power of Work Awards, Hagerstown, MD (5 PM – 7:30 PM)
May 6: Babypalooza, Hagerstown, MD (10 AM –
May 6: Pikeside Methodist Clean Up
May 6: Overlook at Riverside Clean Up
May 10: The Employer Expo, Winchester, VA (2 PM – 6 PM)
May 11: Job Fair at Hunter Douglass, Cumberland, MD
May 13: Swap & Recycle, Boonsboro, MD
May 17: Cut | Cloth | Work Event, Hagerstown, MD (9 AM – 1 PM)
May 20: Community Day, Martinsburg, WV (10 AM – 3 PM)
May 20: North Gate Community Association Clean Up, Hagerstown, MD
May 20: Forest Heights Clean Up
May 21: Lake Frederick Clean Up
May 27: 14 Mile Yard Sale Clean Up, Berkeley County, WV
Thank you for reading the Horizon Goodwill Industries newsletter. If you have exciting news or story suggestions, please get in touch with us at marketing@goodwill-hgi.org.