Welcome to the Horizon Goodwill Industries company newsletter.
Our Mission is: Removing Barriers, Creating Opportunities.
July 2023                                                                                                             Vol. 2, Edition 1
---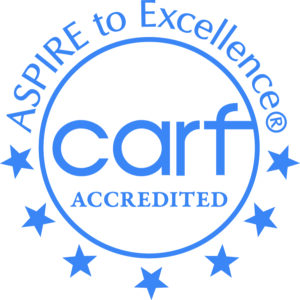 Thank You, CARF Team!! 
We are proud to announce that we have been awarded a full three-year CARF Accreditation*. When we started this process over a year ago, we were advised that as a first-time applicant we would most likely receive only a one-year provisional accreditation. I am very proud of our team, who took that as a challenge and said,"why not" and went for the full three! Following the positive feedback received by the CARF auditors, we were certainly hopeful that we would receive the standard 1-year Provisional Accreditation given to first-time applicants. Being awarded the maximum 3-year Accreditation was a delightful surprise and a testament to the good work we all do here at Goodwill.  
*The Commission on the Accreditation of Rehabilitation Facilities (CARF) is an independent, nonprofit accreditor of health and human services programs. Accreditation signifies to those we work with, whether that's our program participants, insurance providers, or the institutions that help fund our work, that we're committed to receiving feedback, continuously improving our services, and to serving the communities in our region. 
Thank you to our CARF Team! 
Sharon Ahrens

 

Johnathon Harrell

 

Jessica Simmons

 

Kenneth Winebrenner

 

Terri Foote

 

Adam Sewell

 

Tara Broschart

 

Jessica Martz

 

Brooke Grossman

 

Debra Carbaugh

 

Tammy Elrick

 

Chris Glasse

 

Kristi Glennie

 

Annette Wetzel

 

Vicky Steiner

 

Lori Joy

 

Lacie Mccusker

 

Ashley Poole

 

Leah Chamberland

 

Melissa Harris

 

Dan Huff

 

Tonia Nipper

 

Rachel Brinkmeier

 

Jess Scott

 

Lakenya Austin

 

Rebecca Orr

 

Donna Sunderland

 

Janice Smith

 

 

 

Hagerstown Cut|Cloth|Work! Event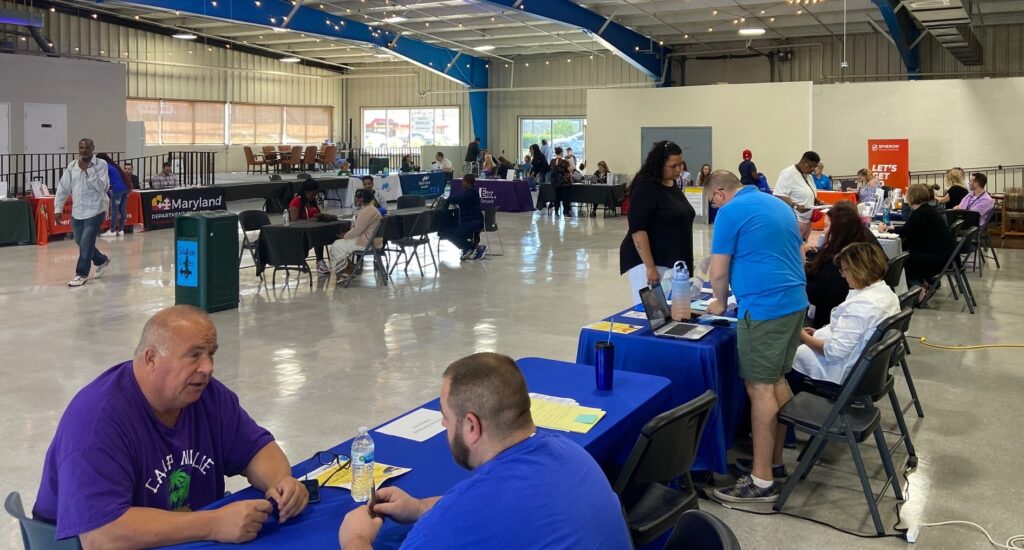 On May 17th, the Mission team held its latest Cut|Cloth|Work! at the new Commercial Cleaning Services building at the old Burhans Blvd store location. At this event, the team organized an event where we have a local barber provide free haircuts (Cut), HGI provides clothing for the job interviews (Cloth), and area employers are on-hand to hold open interviews (Work). We often have food donated by local restaurants or businesses. At this event, Clippers in downtown Hagerstown provided the haircuts, and the Black Rock BBQ of Hagerstown provided free lunch for 75.
111  Attendees
24 Haircuts
11 Employers
9 Community Partners
77 On-the-Spot Interviews
195 Lunches served
YOU are making a difference in the lives of many people. It's the beginning of a new year, but here is your impact through May 2023: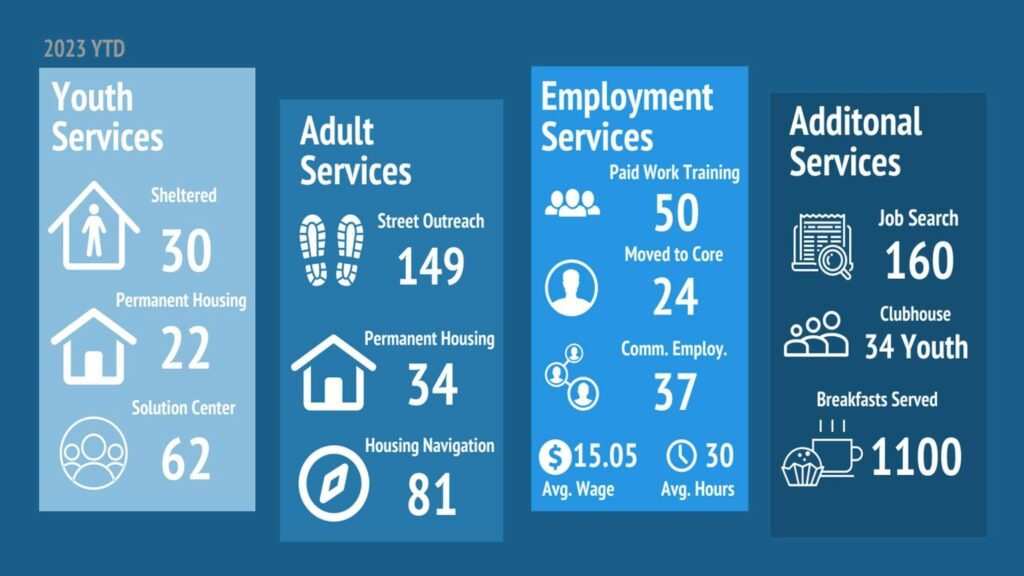 Celebrating Eight Years of Excellence at Western Maryland Children's Center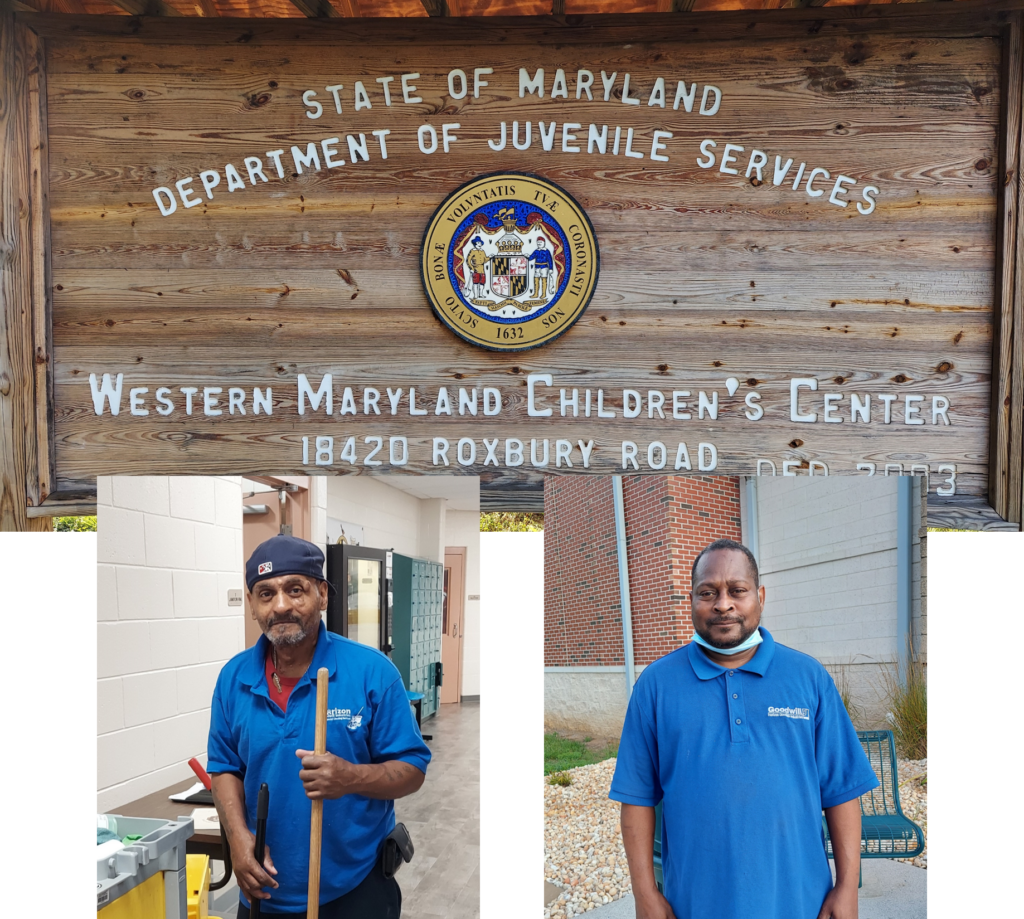 We are excited to announce that the Western Maryland Children's Center (WMCC) is celebrating eight years under the management of Horizon Goodwill. Since July 15, 2015, the dedicated WMCC team has worked diligently to maintain the facility and provide a safe environment for the youth it serves.
James Taylor and Elton Austin, two original crew members, have been with WMCC since the beginning, contributing their experience and knowledge to the team. Alongside them, John Streeter and Chris Graser have seamlessly integrated their skills and expertise into daily operations.
A second crew was added for Saturdays to ensure the facility remains in top-notch shape while allowing the crew to rest. Kara Armstrong, Roy Swim, and Chris Graser make up this team, exemplifying the spirit of teamwork and dedication.
Maintaining the facility's floors is essential, and Donnie Trumpower and Dale Gatrell take on this responsibility. They perform monthly maintenance on various floor types, including VCT, epoxy, and ceramic tiles.
WMCC's commitment to excellence is acknowledged not only by Horizon Goodwill but also by unannounced visits from Maryland state officials, which testify to the high standards upheld by the team.
Despite facing challenges such as an early start time of 4:30 am, seven days a week, the WMCC team remains steadfast in their commitment to creating a nurturing environment for the youth.
As we celebrate eight years of successful management at WMCC, we thank the entire team for their dedication. James Taylor, Elton Austin, John Streeter, Chris Graser, Kara Armstrong, Roy Swim, Donnie Trumpower, and Dale Gatrell have all played a significant role in WMCC's success.
Join us in celebrating this remarkable milestone at WMCC, and let us look forward to many more years of continued success and positive impact on the lives of the children served by this exceptional center.

New Facebook Pages
We now how two new Facebook pages that you like/follow/share and invite your friends.
The /re•find/ by Goodwill is a concept store created by Horizon Goodwill Industries. It offers a curated selection of vintage, antique, and upscale home decor, accessories, and designer shoes. Similar to our other stores, these items are reasonably priced to be affordable to the casual thrift store shopper. Proceeds from re•find fund Horizon Goodwill's mission services, which include workforce development and training programs, and the many services we offer to remove barriers to employment. The goal of re•find is to provide a unique shopping experience to the Smithsburg community in support of the good work we do at Horizon Goodwill. The store is in the Martins Shopping Center, 22407 Jefferson Blvd, Smithsburg, MD 21783. If you're in the area, stop by and check out all of the great products! Their hours are Wednesday through Sunday, 10 AM – 6 PM. https://www.facebook.com/refind.hgi
The Adolescent Clubhouse was designed to meet the needs of families and at-risk youth in our community by providing a family-oriented environment for them to grow together. At the Clubhouse, we create a fun, family-friendly, and drug-free environment. At the Adolescent Clubhouse, we encourage adolescents ages 11-16 to embrace their education and mental and emotional regulation and build healthy family and social relationships. We provide sufficient space to host daily after-school activities, including arts and crafts, workouts, and self-care activities. We also provide free homework help and tutoring to encourage continued school success. Our goal in the Adolescent Clubhouse is to provide a free, safe, and supportive environment for youth in our community. The Clubhouse is open Monday through Friday from 2 PM – 6 PM. The Clubhouse is located at the HGI-2 building, 200 North Prospect Street, Hagerstown, MD. https://www.facebook.com/theclubhousehgi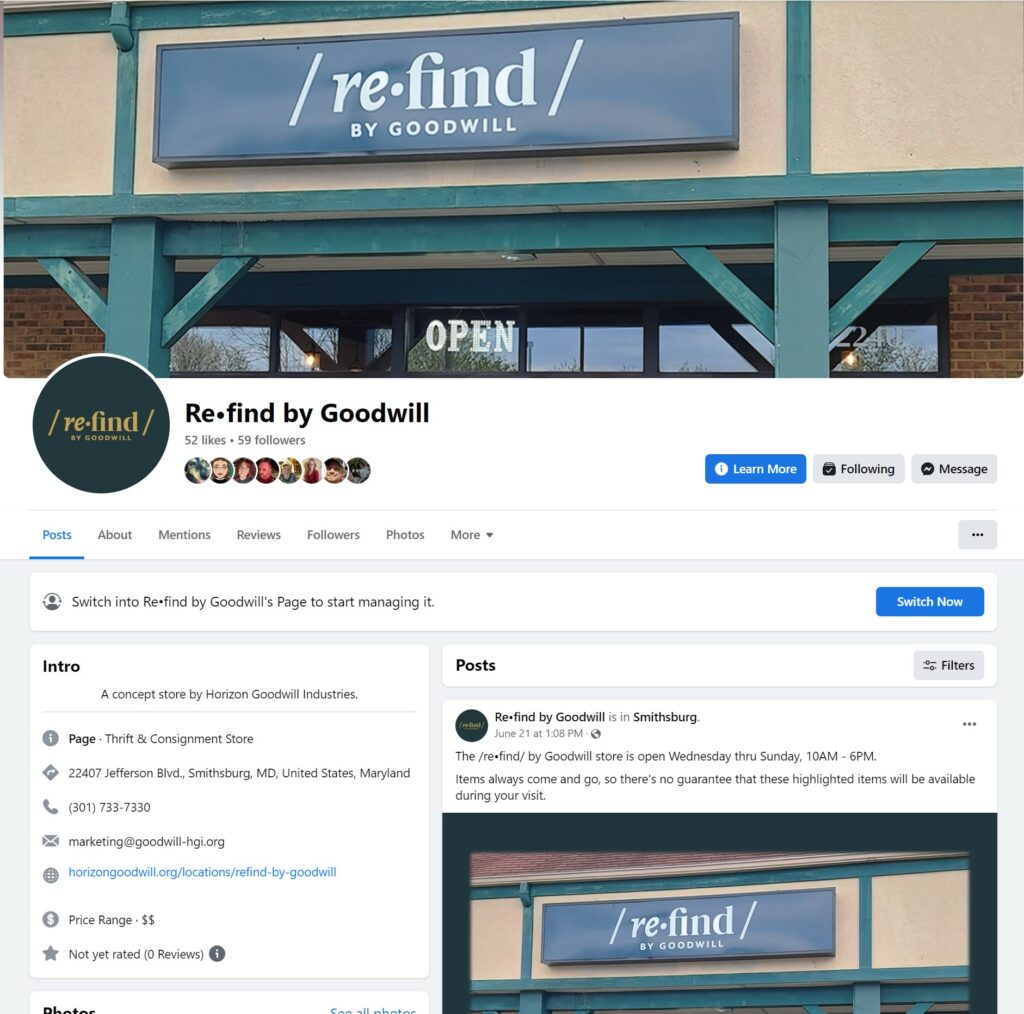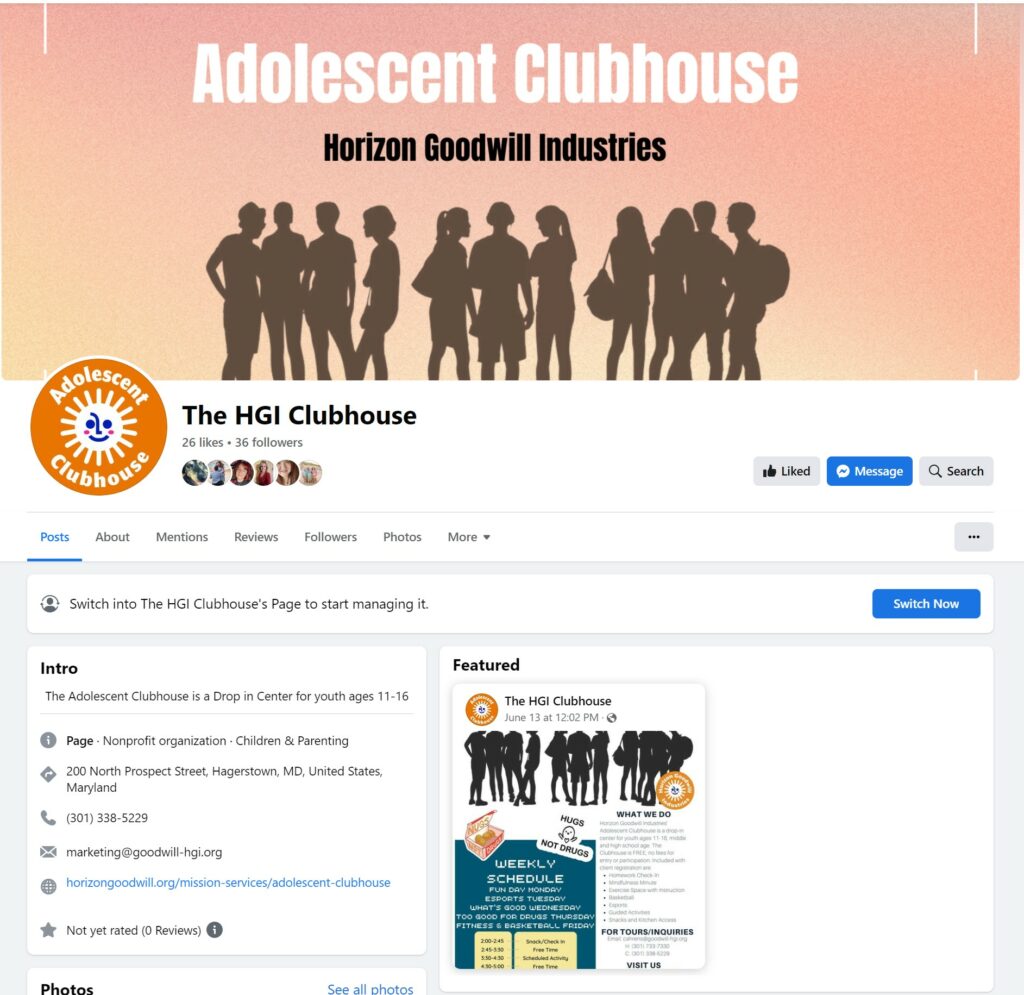 As a reminder, utilize "Ask Here" in Paycom ESS (Employee Self-Service) to connect you to a Resource Coordinator. Access our EAP (Employee Assistance Program) on the BHS Portal online or via the app at portal.BHSonline.com Username: Horizon Goodwill or call 800-327-2251.
Milestones & New Hires
Congratulations to the following people for reaching a great milestone, and a big 'Welcome' to our newest team members as they begin their journey to their milestones!

William CowleyWinchester5-Jun
Anniversaries

New Hires

Name

Location

Years:

Name

Location

Start Date:

Michelle Mason
Winchester
1 Yr
Daniel Arroyo
Charles Town
1-Jun
Kyra Smith
Charles Town
1 Yr
Haley Burkholder
South-End
2-Jun
Rodney Feller
Cumberland UPIP
1 Yr
Tekeira Ebersole
Corporate Center
4-Jun
Jaiden Skidmore
LaVale
1 Yr
Belinda Mccusker
Greencastle
4-Jun
Helene Ranfone
Burhans Store
1 Yr
Emily Hill
Berkeley Springs
5-Jun
James Skipwith
Martinsburg
1 Yr
Kira Isner
Stephens City
5-Jun
Andrew Choi
Stephens City
1 Yr
Robert Kerr
HGI-2
5-Jun
Cheryl Fletcher
Martinsburg
1 Yr
Melanie Badaliance
Greencastle
6-Jun
Lynn French
South-End
1 Yr
Crisalia Medina
Romney
6-Jun
Dustin Liller
Cumberland UPIP
2 Yrs
Brian Austin
HGI-2
7-Jun
Margaret Skaggs
IRS Mailroom
2 Yrs
Donna Powell
Sideling Hill
7-Jun
Roy Swim
HGI-2
2 Yrs
Jordan Head
Cumberland UPIP
12-Jun
Ivan Morales
Corporate Center
2 Yrs
Malcolm Jackson
Corporate Center
12-Jun
Cynthia Lang
Stephens City
2 Yrs
Michael Maupin
Cumberland UPIP
12-Jun
Christopher Douglas
Berkeley Springs
2 Yrs
Donie Monge
Corporate Center
12-Jun
Fern Bernsteinmiller
Shepherdstown
2 Yrs
Nasir Moudy
Waynesboro
12-Jun
Troy Brant
Cumberland UPIP
4 Yrs
Breyhdon Priore
Frostburg
12-Jun
Kelvin Sheppard
South-End
4 Yrs
David Richardson
Fort Detrick
12-Jun
Frances Reese
North Pointe
5 Yrs
Raymond Garthwait
LaVale
13-Jun
Viola Fee
Romney
5 Yrs
Travis Kitzmiller
Oakland
13-Jun
Tonya Zimmerman
Greencastle
7 Yrs
Sean Williamson
Martinsburg
14-Jun
Lawrence Woodward
Martinsburg
8 Yrs
Brenda Marston
Mt. Jackson
16-Jun
Rickey Agnew
Romney
9 Yrs
Kaylei Drury
North Pointe
17-Jun
Beverly Fincham
Romney
11 Yrs
Nate Moore
North Pointe
17-Jun
Pamela Simms
Romney
13 Yrs
Stephen Goss
LaVale
19-Jun
Tammy Mcbrearty
Martinsburg GSA
18 Yrs
Samantha Thorne
Front Royal
19-Jun
Amy Taylor
Corporate Center
22 Yrs
Kenneth Winter
Corporate Center
19-Jun
Reniza Branche
North Pointe
20-Jun
Walter Edwards
Corporate Center
20-Jun
Justin Hunt
Martinsburg
20-Jun
Robert Larrimore
HGI-2
20-Jun
Dee Martin-Campbell
Stephens City
20-Jun
Mindy Rankin
Martinsburg
20-Jun
Sean Williamson
Martinsburg
20-Jun
Mary Muturi
HGI-2
21-Jun
Star Nichols
Youghiogheny
22-Jun
David Walter
Martinsburg
22-Jun
Michael Northcraft
Cumberland UPIP
26-Jun
Upcoming Events
7/4: The Mile Long Yard Sale, Longmeadow Road, Hagerstown MD (12 PM – 6 PM)
7/6: Job Fair with The Arc of Frederick County, MD 555 S. Market St., Frederick, MD (10 AM - 12 PM)
7/26: Cut|Cloth|Work! Market Street United Methodist Church, 131 South Cameron Street Winchester, VA (9 AM – 1 PM)
7/28: Project Connect – North Virginia Avenue Charlotte DeHart Elementary School, Address: 550 Virginia Ave, Winchester, VA (9 AM – 3 PM)
Thank you for reading the Horizon Goodwill Industries newsletter. If you have any exciting news or story suggestions, please get in touch with us at marketing@goodwill-hgi.org.