The West Virginia Division of Rehabilitation Services referred Jessica and Billy Roberts, of Romney West Virginia, to Horizon Goodwill Industries. The brother and sister have recently completed their Community Based Assessment, a tool used to determine their level of job readiness, at the Hampshire County Library.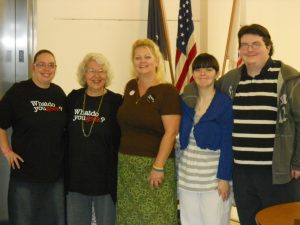 In July 2013 Jessica and Billy began completing a 45-hour assessment at the library assisting with the library's pre-school hours.    During this time Jessica and Billy assisted Ms. Puhalla in doing arts and crafts during the children's activity time as well  as assisting with other projects around the library.  On October 2, 2013 Jessica and Billy completed their assessment at the library.  The library staff sponsored a going away party for Jessica and Billy, thanking them for their service.
Horizon Goodwill Industries would like to thank the Hampshire County Library for giving Jessica and Billy such a wonderful experience, as well as congratulate Jessica and Billy on the completion of their Community Based Assessment!