During the second week of October a few members of the Horizon Goodwill Industries' corporate leadership team took a trip to the wonderful Glade Springs Resort located deep in the heart of West Virginia to the "MAGIC in the Mountains" fall 2013 Conference. Although the excursion was lengthy, it was well worth it. We pulled up to a gorgeous resort that offered every amenity you could think of, but the best thing was the eagerness and willingness to learn within the corporate Goodwill team. We are people that are passionate about what we do, that is for sure and sense of excitement was felt right away.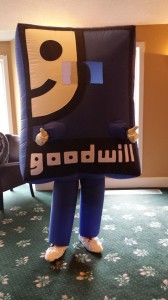 The Mid Atlantic Goodwill Industries Coalition or MAGIC is comprised of 15 Goodwill® organizations as a regional association whose goal is to collaborate on best practices. As soon as we got there we were greeted by a huge Goodwill Mascot, appropriately named "Puffy G," and met for a pre-dinner mixer to socialize and get to mingle with our colleagues. These are the people who make Goodwill what it is today, a thriving business model with one thing in common – the passion to create employment and spread our mission. Horizon Goodwill Industries' mission can be summed up as the following:
Horizon Goodwill Industries serves people who have barriers to getting and keeping a job. Through work experience and other forms of training and counseling, we seek to help them develop the skills and experience needed to be successful in the world of work and to use the skills and experience gained to build careers, which in turn improves life for themselves and their families. Goodwill is about jobs! Jobs give people independence. Independence stabilizes families. Stable families make strong communities.
During the two day meeting we met with our Goodwill peers as a whole and in our niche business sectors for learning objectives and for inspirational speeches given by our best CEO's, Cheri Bever from Charleston, WV, Alissa Stewart from Huntington, WV, Goodwill Industries International's CEO Jim Gibbons, and guest speaker Dr. Cal Kent, Ph.D. from Marshall University.  The "MAGIC in the Mountains" objective was to meet with our groups of interest within the industry and discuss, brainstorm, and resolve issues and ideas as they related to our region. Our stay was pleasant and our ideas, projects, campaigns, initiatives, and committees are flourishing more every day. It was wonderful to meet all the CEOs of the Goodwill brand and their staffs. What an amazing experience, I am already anticipating next year's retreat.
I would also like to say thank you to Goodwill Industries of KV and Goodwill Industries of KYOWVA Area, Inc. for hosting us in beautiful West Virginia! Follow their social media accounts for even more information on the conference.