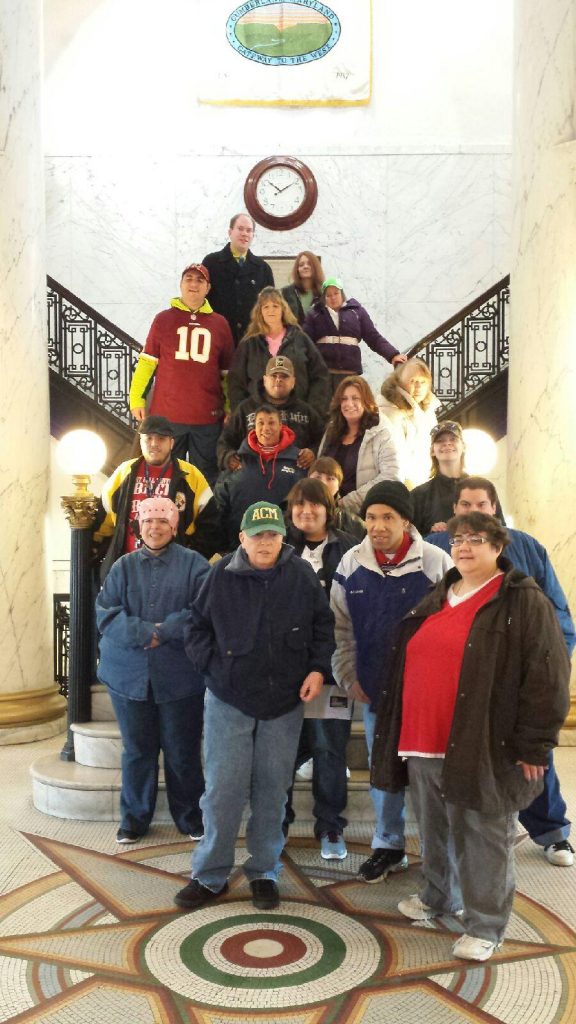 On March 3, a group of program participants from the Community Readiness Center of Horizon Goodwill Industries (HGI) met with Cumberland, Md., mayor Brian Grim to tour City Hall.

Prior to the tour, the participants attended a week-long class, learning about the all the departments in city government and what each person's role is as an employee of the City of Cumberland. Participants and staff developed a list of questions for the mayor. Staff also reviewed appropriate behavior and dress for the setting.
The participants began their tour by meeting Mayor Grim on the steps of the rotunda inside City Hall. They were shown a painting by a German artist, depicting George Washington with his most valiant soldiers at Fort Cumberland. Below the painting hung a display of flags, including the American flag, the Maryland state flag, the City of Cumberland flag, flags from various Maryland counties, and flags from the different branches of the military.
Mayor Grim called attention to the floor of the rotunda, where the group observed a star with several points, each representing the different directions in the city. The middle of the star is the exact center of Cumberland.
On the second floor, the participants toured the mayor's office, offices of City Council members, and meeting rooms.
Finally, Mayor Grim, the participants, and City Hall staff relaxed in the room where town meetings are held. The group members had prepared a variety of questions for Mayor Grim. They asked how long he's been mayor, what his duties include, even when he was born.
After the tour, the class discussed what they had learned and how it could benefit them.
"By the end of the visit, participants had a better understanding of the office of mayor and City Hall, as well as a deeper appreciation for Cumberland," said Michelle Hudson, supervisor, Community Readiness Center. "They also had a better understanding of how local government helps to keep the community accessible to them, which allows more employment opportunities."
A very special thank you to Mayor Grim and all the employees of City Hall.