Attention fellow thrifters! We classify thrifting as an art; you must have a good eye and a key sense of fashion to find a fabulous diamond in the rough. Goodwill's racks and shelves are packed with treasures so we decided to give ourselves a challenge. We went searching for the celebrity looks below at various Horizon Goodwill retail stores to find "celebrity looks-for-less" at an even "thriftier" price than what is listed in those fashion magazines. We had so much fun putting these looks together! We live for a good deal and an exciting treasure hunt. Goodwill is always full of great surprises that are both unique and thrifty! Check out the deals we scored on these pricey celebrity look-a-like fashions!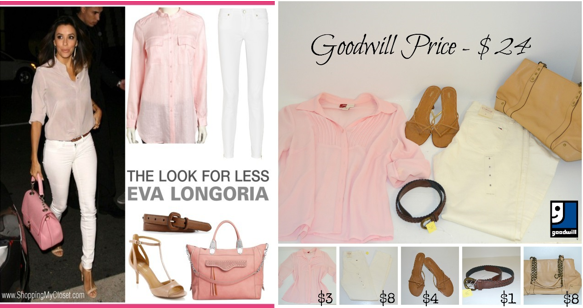 Eva Longoria sported this simple look – We matched it with Goodwill finds for only $24! The white skinny jeans were Tommy Hilfiger – brand new with tags, and a steal at $8!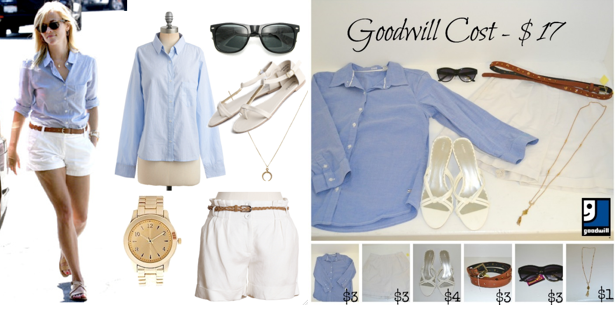 Reese Witherspoon rocked this classic blue and white look but we managed to copy it with Goodwill finds for a shocking $17! We loved the vintage gold necklace we found to accessorize this ensemble – (might be even better than the one pictured!)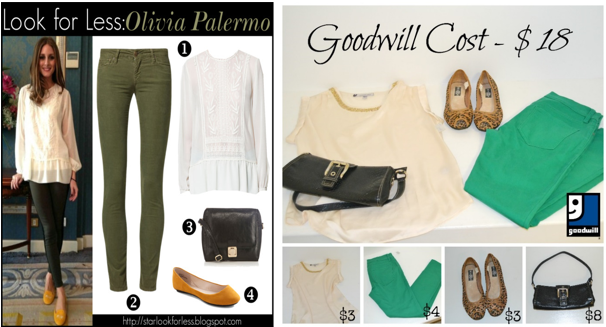 Olivia Palermo is known for her sense of style on MTV's "The City", that's why I couldn't resist copying her look in this blog entry. We were able to find her look at Goodwill for only $18! Check it out.
Demi Lavato is not only making music but she is setting style trends everyday. Get style ready with this trendy look-for-less. We managed to put together Demi's look for a mere $17!
Want to put together a look-for-less? We would love to see it! Just upload your photo to Facebook, Twitter, or Pinterest with the hashtag #GoodLook4Less and show us your style savings!
Horizon Goodwill Industries has 17 retail locations spread across counties of MD, PA, VA, and WV. We are sure that your style dreams are within reach and within your budget. Shop today, save, and provide job training within your community.
Store Locations → Shop Now!
Donate Locations → Donate Now!