Welcome to the Horizon Goodwill Industries company newsletter.
Our Mission is: Removing Barriers, Creating Opportunities.
December 2022                                                                                                             Vol. 1, Edition 6
---

Happy Holidays!
For those of you that may not know, here at Horizon Goodwill, we operate on a calendar year budget and planning calendar. That means that each year as we enter December, we are already looking ahead with excitement at our plans and objectives for the next year. These are certainly the goals that keep us excited and returning each day. Regardless of our enthusiasm for the future, the end of the current year also reminds us to reflect on all that we accomplished this year and the positive impact that each of us, no matter our job or responsibilities, has had on the people around us and in our communities. As an organization, we strive to give back more than we receive, and that certainly aligns with the spirit of the season. I hope as the year winds down, you will take a moment to reflect and celebrate the service and compassion that each of you has given this year while also recognizing what a long way we still have to go in many of our communities.
In that spirit, I leave you with this quote from William Carey Jones, a former US Congressman: "The Joy of brightening other lives, bearing each others' burdens, easing each other's loads and supplanting empty hearts and lives with generous gifts becomes for us the magic of the holidays."
Wishing each of you the best as we finish 2022 and look forward with hope to 2023.
Yours in hope, Dave
---

The Passing of a Long-Time Employee and Client: Byyan Boddie (9/7/1968 – 12/1/2022)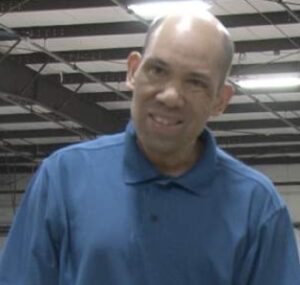 Byyan lived at Council for Exceptional Children and Adults in their residential program from 2003 until his passing. He entered Horizon Goodwill Industries Supported Employment Program from 1990 until 2021. Byyan's employment included dishwashing and custodial work at a local restaurant and various contracts with Goodwill Industries, and he worked as a dishwasher for Marriot Corporation at FSU for over ten years. Byyan was active in his community through a variety of volunteer work in his community, including Western Maryland Food Bank, recycling projects, the local Animal Shelter, nursing homes, and cleaning up trails at Rocky Gap State Park. Byyan loved staying active and held a special place in his heart for his friends, caregivers at Goodwill and CECA, and his mother, Joyce Harper.
He thoroughly enjoyed dancing, playing the air guitar, bowling, listening to his favorite music, early rock and 80's, karaoke, holiday parties, and the tv show Chips with Jon Baker and Frank "Ponch" Poncherello. One of Byyan's biggest moments was meeting Erik Estrada from Chips. In 2018 Byyan received the Chuck Robinette Spirit of Goodwill award. This award honors an individual with disabilities who shows great progress and accomplishments in independent functioning and participation within their community. Byyan's exceptionally hard work and perseverance certainly displayed a true Goodwill "spirit" in overcoming barriers.
Byyan had an infectious laugh and the best smile. He brightened everyone's day when he walked into the room. He took such great pride in his appearance and always wanted to look and do his best. Byyan was a role model to others and was never afraid to take the lead on projects and show off his talents, which he had so many. Everyone was Byyan's "buddy," he had so many, and he cherished each one of them.
We mourn the loss of Byyan, but we will never forget the fond memories. Byyan, you can rest easy knowing you touched so many lives and made this world a better place for all of us. Always in our hearts. We love you and will truly miss you!
---
YOU are making a difference in the lives of many people. Here is your impact through October 2022:
---

Recent Leadership and Staff Changes: 
Chris Kackley has accepted the role of Director of Property and Facilities. In this new position, Chris will utilize his extensive background in construction management to develop a stronger real estate strategy and oversee all HGI real estate (owned and leased, residential and commercial), facility maintenance, and safety/asset protection. Chris will report to Sharon Ahrens, Chief Business Officer.
Lance Crossman has accepted the role of Director of Retail. In this role, he will be responsible for oversight of all activity in our donated goods enterprise, including stores, donation centers, e-commerce, transportation, and warehouses/recycling/aftermarket. Lance will report to David Shuster, CEO.
Lance and Chris are working closely together to transition responsibilities and projects between them. I expect there will be additional communication once their work is complete to clarify who to contact for various needs in the future.
Additionally, Angie Engle has transferred to the new role of Associate Director of Donation Acquisition on the Donated Goods Retail team. In her new role, she will be responsible for expanding the acquisition of our donated goods by supporting existing streams and developing new strategies and partnerships.
Congratulations all!
---

Website 'Refresh' is Live!
Over the summer, the marketing department took on the project of refreshing the current website. Some of the goals of the project were to:
Reorganizing the structure to make it more user friendly
Making the site easier to expand as we bring on new projects (check out the convenience stores, grocery store, and health hub pages.)
Reviewing the content for accuracy and grammar. We've also assigned people to oversee the content, so changes are made quickly.
Adding new features and capabilities. Some new features include a better locations page, adding videos, and expanding featured new items.
When you get a chance, go to www.horizongoodwill.org and check it out!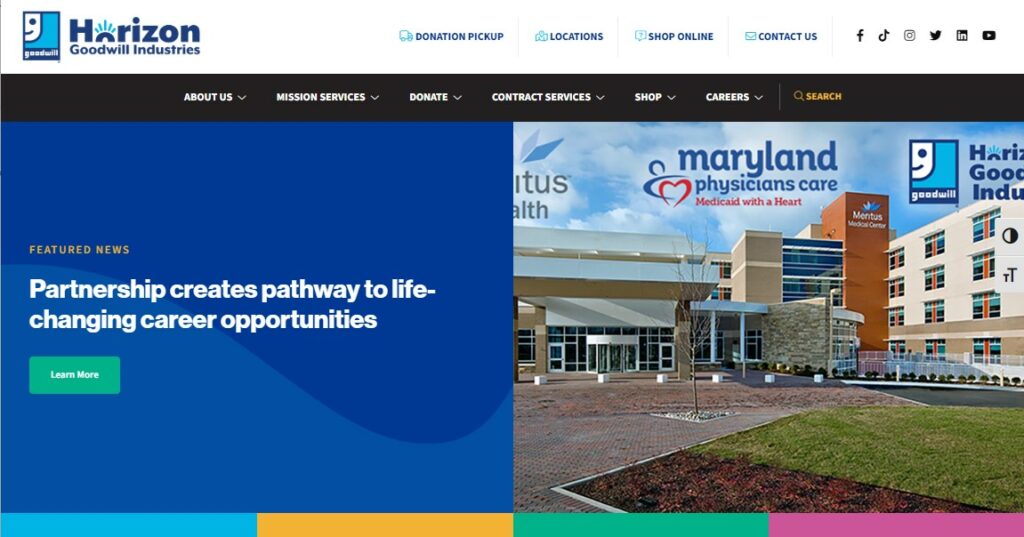 ---

'Tis the Season – Open Enrollment is upon us, and as we all prepare for the end of the year with Well Wishes for the next new year…there is much to do!
Don't forget to attend an open enrollment meeting if you are eligible for benefits.
Seek ways to handle holiday stress – find time for activities you enjoy that bring you comfort and joy.
Make sure your contact information (especially your address!) is correct in Paycom for year-end documents.
Join the festivities of decorating workspaces and wearing your most creative "ugly" sweater!
The Human Resources Department would like to wish all employees a wonderful holiday season. As a reminder, Resource Coordinators are here to help you navigate any challenges you may be experiencing. BHS, our EAP (Employee Assistance Program) provider, has many articles, tips, and strategies to help maintain a healthy mind, body, and spirit all year round.
As a reminder, utilize "Ask Here" in Paycom ESS (Employee Self-Service) to connect you to a Resource Coordinator. Access our EAP (Employee Assistance Program) on the BHS Portal online or via the app at portal.BHSonline.com Username: Horizon Goodwill or call 800-327-2251.
Joyfully, Human Resources @ HGI
---
November's Living Our Values Award was presented for our "COMPASSION" value. Employees across the HGI organization nominated individuals that they believed embodied this value day in and day out. The employees nominated demonstrate caring and act with kindness with a desire to understand others. They strive to be inclusive while recognizing our differences. They act with the best intent and assume others are doing the same.
Winner: Terri Foote – Associate Director of Workforce Development/Cumberland, MD
We received 63 responses for our Living Our Values – Compassion – Award. Terri was nominated multiple times and has received nominations for other Living Our Values awards in the past few months. Comments for Terri include "Terri takes whatever steps are necessary to ease the suffering of any individual within her reach," "Terri continuously looks for ways that her team and Goodwill can help others in the community," and "Terri shows a great deal of compassion for the people in the Cumberland Community."
Other top nominees included: Filomena Doyle – Project Manager/IRS; Melissa Harris – Warehouse Supervisor/UPIP; and Tonia Nipper – Housing Navigator/HGI-2.
Be sure to make your nominations in December for the Team Spirit Award – This award is given to any "team" that demonstrates qualities of teamwork and loyalty to Horizon Goodwill Industries. The team must demonstrate support for each other and have confidence in the abilities and intentions of each team member. They are successful in working together towards a common goal.
Submit your nominations via Paycom Survey!
---
Milestones & New Hires
Congratulations to the following people for reaching a great milestone, and a big 'Welcome' to our newest team members as they begin their journey to their milestones!
Anniversaries
New Employees
Richard Pape
Oakland
Donated Goods Retail
1 Yr
Aaron Monroe
Winchester
Donated Goods Retail
Amanda Sellers
Corporate Center
Donated Goods Retail
1 Yr
Annette Wetzel
Corporate Center
Administrative Services
Employee Tester
Corporate Center
Administrative Services
1 Yr
Billie Wiltrout
HGI-2
Business Services
Cody Muir
SHA Lavale
Business Services
1 Yr
Bobbi Danner
Charles Town
Donated Goods Retail
Ornela Shehi
Charles Town
Donated Goods Retail
1 Yr
Carolyn Kriglein
Keyser
Donated Goods Retail
Katherine Johnston
Oakland
Donated Goods Retail
1 Yr
Collis Walton
HGI-2
Business Services
Neda Yazdzad
Stephens City
Donated Goods Retail
2 Yrs
Debra Gaskins
Greencastle
Donated Goods Retail
Tammy Saylor
Martinsburg GSA
Business Services
3 Yrs
Delores Collins
Romney
Donated Goods Retail
Terrence Williams
Fort Detrick
Business Services
3 Yrs
Elaina Foley-Marple
Romney
Donated Goods Retail
Maria Acosta-Parada
Fort Detrick
Business Services
4 Yrs
Heather Watson
Charles Town
Donated Goods Retail
Thomas Davis
Cumberland UPIP
Business Services
4 Yrs
Judy Abell
Front Royal
Donated Goods Retail
Janice Smith
Corporate Center
Donated Goods Retail
4 Yrs
Kelly Campbell
Shepherdstown
Donated Goods Retail
Daniel Huff
Cumberland UPIP
Donated Goods Retail
4 Yrs
Mary Engle
Shepherdstown
Donated Goods Retail
Tara Broschart
Winchester
Mission Services
5 Yrs
Miranda Truett
Greencastle
Donated Goods Retail
Katie Acton
Cumberland UPIP
Business Services
5 Yrs
Rachael Hamilton
LaVale
Donated Goods Retail
Tamara Elrick
Corporate Center
Administrative Services
6 Yrs
Steven Munson
Sideling Hill
Business Services
Lori Martinez
Corporate Center
Administrative Services
6 Yrs
Tammy Benson
Mt. Jackson
Donated Goods Retail
Tammy Rothgeb-Dawson
HGI-2
Business Services
7 Yrs
Teresa Mazzeo
Greencastle
Donated Goods Retail
James Braxton
Fort Detrick
Business Services
8 Yrs
Teresa Mendoza
Corporate Center
Administrative Services
Richard Osborne
Fort Detrick
Business Services
8 Yrs
Tina Jackman
Front Royal
Donated Goods Retail
David Shuster
Corporate Center
Executive
9 Yrs
Tracy Alger
Front Royal
Donated Goods Retail
Jennifer Palmer
CW Brooks C-Store
Donated Goods Retail
10 Yrs
Karen Bane
Front Royal
Donated Goods Retail
11 Yrs
---
Upcoming Events
Dec. 9: Christmas w/Santa at the Hagerstown Police Department (6 PM – 8 PM) 50 N. Burhans Blvd., Hagerstown, MD.
Dec. 25: CHRISTMAS DAY
The Adolescent Clubhouse Wednesday Night Movie (4 PM – 6 PM) at the new Clubhouse location at 200 N. Prospect St., Hagerstown, MD.
Thank you for reading the Horizon Goodwill Industries newsletter. If you have any exciting news or story suggestions, please get in touch with us at marketing@goodwill-hgi.org.