Meet David
After some time spent away, or on a 'vacation', as David likes to call it, he found himself lost, not knowing what his next steps would be; he did not know how he would survive. When he was released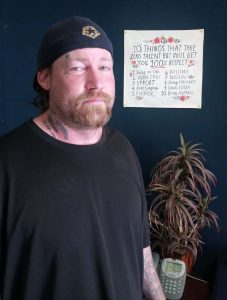 from the detention center, David, with only the clothes on his back and no place to sleep that night, went to Gatekeepers. Gatekeepers is a reentry program based in downtown Hagerstown. David also stopped by Horizon Goodwill Industries (HGI) for our hot breakfast program. In his conversation with staff, David shared that he did not know where he would sleep that night, and the staff helped place David in a hotel from day one.
"Because of Goodwill, I didn't have to be on the streets." 
David took a few days to adjust to his new reality and then got to work establishing the skills that he would need to reenter the workforce. David enrolled in the Heavy Metal Playground's Heavy Equipment Operator Certification Program. During the 4-week course, David was able to work heavy machinery developing the skills needed to work in this field.
"I learned a different skill that can lead me to other opportunities, it made me feel important, like I was going back to school, Paul and Mark at Heavy Metal Playground are good, patient people, I am not going to waste this opportunity" 
The partnership between HGI and the Heavy Metal Playground creates the opportunity for those with a barrier to employment to access the Heavy Equipment Certification Program at no cost to them. This is supported by Washington Businesses and Community Members.
Please consider making a donation to support this initiative using this link.