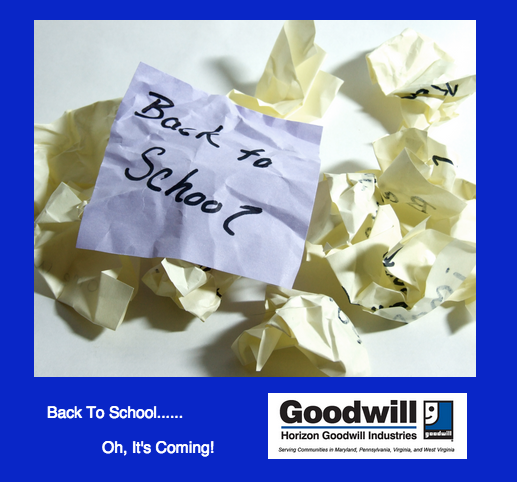 Look, I know it's only the middle of the July, but where's the harm in a dad looking forward to just a month or so of things going back to normal?  It's not like the majority of us get to take off what is arguably the best part of the year; getting away from our computer screens and cramped desks,  initiating water balloon fights, selling lemonade on the corner for pocket change and sleeping in after a full night of the Disney Channel, right? Ok, sorry if I sound a bit jaded, but I miss the days of my youth with limited obligations, ice cream sandwiches and afternoons spent playing wiffle ball. It's not like I'm holding any grudges against my daughter for enjoying her summer, I'm just a bit jealous.
My mom did come to visit from Ohio over the July 4th weekend though, which was nice. Missy, my wife who I'm sure you all know by now, wasn't able to spend much time with her due to work commitments, but she instructed me to take my mom and daughter out around Washington County and enjoy ourselves—and that we did!
One afternoon it was a bit overcast, and my mother, as she loves to do, decided she wanted to take Kaitlyn shopping for some new school clothes. One of the last things in the world I like to do is go shopping with my mother. I get flashbacks to when I was nine years old, forced to pace around the ladies section of Macy's, J.C. Penny's or Montgomery Ward's (remember that store?). She had this phrase she would use when I was getting antsy: "Patience is a virtue, John". My still forming brain could never quite figure that out until thirty years or so later and yes, I actually caught myself saying that to Kaitlyn one day, but that's a story for another time.
Anyway, I agreed to go shopping with them. Now is a good time to mention what a savvy shopper my mother truly is. She's the type of person that I swear has more fun telling you about the great deals found than actually wearing or using her purchases—in fact, she kind of reminds me of a Big Game Hunter in that regards. She's always on the hunt for the best deal possible. Imagine my surprise when she pulled the car into the parking lot of the Horizon Goodwill store in Shepherdstown, WV. Kaitlyn was immediately excited, recalling her visit to Goodwill for last year's back to school purchases.
Buy A Lamp—Change A Life
So the three of us went inside and of course Grandma grabbed a cart and took her little angel straight to the girls apparel section. As a frequent reader, you already know I'm a huge fan of shopping at our local Horizon Goodwill stores— I always get a thrill when I see the books, DVDs, video games, even record albums lining the shelves just waiting for me! Out of the corner of my eye I watched as my mom's cart began to fill up with bedazzled t-shirts, denim skirts and even some dresses as Kaitlyn was benefiting from a grandmother's right to spoil her granddaughter.
I decided to stroll over to the Men's section, just checking to see if anything caught my eye—and my jaw nearly hit the ground.  Let me give a little background so you can really appreciate this amazing treasure I stumbled across, ok?
Every year I like to take a road trip to a Major League Baseball park. It's kind of my thing, sometimes Missy and the kids go with me, other times I get the guys together, we choose our destination and off we go.  I've been to a lot of stadiums, but there's still plenty to check off the list. I always return with a baseball jersey of the home team. Authentic jersey's are a bit pricey, but, like my mother, I always try to find the best deal.
The summer before my father passed away, he went with my son and I to Oriole Park at Camden Yards to watch the O's play the Mariners. I'm so grateful I had that opportunity, not knowing it would be the last ballpark trip I ever had with him. Anyway, it was raining pretty good that night and I didn't have the chance to find a jersey for a fair price. Oh, well, what was I going to do? My dad wanted to get back to the hotel and my son was exhausted, so I just never got around to picking up a souvenir for my collection. Now, I could certainly purchase an Oriole jersey anywhere around Hagerstown, but at retail you're dropping $100 easy. Each time I would visit a local Horizon Goodwill Store I would look for one, and have actually found several, but none that were my size.
So there I am, in Sheperdstown, and what do I see? You guessed it—a home jersey for the O's…and it fit! Of course I purchased it…for $8.00!
I was beaming as I helped Kaitlyn and my mom take their new found treasures to the car. As we drove home I told my mother the entire story about how I never had a chance to pick up a jersey during my trip to Baltimore with dad. I saw a small tear forming in the corner of her eye. "You know, that's no coincidence that exact uniform was there, right?" " Mom, it's not a uniform, it's a jersey."  "I know, but it makes you think a bit, doesn't it?"
Yes, it certainly did. Kaitlyn's ready for back to school, Missy's thrilled she doesn't have to take little miss princess out for a frustrating shopping trip, I finally have my coveted jersey and we did our part to help those with barriers to employment gain valuable job training.  Was it a fluke my mother's shopping plan involved visiting Goodwill? What are the odds that I actually agreed to shopping with my mother—something I've always avoided in the past—and I finally found the baseball jersey that has been eluding me for years? How about the concept that for once Kaitlyn is totally thrilled with all of her back to school clothes as well! Thanks, Dad!