"Life's most persistent and urgent question is: 'What are you doing for others?'"

— Dr. Martin Luther King Jr.
During his life, Dr. Martin Luther King Jr. led the Civil Rights Movement through nonviolent acts of protest and helped end legal segregation of African American citizens. He was known for his fight for equality and service to others. To honor him this year, Monday, January 15th is recognized as the Martin Luther King, Jr. Day of Service nationwide.
That means MLK Day 2018 is just around the corner!  Don't know what you are doing yet with your "Day On"?  Come join us at Horizon Goodwill and build a Little Free Library.
Together with Washington County Early Childhood Advisory Council (ECAC) and United Way of Washington County, we are going to build 15 free libraries to help reach ECAC's goal of 50+ free libraries across the County.
On literacy and reading, Martin Luther King, Jr. said, "Intelligence plus character – that is the goal of true education."  Being able to read and comprehend is fundamental to "thinking intensively and thinking critically."  So, creating opportunities to read and putting books in the hands of our community enhances literacy, promotes educa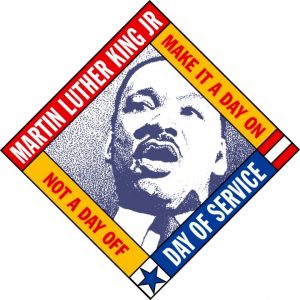 tion, and informs character.
Can you image what will happen when every child and adult can read, write, and learn all they want and need to know?
Little Free Libraries' 'Give a Book, Take a Book' principle inspires a love of reading, builds community, and sparks creativity by fostering neighborhood book exchanges around our communities. Through Little Libraries, millions of books are exchanged each year, increasing access to books for readers of all ages and backgrounds.
At Horizon Goodwill, we think a LOT about how we serve others and how we can effectively help individuals realize and achieve their fullest potential.  This year, with MLK Day around the corner, we are focused on creating meaningful partnerships that result in continual progress and sustainable change.
Literacy matters.  Literacy teaches you to own and value your own story.  Literacy gets you to the goal.  Literacy empowers.
Increasing access to books and providing opportunities for people of all ages to read directly aligns with Horizon Goodwill's mission of "Removing Barriers, Creating Opportunities".  Little Free Libraries ensure that everyone has the chance to realize and achieve their fullest potential.
If you are interested in volunteering to help build our Little Free Libraries, please contact cfleming@goodwill-hgi.org.
For more information and to test out other communities' interactive maps, check out the LFL website at www.littlefreelibrary.org.
Be a part of MLK Day in your community.  For more ideas of how to get involved, visit: https://www.nationalservice.gov/mlkday.