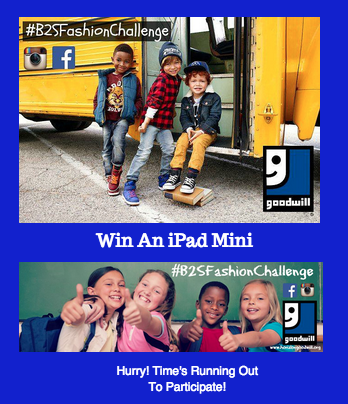 If there's one thing I learned in my 45 years on this big blue marble it's that I'm not a quitter. I learned a lot of great lessons from my father, with perhaps the most important being to never give up on your dreams. I've also, however, learned quite a bit from one of my heroes, Clint Eastwood, and today, a famous quote from one of his films is ringing in my ears—"A man's got to know his limitations." 
It's with a heavy heart that I'm giving up on my dream of winning the Horizon Goodwill Back2School Fashion challenge. It appears I just don't have the eye for style that my competition has, including Kaitlyn. But don't let the fact that I'm throwing in the towel deter you from claiming that iPad Mini.  I'm going to give you a little peek at what you're up against in this week's blog. Come inside and take a look!
What Did Kaitlyn Find At Horizon Goodwill?
If you remember from earlier this month, I was kind of coerced into taking my 8 year old, Kaitlyn, on my vision quest. I was all amped up to visit every Horizon Goodwill store in the area, destined to find the perfect Back2School ensemble and claim my prize. That all changed when she decided to throw her hat in the ring as well.  I ask, how could any self-respecting father really compete against his own child? I knew at that point I was out of the contest, but figured it would still be fun to help Kaitlyn participate. She really does have an incredible fashion sense for such a young girl, obviously inherited from my wife, so I couldn't wait to see what my little lady came up with.
"Ok, Kaitlyn, you have $25 to select a complete ensemble. You can pick anything in the store. Make it count, because from what I've seen, the competition is fierce!" She snatched that cash from my hand, and off she went. As I always do when visiting a Horizon Goodwill store, I gravitated right to the books and videos section. I'm a sucker for used books, always searching for something I haven't read or seen, and Goodwill never lets me down!
It couldn't have been more than thirty minutes before she told me she was ready. I reviewed what she had in her basket, and, it was, well…interesting.  "Kaitlyn, you can't wear this to school…" I explained as I rifled through her selections.  "Yes I can!" she demanded. "In October I can, and this is what I picked out."
Well, I did tell her she could pick out anything. When we got home she demanded I take a photo of her chosen outfit.  Here it is: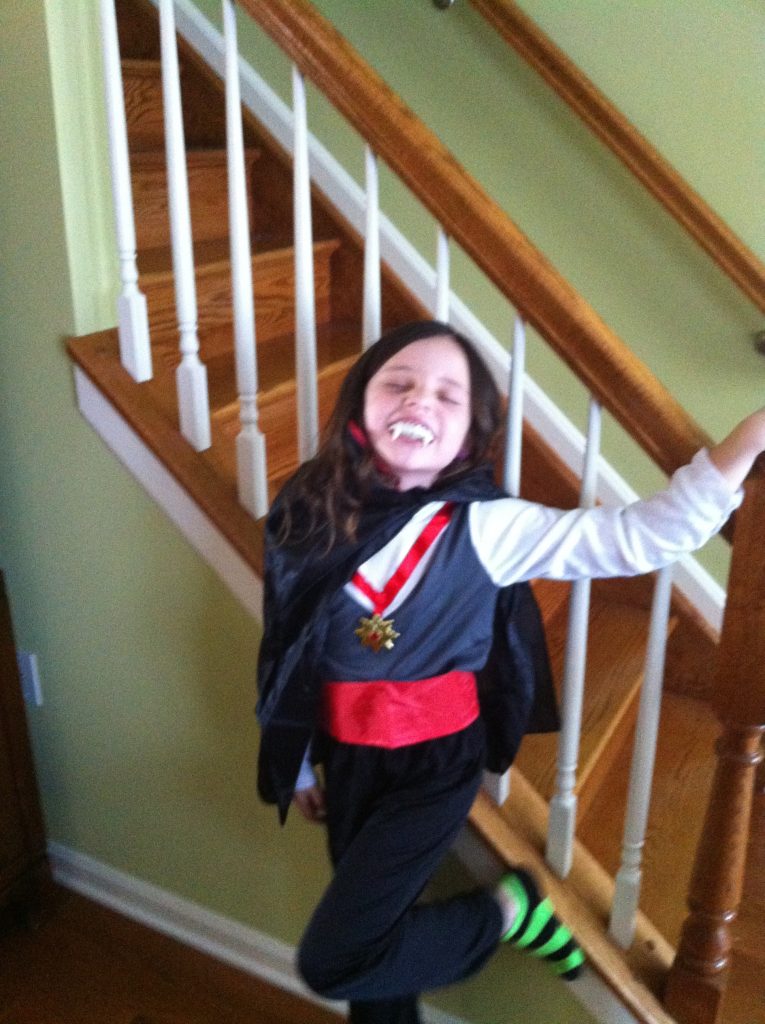 How Are Others Making Out In The Horizon Goodwill Back2School Fashion Challenge?
Ok, so unless Horizon Goodwill is running this contest in their Transylvania location, Kaitlyn's not winning the iPad Mini. But, as with everything she does, she did have a lot of fun.
As you can see, the odds for you winning the Back2School Fashion Challenge has just improved. You can still make your claim to call that iPad Mini yours, along with some other great prizes.  Check out the official rules below.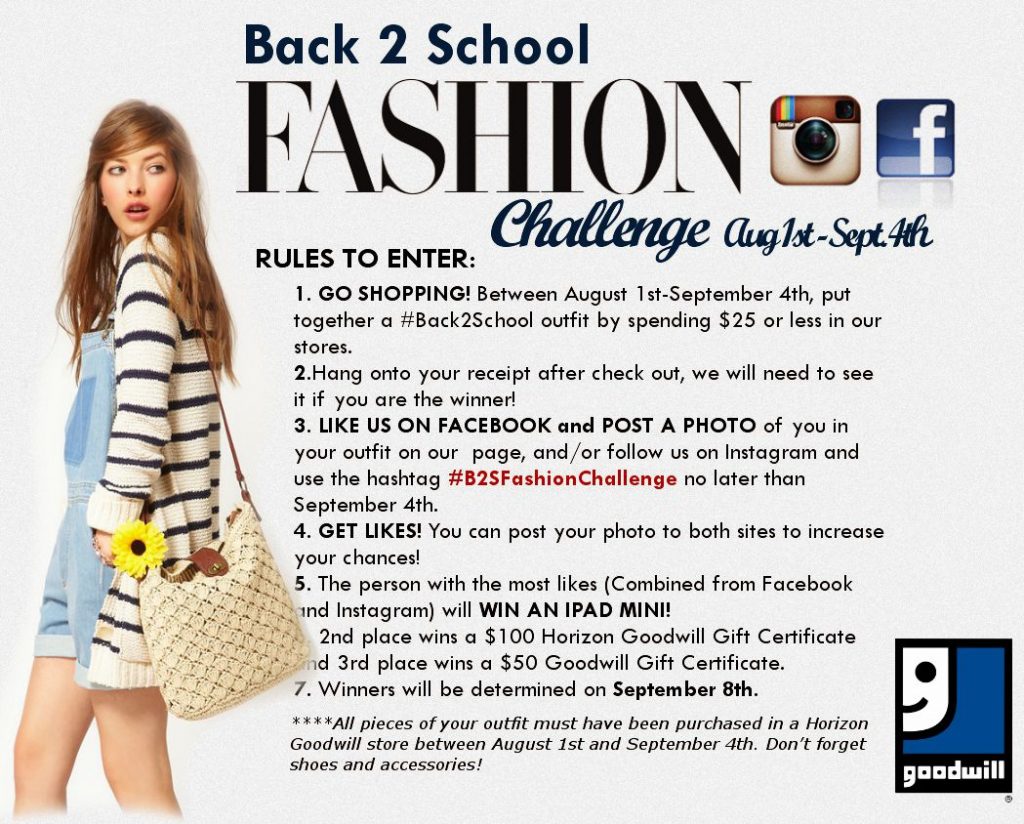 With only ten days left from the posting of this article, time is running out, so get yourself to your favorite Horizon Goodwill store soon! Remember, you must spend $25 or less, and hold onto that receipt!  Keep in mind, approximately 90% of what you spend on your outfit goes directly to helping members of your local community receive job training, which is very cool.
My closing advice, if you plan on taking part in the competition, I would refrain from selecting a Halloween costume for Back2School. Everything else you can find at Horizon Goodwill, however, is fair game!  Good luck!