Have you been shopping at the Country Club Mall in Lavale lately? Seen this face?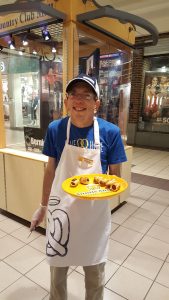 How could you not say yes to a yummy sample.
With expert timing and delivery, our Goodwill Jobs Squad Star Mike Twigg, 53, offers window shoppers and buyers alike a sample of Auntie Anne's warm pretzel wrapped deliciousness! (I did my research – this is not an overstatement).
Mike has worked for Auntie Anne's for years. But, he wouldn't call it work. Mike connects with people who didn't even know they needed a smile and a hello and a warm treat for their tummies. And, Auntie Anne's is his 2nd job.
Where else can you find Mike's great service and stellar smile? Well, maybe you have seen him at his first job: Roy Rogers in Cumberland. He and his Goodwill colleague, Sonya, have both worked there since 1992.
Before coming to Goodwill, Sonya and Mike both were not sure they could find work in their community.  When asked to think back to that time, Mike told us, "I can do so much more than I knew.  At Goodwill, I found what I am good at – I love helping people, meeting new people and feel I bring a smile to their face."
And, does he ever!  If food is Mike's expertise, then customer service is his passion – a passion he turned into marketable skills participating in Goodwill's Employment and Training programs.  Sales, retail and food service are a tough business with high turnover.  We asked Mike what makes him a hard worker: "I enjoy working and it makes me feel important."
What does our Goodwill Job Squad Star do when he is not working so hard?  Mike lives in town, has a place of his own, and takes care of the cutest little dog (who he admits he spoils rotten).  Working and being good at what he does makes it all possible.
Going out to eat this weekend? Stop by and say hello to Mike. Congratulate him on JOBS well done! (And, try those pretzel wrapped hot dogs!)
To learn more about how Goodwill can help you find your expertise and passion, check out our website: www.horizongoodwill.org. And, make sure to follow us on Twitter and Facebook for more stories from Goodwill's Job Squad!