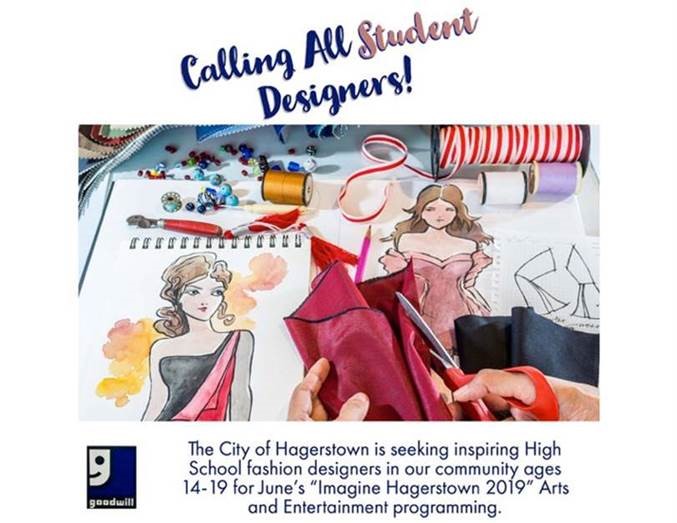 Hagerstown Goodwill, in partnership with the City of Hagerstown, seeks aspiring high school fashion designers (ages 14-19) in our community to participate in our Celebration of Fashion design competition. The next generation of fashion designers will be challenged to repurpose items from Hagerstown Goodwill's first-of-its-kind and newly opened outlet store, where items are priced by the pound. Selected participants will be featured during the City's "Imagine Hagerstown" arts programming taking place in June.
Design participants will have an allotted time to shop for items within a specified budget. The participants will craft designs for their assigned models, who will wear and show off the clothes during the "Re-image Re-runway" fashion shows. The items will be auctioned off with a portion of the donations going to support Goodwill's mission in our community. The design participant whose design earns the highest dollar amount at the close of the auction will be awarded a portion of the auction price and additional prizes.
The "Reimagine Runway" competition will tentatively kick off on April 8th. The fashion show dates are scheduled for the evenings of June 7, 14, and 15. Selected participants will have use of a workspace with tables, sewing machine, and designer support on evenings and weekends.
Eligibility:
Must be enrolled in high school
Must be between the ages of 14-19
Must attend high school in or be a resident of Washington County
Please complete and send this application to Kitty Clark, Community Events Coordinator, kclark@hagerstownmd.org. In the subject line, please put:
FASHION SUBMISSION- Full Name (i.e. FASHION SUBMISSION – Ralph Lauren).
Applications will be accepted on rolling basis, but best consideration will be given to those who submit by Friday, March 29, 2019.
Questions: Contact Brooke Grossman, bgrossman@goodwill-hgi.org, 301-988-0185